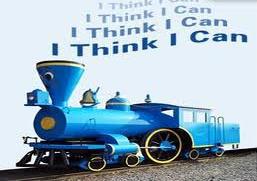 Now that my bid for Pope is by the wayside, I can focus my undivided attention on pontificating what's going on in the economy and the finance world, and guide you on how to safely succeed in this crazy market. I think you'll agree with me that these are certainly crazy, if not downright scary, times. After all, this stock market is much like the little engine that could, pushing higher and higher against all odds, as well as anyone's beliefs.
Although I have been expecting new highs, I was surprised by the lack of worry on the part of investors over the sequester. What I now realize is that everyone wanted sequestration, because everyone knows we must cut spending. The sequester merely forced it to happen, allowing both Democrats and Republicans to blame the other side with no one having to take the fall.
Clearly all the market cares about is that the free money keeps flowing. Since 2009, Ben Bernanke and the Federal Reserve have clearly made their top priority growth at any cost, at the eventual expense of higher inflation, which they will eventually be at a terrible cost to us all. They succeeded in one of their main goals, creating a huge wealth effect where higher stock and home prices make people feel wealthier, and therefore spend money. This is driving investors to throw more money into risk assets everywhere, with the hopes of creating greater consumption leading to more jobs.
The two main issues that investors thought would put the skids on further stimulus have not materialized yet. The first would be the bond market raising rates. Obviously the world must recognize that we do indeed have a large generation coming up known as the echo-boomers, which is even larger than the baby boomers, who will drive this economy to new heights. The bad news is that they are still 8-10 years away from their spending peak years.
The 2nd is inflation. Many thought it should have taken hold by now. What many don't realize however is that we are still fighting deflation, and the Fed's stimulus is barely making a dent. These are the very issues I discuss in Facing Goliath - How to Triumph in the Dangerous Market Ahead. Obviously this can't last forever, and eventually this will be the straw that breaks the camel's back.
Market technicals still look healthy for higher highs, as almost 90% of the stocks are trading above their 200 day moving averages, compared to only 50% when markets peaked in 2007, when market actions were far more concentrated in a handful of stocks. Although, the short term looks a little more dicey as fewer and fewer stocks are able to hold above their 10-day moving average, indicating the potential for a (much needed) pullback.
The crazy thing about this market is that it looks like a replay of the last 5 years where we saw big run-ups in the first few months of the year, a steep drop in the summer, and then a rally into year-end. This is often called "sell in May and walk away." My concern here is that a lot of people are now aware of this trend, and are talking about it. We all know that what becomes obvious becomes obviously wrong. Therefore it will either not happen this year at all, or the selloff will come earlier than expected as many traders attempt to lead the stampede out of equities, triggering an earlier and much deeper correction in the 20+% area.
Stocks are clearly shrugging off any and all bad news and look to be going higher. Investors can buy growth stocks, especially high quality technology companies, such as Apple (NASDAQ:AAPL), which is getting some bad press right now due to competition (but that is something it always seems to come back from), Google (NASDAQ:GOOG), Intel Corporation (NASDAQ:INTC), Qualcomm (NASDAQ:QCOM), Microsoft (NASDAQ:MSFT), Cisco Systems (NASDAQ:CSCO), Yahoo (YHOO) and VMware Inc. (NYSE:VMW). The funds with more diversification, and less individual company risk, are also the ones to buy (like the SPDR S&P 500 (NYSEARCA:SPY), PowerShares QQQ Trust Series 1 (NASDAQ:QQQ), and iShares Russell 2000 (NYSEARCA:IWM)).
Commodities and metals specifically lagged for the last few months, but are still very attractive as QE and federal stimulus are not going away anytime soon. More aggressive investors can play this sector through Goldcorp Inc. (NYSE:GG), Barrick Gold Corp. (NYSE:ABX), SPDR Gold Shares (NYSEARCA:GLD), Power Shares Double Gold (NYSEARCA:DGP), Market Vectors Gold Miners ETF (NYSEARCA:GDX), Newmont Mining Corp. (NYSE:NEM), Freeport-McMoRan Copper & Gold Inc. (NYSE:FCX), plus Silver Wheaton Corp. (SLW), ProShares Ultra Silver (NYSEARCA:AGQ) and Fortuna Silver Mines (NYSE:FSM).
Disclosure: I have no positions in any stocks mentioned, and no plans to initiate any positions within the next 72 hours. I wrote this article myself, and it expresses my own opinions. I am not receiving compensation for it. I have no business relationship with any company whose stock is mentioned in this article.