Germany is dealing with a fundamental deficiency in the European financial crises. The deficiency explains why their foray into punitive wealth seizures of bank depositors shouldn't come as any surprise. The potential liability charts below show Germany's exposure. There is no help in sight from others in absorbing the liabilities and losses of these bailout programs or for the bad debts the ECB and EFSF already hold. That's because Italy is obligated for 19% and Spain 12.75%. Germany knows Italy (Italian economy description in my last post) and Spain are worthless bailout partners and, in fact, are even more likely to be next up for bailouts. Encircled by insolvency, at this stage I'm not so sure Germany would even permit ECB OMB bonds purchases.
The bottom line is that total debt in the Eurozone is 350% of GDP, while 175% is considered sustainable. This debt needs to be written off, not added to. However, after the latest bailout scheme, zombie Cyprus will have a government debt of 140% of a questionable GDP. Viewed in this light, and since the core countries refuse to write off official debt, the stability levy is the option chosen. And I doubt if we have seen the last of it.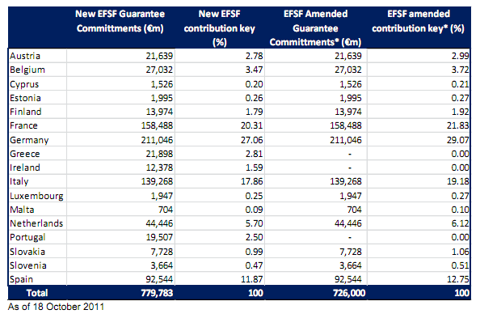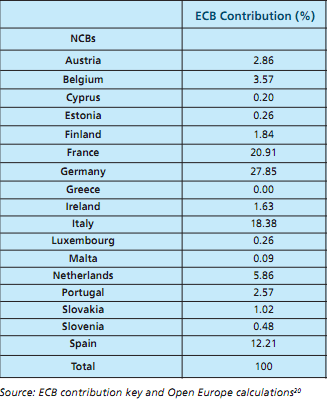 Grabbing bank depositor funds with levies is a tough nut to execute. Because of Cypriots' outrage on Monday, various tweedle-de, tweedle-dum plans were proposed to exempt smaller deposits. One plan exempts those with accounts of less than €20k ($25.89 million U.S.) to €25k ($32/36 million U.S.) and substitutes a higher tax rate, up to 15%, on accounts with more than €100k ($129.45 million U.S.). Then the Eurogroup said they were good with an approach that exempts those with 100k as long as the higher than 100k depositors take the added delta, etc.
Then comes word that the Cypriot parliament doesn't want to support any depositor haircuts. That means that the German parliament won't support the $10 billion euro bailout. Incidentally, if the extended bank holiday is lifted, banknotes in circulation in Cyprus are put at €1.56bn. Total deposits equal €68bn. There simply won't be enough cash to fund withdrawals. If this is what the punitive levy approach looks like in small Cyprus, one can only imagine what a Beppe Grillo influenced Italy will do when faced with a similar crisis.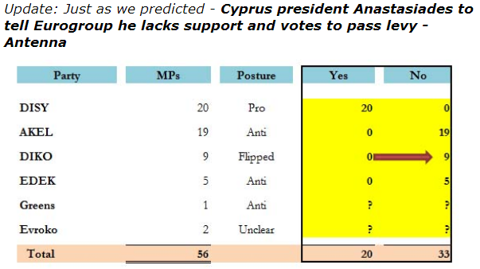 source: Zero Hedge
Russia has been mentioned as a possible bailout source for Cyprus. However, it would come at a steep price. Russia would no doubt insist on off-shore energy concessions and a major geopolitical toehold. The U.S., Israel and Europe would oppose such a deal. But if Cyprus bails on the European Union, it will be Cyprus' call to make. Right now, I don't think the U.S. can drum up the political support to get involved in a European bailout despite the energy prize. I would put my money on Russia, which is setting the stage by sending a permanent fleet into the eastern Mediterranean:
From Russia Times: "Up to five or six ships must be on a permanent basis in the Mediterranean Sea. They should be controlled through the command of the Black Sea Fleet," Russian TV channel Zvezda quoted Admiral Chirkov as saying.
This following reviews the energy/geopolitical stakes in the eastern Med:
The area off Israel and Cyprus has been the site of recent oil and gas discoveries. This article from Oil Price.com discusses the "pipeline battle" between Russian and U.S. interests.
With confirmation of oil in the Greek Aegean and off Israel and Cyprus, the U.S. has stepped up its game. The U.S. and Russian strategy is to offer Greece and Cyprus carrots. After all, it's the European Troika that's the hardball creditor, not the U.S or Russia. In fact, by offering Greece "almost unqualified support in the event of a return to the drachma," the U.S. is betting on the strong likelihood of Greece becoming formally insolvent before any more bailout monies are available from Berlin-am-Brussels.
The Greek Corridor can be used to transport aid to the Theatre of Operations in the Middle East. For the U.S., this vital corridor cannot and should not be allowed to be checked by Turkey or Russia, as it will then be vulnerable to any intervention. PPC Quantum Energy SA formally announced the launch of a 2,000-megawatt undersea electricity cable to link up the electricity grids of Israel, Cyprus and Greece. Also, Israel has a deal with Greek Cyprus and Greece to build a gas pipeline through Cypriot waters to Greece, leaving Turkey out. The U.S. enters the equation because of the offshore Levantine discoveries in the area made by Noble Energy (NYSE:NBL), for which Bill Clinton is a key lobbyist. Security for Israel's new resources will also be paramount.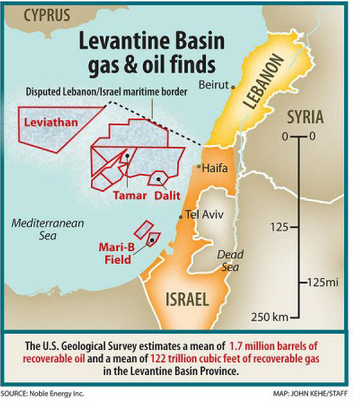 Disclosure: I have no positions in any stocks mentioned, and no plans to initiate any positions within the next 72 hours. I wrote this article myself, and it expresses my own opinions. I am not receiving compensation for it. I have no business relationship with any company whose stock is mentioned in this article.