Cameco Corporation (NYSE:CCJ) is the world's largest publicly-traded uranium company, based in Saskatoon, Saskatchewan; and the world's third largest uranium producer, accounting for 16% of world production in 2011. Cameco has a market capitalization of $8.3B and operates mines in North America and Kazakhstan. They also supply uranium processing services required to produce fuel for the generation of nuclear electricity and have a 31.6% stake in Bruce Power, an operator of eight nuclear reactors. Yahoo.com give their forward P/E as 16.4, last year's revenue added up to $2.37B with net income a respectable $271M given the depressed uranium prices. The median analyst price target is currently given at $26.58 comparing favorably to the share price of $20.98 at the time of writing this article. Cameco pays a quarterly dividend presently yielding 1.81%.
Calling uranium 'unloved' following the Fukushima disaster would be a crass understatement as evidenced by chart below showing the uranium spot price and the performance of the Global-X Uranium ETF (NYSEARCA:URA) since the start of 2011.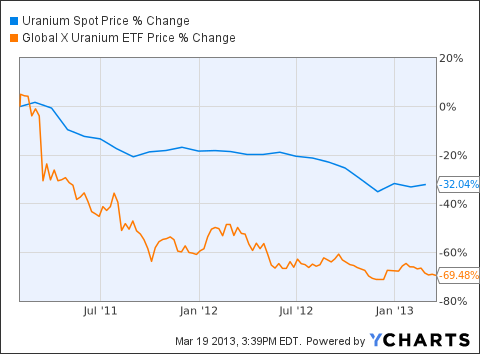 Uranium Spot Price data by YCharts
The case for a recovery of the uranium sector has been made for quite some time, alas the reality continues to be a harsh one for most uranium-related investments. However, we believe that the tide is slowly turning for the reasons that have been touted and can be summarized as follows:
64 reactors are under construction today world-wide;
Japan is tentatively moving towards restarting at least some of their reactors;
Uranium demand is projected to grow by an average of 3% per year well into the 2020s;
The HEU agreement between Russia and the USA turning 'Megatons into Megawatts' is expiring later this year taking 24M pounds of nuclear fuel off the market per year;
Numerous large projects have been put on hold in recent times which will exacerbate a supply shortage in coming years.
A recent article highlighted various other signals supporting the opinion of the author that a bottom might have been put in by the uranium industry. However, due to the disaster in Fukushima and the economic downturn inventories have built putting the brakes on the long-term bullish factors and delaying the recovery of the uranium sector. At present, we are still uncertain whether or not the bottom has been marked, and believe that even if that was the case, we will be witnessing a very gradual change in sentiment accompanied by a slow turnaround.
Cameco has been preparing for the recovery of the sector by increasing their project pipeline with some high-quality future prospects including the Yeelirrie project in Australia, and by moving the Cigar Lake mine in Canada towards production. First output from that mine is expected later this year with ramping up to commercial production thereafter. In 2012, Cameco have also added a new segment to their business by acquiring the nuclear trading company NUKEM.
All the above reasons in combination with the sound business practices displayed by Cameco over the years make us long-term bullish with regards to this stock.
The latest quarterly conference call emphasized a positive outlook for the present year, but also gave reasons for investors to be cautious with Cameco in the short-term due to some unusual items that will skew the results for the first and possibly second quarter:
Uranium sales for Q1 2013 are projected to drop to 5-6M pounds compared to 8M pounds in Q1 2012 with 60% of deliveries to be expected to take place in the second half of the year;
Bruce Power will yield lower earnings due to scheduled outages;
Moreover, the following factors might also contribute to subdue short-term performance:
A dispute with the Canadian tax authorities is ongoing;
The profitability of NUKEM post-HEU has been questioned by analysts attending the conference call.
The chart below shows the post-Fukushima performance of the share price with the down-trend line shown in solid red providing resistance on four occasions so far and a bottom support at $16.60 tested twice. We are led to predict that Cameco will not gather enough strength in the coming weeks to break through the long-term resistance, especially considering the subdued outlook for Q1 2013. We therefore expect another return to the technical support instead. If support holds and fundamentals continue to improve from Q1 onwards as predicted by the Cameco management, we will be optimistic for the share price to break through resistance towards the end of summer.
So there you have it: our position is short-term short and long-term long and we will deploy our funds accordingly.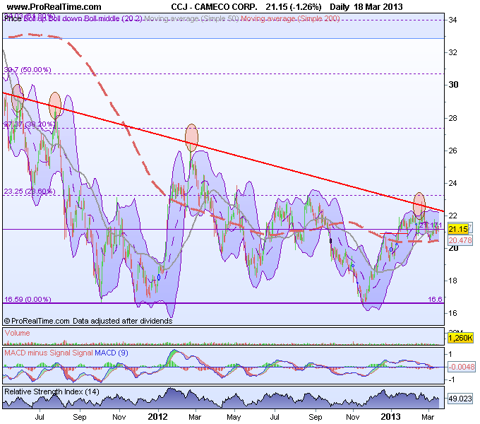 Disclosure: I have no positions in any stocks mentioned, and no plans to initiate any positions within the next 72 hours. I wrote this article myself, and it expresses my own opinions. I am not receiving compensation for it (other than from Seeking Alpha). I have no business relationship with any company whose stock is mentioned in this article.