Taco bell is building a new image and it is looking to increase its stock price. Taco bell, Owned by Yum! Brands, Inc. (NYSE:YUM) is doing a great job with its Doritos shelled taco called Doritos Locos Tacos. The combination with the PepsiCo (NYSE:PEP) product, Doritos, has been a genius idea that is leading to good things thus far. The new taco has led Yum! Brands to open new Taco Bell stores and hire more than 15,000 employees in the last year. The restaurant has sold more than 375 million Doritos Locos Tacos and plans to open 2,000 new restaurants over the next decade. Taco bell is responding well after losing 3% in revenue last year.
Taco Bell's biggest competitor is Chipotle Mexican Grill (NYSE:CMG). Chipotle's stock has been on a tear since going public in 2006. So far Chipotle's stock has been as high as $438 in the last year but, the stock has been a real rollercoaster. Investors don't know what to expect from the company and they are starting to get concerned about whether it can grow. Chipotle increased 3% in revenue, the same year Taco Bell lost 3%. Analysts still expect Chipotle to grow but not grow as much.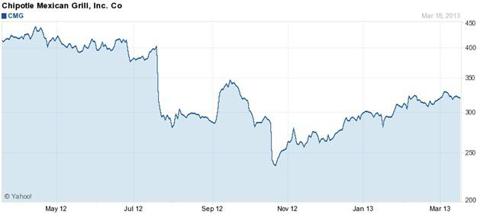 Taco Bell is in good position to respond to Chipotle and it has been. The company added an additional twist to the new Locos Tacos with the Cool Ranch Doritos Locos Tacos that came out recently and it is also a hit. Besides the Doritos Locos Tacos, Last year Taco Bell released a new line of products that was a direct response to Chipotle. Taco Bell came out with something called 'The Cantina Bell' menu, which is an attempt at high-quality burritos and bowls that are similar to Chipotle's. Taco Bell's response is fueling up a burrito war and it might get intense. Both companies are doing well but which one is a better investment?
Name

Current Price

P/E

EPS

Growth Estimate

(1year)

Growth Estimate (5 years)

Beta

Chipotle Mexican Grill

$316.69

36.23

8.75

20.00%

20.22%

0.5

YUM! Brands, Inc.

$68.90

20.37

3.38

21.70%

14.63%

0.64
From the numbers right now, Chipotle looks like a better investment. Chipotle has a higher P/E ratio and higher Earnings Per share. Chipotle also seems to have a consistent growth rate that is supposed to increase gradually. Chipotle has a higher growth rate than its industry in both categories. Yum! Brands seem to be a riskier investment than Chipotle. It is predicted to have a higher growth rate in the next year but, in the next five years the estimated growth is to slow down.
Taco Bell has responded well to Chipotle. If Taco Bell is successful with its new products and can steal away customers from Chipotle, the growth estimates of YUM! Brands should increase. Also, YUM! Brands' other brands, KFC and Pizza Hut, have to continue to be successful in their industry for the stock to increase. YUM! Brands, Inc. is a risky investment but if everything works out well, it could lead to a greater reward.
Disclosure: I have no positions in any stocks mentioned, and no plans to initiate any positions within the next 72 hours. I wrote this article myself, and it expresses my own opinions. I am not receiving compensation for it (other than from Seeking Alpha). I have no business relationship with any company whose stock is mentioned in this article.
Additional disclosure: Capital Traders Group is a team of Proprietary Trading and Equity Research Analysts. This article was written by Mike Gankhuyag, one of our Equity Research Interns. We did not receive compensation for this article (other than from Seeking Alpha), and we have no business relationship with any company whose stock is mentioned in this article.