By Justin Sibears, Managing Director, Product Development and Quantitative Strategies Group
The phrase "correlations go to one in times of market stress" is treated as gospel in many corners of the financial industry. However, rarely does anyone present statistics, visualizations, or analysis that backs up this claim.
The following graph presents when various markets hit their maximum drawdown point (between 2007 and 2013) relative to the size of the drawdown.
Click to enlarge image.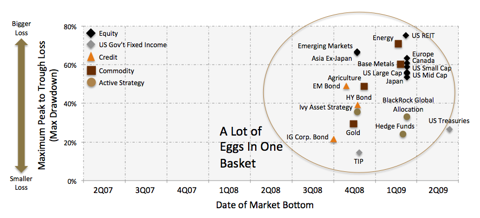 Not surprisingly, most equity markets hit bottom during the global credit crisis and within a six-month window from October 2008 to March 2009. What might be more surprising to some is that this trend extended to commodities, well-known absolute return mutual funds, hedge funds, and even many "risk-on" fixed income sectors. This at least partially explains why static versions of the endowment model (invest statically in a wider range of asset classes/strategies) failed to protect capital during the credit crisis.
The relevance of increasing correlations in times of market crisis can be seen in a simple example. Consider an investor who invests one-third of his or her portfolio in each of SPY, DBC, and TLT. The investor probably felt quite safe prior to the crisis due to the diversified asset class exposure. However, the investor would have lost more than 35% from July 2008 to March 2009, because his or her equity and commodity exposure crashed at the same time and with more volatility than the bond position could offset. Instead, protecting capital during this period of time required either 1) a very risk-averse static allocation policy with large cash-like positions, 2) overlaying hedge positions using options or other instruments, or 3) tactical allocation shifts to de-risk the portfolio as the market declined and then re-risk the portfolio as the market covered.
All three of these options have associated costs:
Large cash positions -- opportunity cost of positive returns during bull markets
Constant option hedges -- expensive option premiums eat away positive returns
Tactical asset allocation -- trading/whipsaw costs
Only option three has the ability to be feasible from a cost perspective in the long term if the tactical model is robust to changing market dynamics. Some may argue that option two is feasible if hedges are only put on during high-risk environments. However, this is just another form of tactical risk management and so really is another version of option three.
Implications for Portfolio Management and Investors
In practice, the idea that correlations go to one during large market shocks means that investors cannot sleep easy at night by just adding new beta sources to their portfolio. Instead, it is crucial to have a disciplined methodology to ratchet beta up (down) in bull (bear) markets. This can be achieved within an individual's portfolio or by using rules-based investment products that have the ability to adjust overall market exposures.
ETFs/Mutual Funds/Indices Used for Graph: US Large Cap - iShares Core S&P 500 ETF (NYSEARCA:IVV), US Mid Cap - iShares Core S&P Mid-Cap ETF (NYSEARCA:IJH), US Small Cap - iShares Russell 2000 Index (NYSEARCA:IWM), Europe - iShares S&P Europe 350 Index (NYSEARCA:IEV), Asia Ex-Japan - iShares MSCI Pacific Ex-Japan (NYSEARCA:EPP), Japan - iShares MSCI Japan Index (NYSEARCA:EWJ), Canada - iShares MSCI Canada Index (NYSEARCA:EWC), Emerging Markets - iShares MSCI Emerging Markets Index (NYSEARCA:EEM), Agriculture - PowerShares DB Agriculture (NYSEARCA:DBA), Base Metals - PowerShares DB Base Metals (NYSEARCA:DBB), Energy - PowerShares DB Energy (NYSEARCA:DBE), Gold - iShares Gold Trust (NYSEARCA:IAU), High Yield Bond - SPDR Barclays High Yield Bond (NYSEARCA:JNK), Emerging Markets Bond - PowerShares Emerging Markets Sovereign Debt (NYSEARCA:PCY), TIP - iShares Barclays TIPS Bond (NYSEARCA:TIP), US Treasuries - iShares Barclays 20+ Year Treasury Bond (NASDAQ:TLT), US REIT - SPDR Dow Jones REIT (NYSEARCA:RWR), BlackRock Global Allocation (MUTF:MDLOX), Ivy Asset Strategy (MUTF:WASAX), IG Corp. Bond - iShares iBoxx $ Investment Grade Corporate Bond (NYSEARCA:LQD), Hedge Funds - Barclay Hedge Fund Index.
Disclosure: I have no positions in any stocks mentioned, and no plans to initiate any positions within the next 72 hours. I wrote this article myself, and it expresses my own opinions. I am not receiving compensation for it. I have no business relationship with any company whose stock is mentioned in this article.