Intuitive Surgical (NASDAQ:ISRG) is a leading medical device company that specializes in minimally invasive surgery ("MIS") with its da Vinci Surgical System. The platform enables surgeons to perform surgeries by guiding the precise medical instruments through a console. The primary benefits are that such a surgery can be performed with a high level of precision and without requiring "open surgery" and large patient incisions. In the United States the cost of the da Vinci procedures are generally reimbursable by insurance companies but the costs of medical procedures are always scrutinized and this is one of the largest risk areas for the company. As part of Obamacare, in 2013 Intuitive Surgical and all other medical device manufacturers will have to pay a tax of 2.3% on certain revenue sources. The company estimates that it will pay approximately one percent of global revenue due to the tax but it will be important to monitor since there is no history to reflect upon. Another risk disclosed by ISRG is that there have been "increasing efforts by plaintiff's attorneys to solicit da Vinci patients for product liability lawsuits against the Company."
Intuitive Surgical calls da Vinci the future of surgery and it is easy to see why. The da Vinci system is one of the few MIS technologies to receive Food and Drug Administration clearance, which essentially grants it a government monopoly on a growing niche of surgeries. There is a wide body of clinical evidence that should put patients' minds to rest regarding the safety of the procedures. The business strategy hinges on three tenants: patient value, surgeon value, and hospital value:
Patient Value: Patients are able to receive a highly effective operation that is also a MIS. These advantages include shorter hospital stays, less blood loss, less pain, faster recovery, and smaller incisions.
Surgeon Value: Surgeons can specialize in providing MIS, thus building their practice and being an expert in a rising field
Hospital Value: Similar to surgeon value, hospitals that offer da Vinci procedures have the potential to rise in popularity and increase revenues. Additionally, MIS is able to reduce hospital stays and can reduce overall expenses over time.
These three basic tenants of value have been questioned recently by the American College of Obstetricians and Gynecologists as well as the Food and Drug Administration. The company has responded in part to recent reports but it has done little to stop the stock's decline. I will discuss these recent events in more detail later but Intuitive Surgical has been in a twenty percent free-fall for the last month. I have been following the company for the past year but have been very intrigued by the company the past six months as it grows more volatile.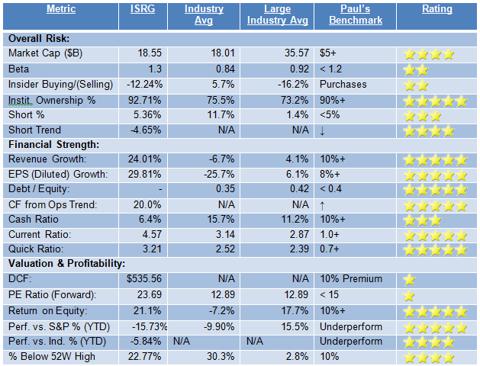 All data comes from various ratios or combinations/averages of ratios from Yahoo! Finance, Finviz, or the company's recent 2012 10-K annual report. Industry averages were based on the similar competitors MAKO Surgical Corp. (NASDAQ:MAKO), Stryker Corporation (NYSE:SYK), Accuray Incorporated (NASDAQ:ARAY), and Medtronic (NYSE:MDT) that have market caps ranging from $340M to $46.1B. It is difficult to find an ideal competitor set for Intuitive Surgical because it operates on the cutting edge but is also profitable. MAKO and Accuray are both micro-cap stocks with market capitalizations below $600M and are both currently not profitable on a continuing basis. In contrast, Stryker and Medtronic are similarly sized to Intuitive Surgical but are growing less quickly. I hope that by including two large and two small competitors the effects are smoothed but I have included a "large industry average" to remove the outlier effects of the two smallest competitors presented. All financial information presented in this article is as of pre-open on March 18th and I make no representations about subsequent price movements.
Overall Risk Level:
Market Cap/Relative Size: I prefer to invest in companies with market capitalizations greater than five billion dollars as there is sufficient analyst coverage and the asymmetric information issue is minimized. Potential returns tend to be greater for smaller firms but with additional reward comes greater potential risk. Medtronic is the largest company in the medical device industry with a market cap of $46 billion but there are many startups striving to take ISRG's crown. Intuitive Surgical is in the sweet spot for investors where you do not have the traditional small-cap risks but still has strong capital gain opportunities.
Beta (β): This measures the company's volatility in relation to the market. For example, if beta equals 1.0, the firm will track the market's performance (commonly the S&P 500). For this reason, I prefer companies with lower betas (<1.0) because they are less volatile than the overall market. Intuitive Surgical's average beta is at 1.3 but there is a wide discrepancy between Yahoo Finance (1.03) and Finviz (1.59). Based upon my experience following the stock I believe that the average of 1.3 appears somewhat low as ISRG is a volatile stock that is not suitable for risk averse investors. The beta has climbed even higher in the past month and it is apparent that the stock price will be more unpredictable than past trading would indicate.
Insider Ownership & Transaction Trends: There is one primary reason why insiders buy shares - they believe that the stock price will increase. On the other hand, there are many reasons why insiders may sell such as a personal need for cash, exercising options, or personal diversification. For this reason, I consider insider buying a strong signal but I do not put much faith into insider sales. There has been some insider selling recently but nothing that raises a red flag. Further research reveals that most of the sales in the year have been automatic so there is no indication that insiders are overly bearish on the company.
Institutional Ownership Percentage: Studies have indicated that there is a direct relationship between institutional ownership and stock price so this is a critical factor. If a company does not have greater than 90% institutional ownership, I am hesitant to make it a core holding. Financial institutions have tremendous talent and resources unavailable to the average investor so I relish the opportunity to piggyback on the work of other intelligent investors. 93% of Intuitive Surgical's shares are held by insiders which is a robust sign. In contrast, competitors only have 76% institutional ownership, thus ISRG's ownership is materially higher.
Short Percent and Trend: The number of shares sold short divided by total shares outstanding is an indicator of bearish activity. The potential losses from shorting are unlimited so if there are a large number of investors selling short, this is a warning that the stock may be heading for a tumble. Additionally, there is also a hidden advantage to a stock with a high short percentage: if there is unexpected good news, a short-squeeze can really make the stock skyrocket. Intuitive Surgical has a modest five percent short interest but the large competitors have a much lower short interest of one percent. This indicates that the stock could rise faster than the peer group. The short interest has declined slightly in the past month.
Financial Strength:
Revenue Growth: A business that is unable to increase revenue will have a difficultly thriving in the marketplace today. Some industries struggle to generate growth but the high tech medical supply industry is not one of them. ISRG is on the cutting edge of the industry thus it is growing significantly faster than its large peers are. Intuitive Surgical reported that approximately 45,000 da Vinci procedures were performed in 2012, an increase of 25% versus 2011. Sales are generally made through a direct sales force and the da Vinci system is either sold or leased to the customer. Due to the complex nature of the system, Intuitive Surgical maintains a clinical sales team of 685 who essentially focus on customer service and seek out potential cross-selling opportunities. Current events may dampen ISRG's growth in the short term but I still believe that its products are the inevitable future and the company will be at the forefront of surgeries for years to come.
EPS (Diluted Growth): Revenue growth is important but the ultimate objective is to grow the bottom line. High revenue growth is great but is meaningless if the company is unable to control costs and convert sales into profits. Fortunately ISRG has been successful at increasing EPS and EPS growth has been greater than revenue growth.
Debt/Equity: Debt in the capital structure of a company can have significant benefits due primarily to the tax deductibility of interest payments. While the cost of debt is lower than the cost of equity financing, just like eating ice cream, there can be too much of a good thing. As the level of debt rises, the interest payments can become prohibitive and force a short-term orientation that is fixated on satisfying bondholders rather than shareholders. For this reason, relatively low levels of debt are ideal. The absolute levels of short-term and long-term debt only tell part of the story: the trends over time should also be considered. The industry group has low levels of debt and Intuitive Surgical has zero debt.
Cash Flow from Operations: Did I mention that cash is king? If I could only look at one characteristic when making an investment decision, this would be it. It will be a very rare situation when I invest in a company with negative cash flows from operations. Not only does Intuitive Surgical have positive cash flows from operations but they have been increasing by twenty percent. Converting sales into cash is the ultimate indicator of success and ISRG is a clear leader in this regard.
Cash Ratio: I always consider a company's cash position when making an investment as it indicates the margin of safety. For example, you can find companies where cash represents up to thirty percent of the market capitalization. Note that you need to consider this metric in conjunction with debt as cash is worthless if the company has significant debt. Intuitive Surgical holds less cash than its peers but that is to be expected due to its lack of debt. Six percent is not remarkable but does offer some safety.
Current Ratio: These next two metrics focus on a company's liquidity and ability to pay obligations as they come due. The current ratio is measured as current assets divided by current liabilities; therefore, a ratio of at least 1.0 indicates short-term strength. With that in mind, ISRG's current ratio of 4.6 is extremely strong.
Quick Ratio: The quick ratio is a variation of the current ratio with inventory and prepaid expenses excluded from current assets. This is an important ratio for companies that rely heavily on inventory. If there is a cash crunch the current ratio can be misleading because a company may not be able to easily sell its inventory at regular prices. Again, ISRG has an excellent quick ratio of 3.2, further confirming that VFC is liquid and well managed.
Valuation & Profitability:
Discounted Cash Flow: Performing a discounted cash flow analysis ("DCF") is a fundamental approach to valuing a company. There are two key elements of a DCF analysis: the forecasted growth rate and the return on a selected benchmark to discount the cash flows back to the present. I computed the forecasted growth rate by considering historical growth rates as well as analysts' expectations for the future. The average growth rates for the last year and five year periods is 31.83%, which is dramatically higher than analysts' expectations of 17.7%. I put more faith in analysts' expectations so I weighted analysts' expectations at 75% and arrived at a weighted average expected future growth rate of 21.23%. After the five-year period I forecast that growth will fall by fifty percent where it will remain for the following five years. To calculate the terminal value I assumed growth would track average inflation over the last twenty years of approximately 2.3%. For a discount rate I utilized the S&P 500 CAGR from 1988-2012 of 9.71% and added a one percent margin of safety for a total discount rate of 10.71%. The result is a DCF value of $535.56, which is $76.12 above the stock's current trading price. This indicates that Intuitive Surgical is 16.6% undervalued when using a DCF model.
P/E Ratio (Forward): An alternative way to value a company is to use the forward price-to-earnings ratio. ISRG trades at a significant premium to its competitors, which is not unexpected given its unique industry position. The forward P/E of 23.7 is approximately double that of the industry but ISRG is growing EPS more than twice as fast as its largest competitor, Medtronic. Furthermore, ISRG grew quarterly earnings almost five times as fast as MAKO did. Ordinarily I like to buy companies trading at a discount to their peers but Intuitive Surgical is clearly in a class of its own and investors need to pay-up for it. This is precisely why ISRG is such a volatile stock, there is no real consensus on how to value the company without a solid peer group to compare it to. The stock is currently trading at 22.4X next year's earnings and I would argue that it should be trading closer to 25X next year's earnings. This is consistent with the valuations of other high-growth firms Lululemon Athletica Inc. (NASDAQ:LULU) and Chipotle Mexican Grill (NYSE:CMG). Based upon this assumption, I believe that stock should be trading at $511.75. Averaging the DCF and P/E methodologies, I arrive at a $523.66 fair value price target for the stock.
Return on Equity: A measurement of earnings as a percent of shareholders equity indicates the profit potential of the company. The DuPont decomposition of RoE explains why it is so valuable: one simple ratio incorporates profitability, asset management, and corporate management. Managers can utilize different strategies to achieve RoE, which causes the ratio to be extremely useful for industry comparisons. ISRG's 21% RoE is extremely high and even bests its large competitors by almost four percent.
Performance vs. S&P 500 vs. Industry (YTD)/Price in Relation to 52-Week High & Low: I like to follow the axiom of buying low and selling high so I am very hesitant to buy near a 52-week high unless there is great news. Obviously you need to be careful here as well because you do not want to invest in a company that is declining significantly because you might be trying to catch a falling knife. ISRG has lagged the S&P 500 by 16% in 2013 and has underperformed its rivals by nearly six percent. The stock sits approximately five percent above its 52-week low after its recent tumble and I think could be a buying opportunity on its recent drop.
CNBC has a solid recap of the recent trouble facing the firm and I believe that the safety concerns will pass. In fact, surgeons have even come to the support of Intuitive Surgical in recent days. In closing, this is not a stock for the risk-averse. ISRG operates on the cutting edge of technology and has litigation, political, and other related risks that could impair your investment. I believe that investors entering the stock around $460-$470 are being adequately compensated for the risk assumed.
Disclosure: I have no positions in any stocks mentioned, but may initiate a long position in ISRG over the next 72 hours. I wrote this article myself, and it expresses my own opinions. I am not receiving compensation for it (other than from Seeking Alpha). I have no business relationship with any company whose stock is mentioned in this article.
Additional disclosure: Please refer to profile page for disclaimers.