Introduction
What I learned early in my investment career is that the news media likes to disseminate a lot of inaccurate information about financial companies or blow things out of proportion. I believe that AIG will be able to beat expectations due to favorable economic conditions. I think the company will add $10-12 billion to its market capitalization in 2013 alone.
Qualitative Analysis
Source: Information pertaining to AIG came from the shareholder annual report, shareholder quarterly report, investor presentation, along with YCharts.
The potential losses AIG could experience from insurance related losses was exaggerated out of proportion. Zachary Tracer from Bloomberg cautions:
The insurer recorded $309 million of impairments in 2012 and $312 million in 2011; AIG said in its annual report last month. So-called life-settlement contracts let investors buy insurance policies from individuals and pay the premiums until those people die. The arrangement is less profitable for AIG the longer a person survives the opposite of traditional life coverage sold by the firm, in which early deaths hurt results.
I find it amusing that the financial media is hyping up losses made by its life insurance division. That somehow this could have a substantial impact on AIG as a whole. The company is a heavily diversified holding company.

Look closely at the picture above, Life Insurance represents approximately 16% of AIG's total revenue with AIG deriving a vast majority of its profit from AIG property and casualty. It is unlikely that an insurance division could represent a substantial enough of a risk to sink AIG's insurance empire. AIG's impairments will be temporary as insurance actuaries are extremely skilled at predicting mortality rates. AIG will review the data on death rates and make some minor adjustments to the underlying algorithms. This will result in accurately priced life insurance products, whereby AIG will be able to extract profits from Life insurance.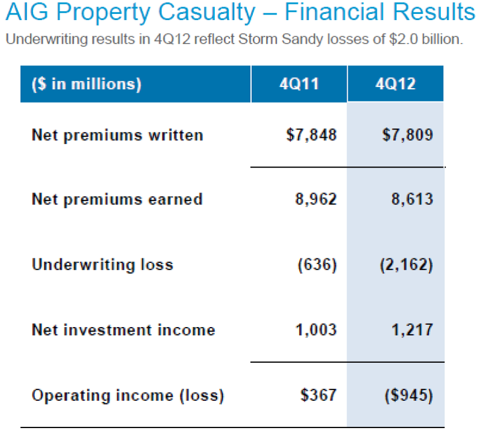 A bigger upside catalyst was the results from the property and casualty results. AIG lost $2 billion in 4Q 2012 due to hurricane Sandy implying that the $2 billion in losses are likely to be temporary. Losses like this will not be repeated going into fiscal year 2013. Had the hurricane not happened, AIG would have earned a billion dollars from property and casualty.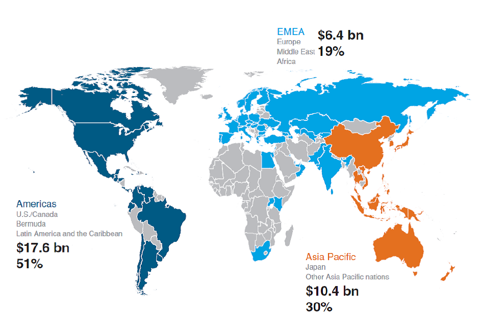 AIG's exposure to Europe is fairly limited with 19% of the business being exposed to European banking woes. Based on the data, it is unlikely that AIG's business would be materially impacted by European default issues. Furthermore, AIG's business activities include the Americas at 51% of revenues and the Asia Pacific at 30%.
The United States government requires car and homeowners to have insurance. The legal penalties can be stiff. Because insurance policies are bought with homes and cars, it can be assumed that if the number of homes and cars purchased increase than the number of insurance policies will also increase.
The American population has continued to grow by 3 million people a year. Population growth implies a demographic need for housing. Economists estimated that there is pent-up demand and that household formation will return to 1.2 million a year as job conditions continue to improve (unemployment rate is currently 7.9%). During 2011, only 845,000 housing units were built annually over the last four years, with demolition and destruction of homes from demolition, and natural disaster (Katrina, Sandy, etc.) Resulted in a 250,000 decrease in the number of homes on average (4-year average).
Assuming the economic predictions are correct in the United States alone 1.2 million people will be buying either homeowners or renters insurance per year. Since AIG's business activities, are concentrated in the United States, it is likely that AIG will be able to compete for and secure a reasonable amount of market share. That being the case, it is reasonable to anticipate an increase in the number of policies that AIG writes. This can be reflected in the positive earning analyst estimates of $3.35. I believe that analyst estimates should be set even higher because it's not just houses that are likely to do well, cars are also projected to do well this year.
According to Seeking Alpha Newswire:
Ford Motor company (NYSE: F) January U.S. sales of 166,501 grew 22 percent year-over-year with retail sales up 24 percent. Gains were made across the product lineup, with cars up 34 percent, utilities up 23 percent, and trucks up 11 percent for the month.
With Ford able to grow fleet sales by 24%, this is indicative that AIG's casualty division will be writing many more car insurance policies for Q1 2013. The population sample size of Ford is accurate because Ford represents 18% of the car market share within the United States. Furthermore, all automotive companies are likely to do extremely well in the coming years as demand for durable goods continues to climb. This is correlated because AIG sells insurance on cars, and for a car owner to own a car, the car owner must purchase car insurance in the United States. Since the Americas represent 51% of AIG's revenues, it is likely that the favorable economic conditions will certainly help AIG in its Q1 2013 earnings results.
Banking and insurance services have an elasticity rating of 0.56. This implies that consumers are not very price sensitive to insurance and financial products. In other words, no one goes around shopping for the lowest insurance premiums; lowest debit cards fees, highest CD rates, and etc. Assuming ceteris paribus insurers can increase premiums by 10% and anticipate a decline in demand of 4.4%. This could allow AIG room to maximize profits through price increases, on its insurance products.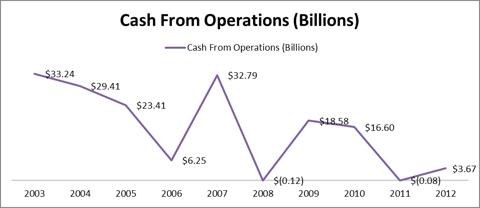 AIG has been able to stabilize the cash flow it generates from its business division. I anticipate AIG to be able to grow earnings and cash inflows. I don't anticipate another major natural disaster within 2013 which should help AIG shareholders. Furthermore, I anticipate the favorable economic environment to further support AIG's cash flow going forward. I believe that the company will charge higher premiums, which could improve profit margins and erode the losses it has made in life insurance. Based on the figure below, the company's financial condition continues to improve.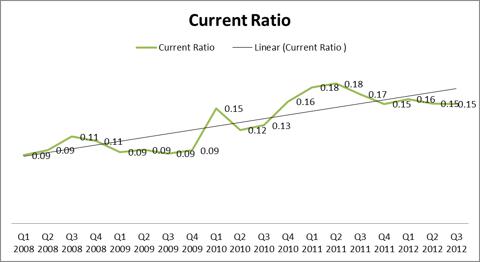 The balance sheet risk seems to have been reduced over the past four years. The current ratio improved from 0.09 to 0.15 over the period analyzed. The amount of current assets relative to current liabilities has improved by 66% over the period. The linear trend line shows that the current ratio has been on an uptrend. The company has consistently increased the amount of cash on its balance sheet in order to meet its short-term obligations. This type of trend can be seen as a positive because it means that AIG is reducing its immediate risk of defaulting on its short-term obligations, which should reassure investors that AIG's financial position has been consistently improving over the past four years.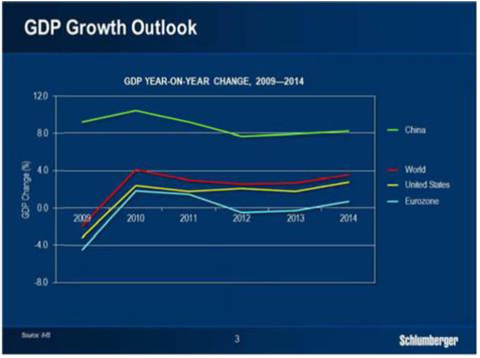 According to Schlumberger, the worldwide GDP is projected to grow at 3.5% for 2013, and 3.9% for 2014. This implies that AIG's economic environment is both stable and will continue to improve going forward. It is also anticipated that the Eurozone will exit out of recession by the end of 2014 barring any unforeseen circumstances which should keep investors optimistic on European woes despite the recent issues in Cyprus.
Technical Analysis
The stock has been on a continuous up-trend since November 2011. I believe that the stock will be able to sustain this momentum based on market sentiment and the underlying fundamentals of the stock.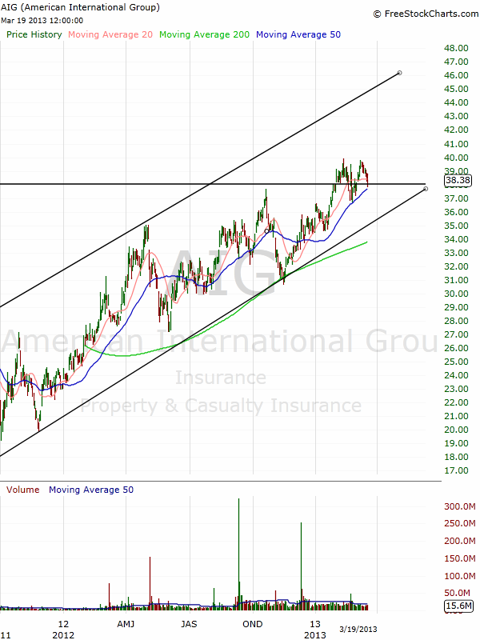 Source: Chart from freestockcharts.com
The stock is trading above the 20-, 50-, and 200- Day Moving Averages. The stock has been able to find some support on the 20-day Moving Average. The broader stock market has a lot of momentum, and I anticipate that AIG will follow the trend over the short-term. The recent sell-off that came as a result of the Cyprus scare is temporary. This is a good opportunity to buy the shares at a discount.
Notable support is $30.80, $34.70, and $37.00 per share. Notable resistance is $43.00, $45.00, and $60.00 per share.
Street Assessment
Analysts on a consensus basis have high expectations for the company going forward.
| | | | | |
| --- | --- | --- | --- | --- |
| Growth Est | AIG | Industry | Sector | S&P 500 |
| Current Qtr. | -113.40% | -99.90% | -93.80% | 9.50% |
| Next Qtr. | -48.50% | -99.80% | -92.70% | 15.30% |
| This Year | 266.70% | 99.80% | 23.30% | 7.20% |
| Next Year | -6.70% | 20.80% | 6.90% | 13.10% |
| Past 5 Years (per annum) | -42.91% | N/A | N/A | N/A |
| Next 5 Years (per annum) | 21.93% | 13.20% | 10.60% | 8.72% |
| Price/Earnings (avg. for comparison categories) | 9.41 | 19.56 | 13.83 | 14.69 |
| PEG Ratio (avg. for comparison categories) | 0.43 | 1.67 | 0.95 | 1.41 |
Source: Table and data from Yahoo Finance
Analysts have high expectations, as analysts on a consensus basis have a 5-year average growth rate forecast of 21.93% (based on the above table). This growth rate is above the industry average for next 5-years (13.20%).
| | | | | |
| --- | --- | --- | --- | --- |
| Earnings History | 12-Mar | 12-Jun | 12-Sep | 12-Dec |
| EPS Est | 1.12 | 0.57 | 0.86 | -0.08 |
| EPS Actual | 1.65 | 1.06 | 1 | 0.2 |
| Difference | 0.53 | 0.49 | 0.14 | 0.28 |
| Surprise % | 47.30% | 86.00% | 16.30% | 350.00% |
Source: Table and data from Yahoo Finance
The average surprise percentage is 124.9% above analyst forecast earnings over the past four quarters (based on the above table).
Forecast and History
| | | |
| --- | --- | --- |
| Year | Basic EPS | P/E Multiple |
| 2003 | $ 3.10 | 21.38 |
| 2004 | $ 3.77 | 17.42 |
| 2005 | $ 4.03 | 16.93 |
| 2006 | $ 5.38 | 13.32 |
| 2007 | $ 2.40 | 24.29 |
| 2008 | $ (37.84) | - |
| 2009 | $ (93.69) | - |
| 2010 | $ 14.75 | 3.27 |
| 2011 | $ 8.60 | 2.7 |
| 2012 | $ 3.74 | 9.41 |
Source: Table created by Alex Cho, data from shareholder annual report
The EPS figure shows that throughout the 2003-2006 period earnings were growing due to favorable economic conditions. Then the company was adversely affected by the great recession, throughout 2007-2009 the net income rapidly declined. AIG eventually logged the biggest loss in corporate history. During 2010, the company was able to generate a profit by restructuring the company; this involved selling business units, which inflated earnings by $17.7 billion dollars. Once the United States economy exited the recession in 2010-2012 the company earnings have improved, albeit gradually. In 2011,, the abnormal earnings of $8.60 were due to a provisional benefit from taxes worth $18.03 billion dollars. The improvements in net income for 2010-2011 were one-time events and should not be considered a part of the long-term earnings growth trend. So in essence, 2012 is likely to be the most normal year for AIG out of the past 5 years.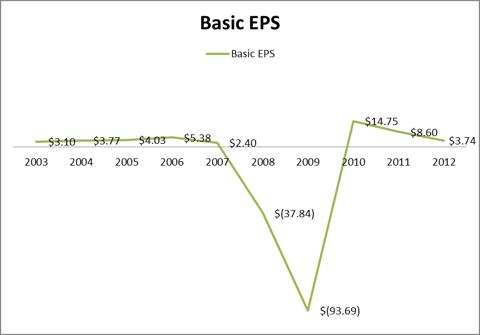 Source: Table created by Alex Cho, data from shareholder annual report
By observing the chart, we can conclude that the business is somewhat cyclical and is affected by macroeconomics. Therefore, one of the largest risk factors to AIG is the slowing of international gross domestic product growth. So as long as the global economy continues to grow, the company will generate reasonable returns over a 5-year time span based on the forecast (the below figure).

Source: Forecast and table by Alex Cho
By 2018, I anticipate the company to generate $11.72 in earnings per share. This is because of earnings growth, improving global outlook, product development, earnings management and continued development overseas.
The forecast is proprietary, and below is a non-linear chart indicating the price of the stock over the next 5-years.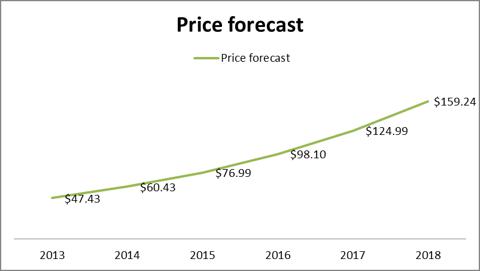 Source: Forecast and chart by Alex Cho
Below is a price chart incorporating the past 10 years and the next 6 years. Detailing 16 years in pricing based on my forecast and price history on December 31st of each year.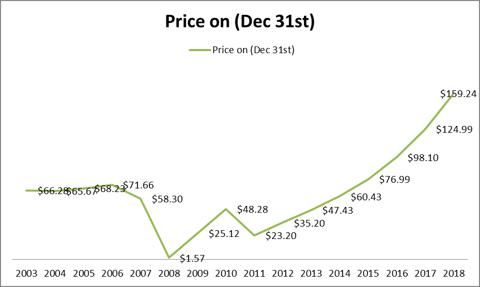 Source: Forecast and chart created by Alex Cho, data from shareholder annual report, and price history are from Yahoo Finance.
*The period 2003-2008 were price quotes based on pre-split stock prices (multiply by 20 to calculate the price of the shares between 2003 and 2008). On 7/01/2009, the stock had a 1:20 split (reverse split).
Investment Strategy
AIG currently trades at $38.60. I have a price forecast of $47.43 for December 31st 2013. Undervalued stock will experience sudden rallies in order to fetch a reasonable premium relative to historic valuation, growth, or book value. I factored that into my price forecast, making it an important component behind the sudden jump in stock valuation despite the gradual improvement in anticipated earnings.
Short Term
Over the next twelve months, the stock is likely to appreciate from $38.60 to $47.43 per share. This implies 22.87% upside from current levels. The technical analysis indicates an up-trend. While the previously mentioned price forecast using fundamental analysis further supports the trade set-up.
Investors should buy AIG at $38.60 and sell at $47.43 to pocket short-term gains of 22.87% during 2013. This return on investment is exceptional for short-term investors.
Long Term
The company is a decent investment for the long-term. I anticipate AIG to deliver upon the price and earnings forecast despite the risk factors (competition, regulation, economic environment). AIG's primary upside catalyst is international expansion, growth, share buy-backs, and managing costs. I anticipate the company to deliver upon my forecasted price target of $159.24 by 2018. This implies a return of 312.53% by 2018. This is a phenomenal return for an insurance stock.
A higher yielding investment opportunity albeit having a higher risk is to buy the Jan 17, 2015 calls at the $42.00 strike. The call premiums trade at $4.78. The price forecast for the end of 2014 is $60.43. The rate of return if the calls expire at $60.43 is 285%, the option will break-even when the stock trades at $46.78.
The call premiums are cheap because investors who are short AIG calls do not anticipate the stock to trade near its intrinsic value over the short-term. Furthermore, the risk-to-reward is high, but so is the risk (3.5 beta).
AIG has a market capitalization of $57 billion; the added liquidity makes this an investment opportunity appropriate for larger institutions that require added liquidity.
Conclusion
The company has survived through many storms, like hurricane Sandy. Consumer demand for homes and cars grows giving AIG further upside. The company is growing in China which could be another upside catalyst waiting to unfold. Ultimately this is the best insurance company investors could ever hope to own.
The conclusion remains simple: buy AIG.
Disclosure: I am long AIG. I wrote this article myself, and it expresses my own opinions. I am not receiving compensation for it (other than from Seeking Alpha). I have no business relationship with any company whose stock is mentioned in this article.