Macy's, Inc. (NYSE:M) is one of the premier retailers in the U.S. today. The company operates about 800 Macy's department stores and furniture galleries in 45 states and territories in addition to Guam, Puerto Rico, the District of Columbia, as well as Macys.com. It carries the Bloomingdale's brand, branching out to 37 department stores and home stores in 11 states, Bloomingdales.com, seven Bloomingdale's outlet stores in five states, and a licensed store in Dubai. The company's workforce has reached approximately 171,000 employees. Macy's and Bloomingdale's are known worldwide for their iconic brands and each has its own unique identity and customer focus.
Industry Outlook and Peer Performance
The department store sector is exclusively driven by higher income retailers that contribute solid sales gains supported by strong e-commerce platforms. Mid-tier department stores experience margin pressure and weak customer traffic with off-price retail players stealing away market shares. Turnaround for more off-price retailers seems to be unrealistic given the prevailing difficult retail environment. Investors would be better positioned by placing their bets on high quality growth names like Macy's.
Limited Brands (LTD) reported strong same-store sales of 9.0%, well above the 3.4% analysts' consensus estimate. By segment, Victoria's Secret Stores, Bath & Body Works and La Senza comps were up 8%, 10% and 15%, respectively, while Victoria's Secret Direct comps were down 5%. Limited noted performance at its Victoria's Secret Stores was driven by strength in clearance sales of merchandise and full priced sales during the semi-annual sale season and that the La Senza merchandise margin rate was down significantly annually, driven by higher promotional activity.
TJX Companies (NYSE:TJX) reported same-store sales up 3%, which were in line with the management's expectations and above analysts' expectations. Kohl's (NYSE:KSS) posted the highest margin in beating earnings guidance among its peer retailers. The company reported same-store sales up 13.3% vs. analyst expectations of 3.3% up. However, it is still uncertain whether future sales will be driven by promotional activities at the expense of its margins. Kohl's has hinted that it already cleared its seasonal merchandise following a substantial inventory cut in January.
Fundamentals
Macy's sales growth accelerated throughout 2012. Its online business grew 41%, reaching just over $2.0 billion in size in 2012, which is forecasted to grow to $3.7 billion by 2014. While it's true that the overall U.S. online retail market continues to surpass overall retail sales, growing 15% in 2012 to $186 billion, on top of the 14% growth in 2011, Macy's is well-positioned to capture online sales growth. The company's relentless endeavors to keep itself on the growth trajectory have paid off.
In an economy, which still lacks luster, Macy's reported the fourth quarter of 2012 with EPS of $2.05. This translated into a strong 6.7% above its earnings guidance and thus raised its fourth quarter earnings guidance to the $1.94 to $1.99 range, up from its lower earnings guidance range of $1.91 to $1.96 earlier.
Revenue increased by 7.2% to $9.35B. Omnichannel growth continues to drive higher merchandise EBITDA margins by allowing customers to shop in stores, online and via mobile devices. M likewise focused on growing its Macys.com and Bloomingdales.com online businesses, with development of systems infrastructure, fulfillment capacity and customer service to integrate the offerings in all channels. The omnichannel platform also enabled Macy's to deploy inventories more efficiently, with potential to benefit operating margins in the long term. Inventories were up 3.3% vs. 0.7% in 3Q12 due to the strategic decision to replenish more merchandise inventories into stores in preparation for post-holiday sales. This move seems to have benefited January 2013 same store sales. Omnichannel outlets were already rolled out in 292 stores vs. 23 last year, and the company plans to put up 500 more by the end of 2013.
Full-Year Same-Store Comps, FY 2012
Click to enlarge images.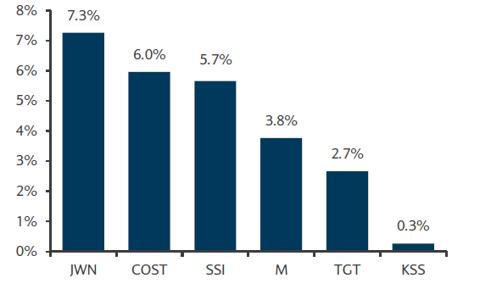 Source: Company annual reports.
Macy's constantly generates strong cash flows, and has successfully enhanced its balance sheets. The company is committed to returning cash to shareholders through dividend and share repurchases. Having attained its target credit ratios earlier than expected, Macy's revived its share repurchase program in 2011 using excess cash. As of 2011, the company also achieved its initial debt ratio targets with total leverage of 2.7X (vs. a target of 2.4X to 2.7X), and interest coverage of 6.4X (vs. a target of 6.4X to 6.6X). The retailer settled $1.8 billion in debt using free cash, and issued $1.0 billion in new debt in 2012. M repurchased a total of 16.4 million shares for approximately $500 million. It had authorization to repurchase $1.35 billion of common stock, including a $1 billion increase in authorization approved by the board of directors in 2012. Dividend payout doubled to $0.80 (or $0.20 per quarter) following an increase in 2011.
Conclusion
Department Stores' Price-to-Earnings Multiples 2012 (as of January 2013)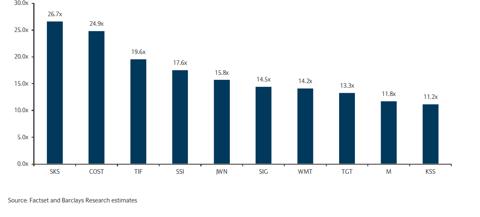 Macy's has robust omnichannel growth contributing approximately 300 bps to its 2013 same store sales. It's well on track to achieve its 14.0%-15.0% EBITDA target, given its upside potential from higher penetration of exclusive brands and omnichannel rollout. Macy's remains superior to its competitors in terms of nurturing its financial position. I would consider Macy's as one of the U.S. companies with the highest free cash flow yields at 9.3%, as compared to its peers. Credit ratios currently stand at 2.4X Debt/EBITDA and 7.9X EBITDA/Interest Expense. Currently trading within the P/E of 12X at EPS of $2.00 to $3.00, Macy's looks cheap relative to its peers and shares definitely have upside potential, supported by top-line momentum from expansion of its omnichannel businesses. In all, Macy's could be a great stock for investors.
Disclosure: I have no positions in any stocks mentioned, and no plans to initiate any positions within the next 72 hours.
Business relationship disclosure: Black Coral Research is a team of writers who provide unique perspective to help inspire investors. This article was written by Hans Centena, one of our senior analysts. We did not receive compensation for this article (other than from Seeking Alpha), and we have no business relationship with any company whose stock is mentioned in this article.
Disclaimer: Black Coral Research is not a registered investment advisor or broker/dealer. Readers are advised that the material contained herein should be used solely for informational purposes. Investing involves risk, including the loss of principal. Readers are solely responsible for their own investment decisions.