Marc Faber, author of the "Gloom Boom and Doom" report expects the Fed's policy of printing money (to stimulate the economy) is coming to an end. In this article we will look at the reasons and the investment implications for his comments. Since the onset of the crisis, the world's monetary authorities have been forced to ditch their inherent conservatism and embrace extreme measures on an unprecedented scale to stave off financial and economic collapse.
Great Debt Swap From Private To Public Sector In The U.S.: The U.S. Government has taken over the excess debt from the system to avoid any big losses for the creditors. Post credit crisis, there has been a great swap of debt from the private to the public sector, with consumers and corporates in the U.S. reducing debt while the public sector has taken on more leverage. In reality, this does not alter the situation in a big way. All stakeholders (creditors, savers and taxpayers) stand to loose in the process as the impaired asset remains impaired regardless of the balance sheet on which it sits. As a result, the assets of the central bank have been deteriorating in quality and lengthening significantly in maturity.
(click to enlarge)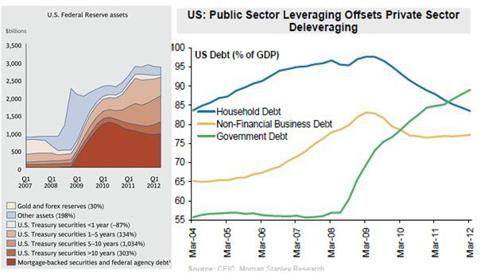 Source: BCG Perspectives
U.S. Government Highly Dependent On The Fed For Funding: The U.S. government is highly dependent on the Fed for funding. This has led to explosion of the Central Bank's balance sheet due to excess printing of money. For example in 2011, the Fed's money printing spree led to it purchases of 60% of the total treasury notes issued. If the Fed prints at the same speed, it could end up owning 60% of all outstanding debt by 2015 (vs. 27% in 2012). The Fed's balance sheet has grown dramatically to $3.0 trillion by mid-2012 (vs. $900 billion at the beginning of the financial crisis).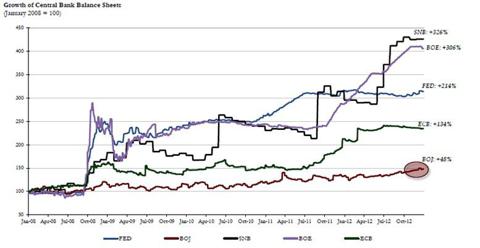 Source: Bienville Capital Management
Negative Interest rate for the Next Decade: In the previous paragraph, we have looked into how the Central Banks have bailed out the creditors. Now we will look at how it is trying to help the debtors. It is trying to lower the funding cost by keeping interest rates artificially low (financial repression) through quantitative easing. Japan tried the same formula during the 1990s to come out of deflation, but ended creating "Zombie banks". Under current circumstances, the Central Banks risks themselves of becoming zombies considering the policy tools they are adopting. Readers can refer to my previous article "Marc Faber: Get Ready For Decade-Long Low Interest Rates," to know more about the investment implications of negative interest rates.
Fed's Loss Absorption Capacity: According to an analysis by BCG, a change of accounting standards (new liability position: interest on Federal Reserve notes due to the U.S. Treasury) in 2011 created an infinite loss-absorption capacity for the Fed. After this change, losses resulting from sale of bond below their original purchase price will be shown as capital participation from the U.S. Treasury (instead on the Fed's balance sheet as a reduction in capital). Instead of transferring profits to the Treasury on a weekly basis, the Fed delays the remittance if the line items become negative. This amount could be used to setoff any future losses. The present value of this future seigniorage could increase by ~$1.8 trillion after this.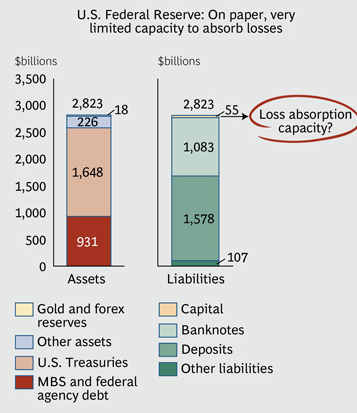 Source: BCG Perspectives
The Quantitative Easing program is expected to continue, increasing the scope for central banks defaulting as well. Though the loss-absorption capacity of Fed looks infinite, it lacks credibility due to the concerns of future inflation. Despite the expansion of monetary base, inflation has not been a cause of concern till now. Deflation coupled with adverse effect on deleveraging in the U.S., had led to a fall in velocity of money.
Charles I. Plosser (chairman and CEO of the Federal Reserve Bank of Philadelphia) points out that "Any debt restructuring involving forgiveness by the central bank could drive the velocity of money back to the long-term average. This would lead to significant inflation unless the central bank reduces its balance sheet by selling assets to the market. "
The magnitude of the required adjustment could be huge. BCG projects Federal Reserve would have to reduce its balance sheet and, therefore, the monetary base by $1.8 trillion to sterilize inflationary pressure. Failure to do so would drive up the price level in the U.S. by almost 300%. After the debt restructuring, the remaining Fed assets would be about $1.2 trillion. There would only be no risk of inflation from such debt forgiveness by the central bank if the velocity of money were to remain historically low.
Investment Implications and Options: Though the end-game of central bank's interventional policies are not clear, the outcome and investment of these ultra-loose monetary policies could be quite significant for the next decade:
Huge deficits with less scope for fiscal discipline
Negative interest rates for the next decade
Asset price inflation especially in emerging markets, commodities and other risk assets
Leveraged speculator benefit at the expense of savers
Now let us look on investment options.
Gold: Readers can refer to my previous article "How Gold Can Help Stabilize The Balance Sheets Of Central Banks" to understand how Gold could be the ultimate bet to play the Central Bank stabilization theme. Further I have also written on the reason as to why gold could gain importance as a reserve asset and a FX hedge against global currency war in "3 Reasons To Be Bullish On Gold." Investors can get exposure to gold using the following ETFs: SPDR Gold Shares (NYSEARCA:GLD), Market Vectors Gold Miners ETF (NYSEARCA:GDX) and Market Vectors Junior Gold Miners ETF (NYSEARCA:GDXJ)
Emerging market: I have written about this in my previous article "Emerging Market Currencies: Best Way To Play QE3." The South African rand, Chinese renminbi (NYSEARCA:FXI) and the Indian rupee (NYSEARCA:ICN) offer real yield advantage and are undervalued. Investors can also look at companies with significant emerging market exposure that should also see simple translational benefits from appreciating emerging market currencies. Companies that get significant share of income from emerging markets include Vodafone (NASDAQ:VOD), Sanofi (NYSE:SNY), Philip Morris (NYSE:PM), Colgate-Palmolive (NYSE:CL), Novartis (NYSE:NVS), Yum Brands Inc (NYSE:YUM), Glaxosmithkline (NYSE:GSK) and Procter & Gamble Co (NYSE:PG)
Indirect Real Estate Plays: U.S housing looks set for a rebound as seen from the a) improvement in the NAHB index b) fall in excess inventory c) rising housing prices d) increase in mortgage demand and e) improvement in housing affordability. Investors could benefit from increasing volumes and prices by investing in the U.S. homebuilding companies. The home-builder universe of stocks include Beazer Homes (NYSE:BZH), DR Horton (NYSE:DHI), Hovnanian Enterprises (NYSE:HOV), KB Home , Lennar (NYSE:LEN), MDC (NYSE:MDC), Meritage Homes (NYSE:MTH), PulteGroup (NYSE:PHM), Ryland and Toll Brothers (NYSE:TOL).
Infrastructure and Utility companies with pricing linked to Inflation Index: National Grid (NYSE:NGG), Ferrovial (OTCPK:FRRVF) and Severn Trent (OTCPK:SVTRF)
Japan Reflation Game: The two major outcomes of Japan's (NYSEARCA:DXJ) reflation game are: Yen (NYSEARCA:FXY) depreciation and growth in Japan's domestic demand. Countries like Indonesia (NYSEARCA:EIDO), Thailand (NYSEARCA:THD) and Malaysia (NYSEARCA:EWM) would be the major beneficiaries of Japan's robust demand growth and its complementary trade association. Korea (NYSEARCA:EWY) will be the biggest loser as it competes directly with Japan in the export market. Japanese companies like Toyota (NYSE:TM), Honda (NYSE:HMC), Toshiba and Mazda (OTCPK:MZDAY) would be the biggest winners at the expense of U.S. companies like Ford (NYSE:F), General Motors, Caterpillar (NYSE:CAT), General Electric (NYSE:GE) and Deere (NYSE:DE) from yen devaluation.
Southeast Asia: Southeast Asia is also home to an expanding middle class, creating investment opportunities in industries such as organized retail, consumer products, healthcare, education, transportation, and telecommunications. Investors can gain exposure to these regions using the following ETFs: iShares MSCI Malaysia Index Fund , iShares MSCI Indonesia Investable Market Index Fund , iShares MSCI Singapore Index Fund (NYSEARCA:EWS), Market Vectors Indonesia Index ETF (NYSEARCA:IDX), iShares MSCI Thailand Index Fund , Market Vectors Vietnam ETF (NYSEARCA:VNM), MSCI Philippines Investable Market Index Fund (NYSEARCA:EPHE) and Global X Debuts ASEAN ETF (NYSEARCA:ASEA).
Disclosure: I have no positions in any stocks mentioned, and no plans to initiate any positions within the next 72 hours. I wrote this article myself, and it expresses my own opinions. I am not receiving compensation for it (other than from Seeking Alpha). I have no business relationship with any company whose stock is mentioned in this article.