Introduction
After having captured the lion's share in the PC and server processor segment, Intel (NASDAQ:INTC) is now targeting the fast growing smartphone and tablet semiconductor space. Intel has started to increase its focus on mobile products which is growing much faster than the PC and laptops. The main reason for Intel's underperformance has been the decline in PC and laptop shipments. IDC has reported that the PC segment is declining even faster than its own expectations, while tablets are growing faster. Intel never had a big presence in the mobile industry as it was focused on the much larger server and desktop processor space.
However, the huge growth in the sales of smartphones and tablets has made the mobile semiconductor pie much larger. Just as Microsoft (NASDAQ:MSFT) has refocused its efforts on tablets (Windows RT and Windows Pro) and smartphones (Nokia partnership and Windows 8), Intel too is diverting its gargantuan resources towards the mobile segment. Intel leadership has accepted the fact that they missed the bus on the mobile processors and are pushing aggressively to make up for the lost time. While there is skepticism about Intel's ability to bring out low power chips for the mobile industry, I think it's only a matter of time before Intel carves out a big chunk of the mobile semiconductor market share. Note Intel has already bought Infineon's mobile wireless division to accelerate its entry into the mobile wireless space. Intel has also partnered with Google (NASDAQ:GOOG) so that Android works seamlessly with Intel chips and has captured some key smartphone vendors.
Intel's Mobile Strategy picking up Pace
Intel announced the launch of its new SOC hardware platform in the recently held Mobile World Congress in Barcelona. According to Intel, the Atom Z25xx platform ("CloverTrail+") has double the processing power and triple the graphic capabilities compared to its preceding Atom 24XX platform ("Medfield"). This new lineup of 32-nm dual-core SoCs includes the 1.2-GHz Atom Z2520, 1.6-GHz Atom Z2560 and 2-GHz Atom Z2580. Intel's partners have already launched/announced new smartphones based on the new platform.
Intel is set to bring out a quad core Atom processor ("BayTrail") based on the 22 nm process later in 2013. "CloverTrail" only has 2 core processors compared to 4 core processors from competitors like Qualcomm and Mediatek in the market. Intel also does not have an integrated application processor and LTE solution like Qualcomm. Intel intends to rectify this as well in the next year, as it works furiously to catch up with the mobile competitors.
PC declining faster than expected as Tablets set to overtake PCs by 2017
The biggest reason why Intel stock has been a laggard is due to the slowing PC market. The whole Wintel ecosystem has been battered by Apple's game changing iPhone and iPad. Players like Google and Samsung have successfully copied Apple to bring out cheaper smartphones and tablets, which have cannibalized the sales of PCs, netbooks and laptops. PC sales in Q412 fell for the first time during the seasonally strong holiday season since the Lehman crisis; and IDC is now forecasting that PC and laptop sales declined faster than expectations in Q113 as well. PC sales are expected to decline by "double digits" compared to the earlier 7.7% decline.
Tablets are set to overtake PCs in terms of total shipments as their value proposition keeps improving. Major PC vendors like HP (NYSE:HPQ) and Dell (NASDAQ:DELL) are trying to stop the cannibalization through PC-tablet hybrids; however they have not been able to slow down the market share loss. I think that Intel is the best positioned amongst the Wintel players, to successfully transition itself to the new "tablet" era.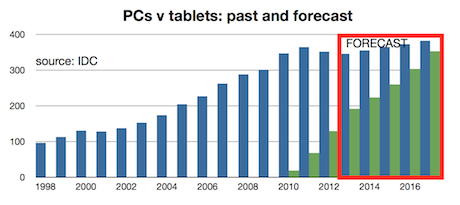 Source IDC
Stock Performance and Valuation
Intel's stock has not gone anywhere in the last 3 months, trading in a 10% range between ~$20 and ~$22. The broader market indices have rallied by around 6-8% in the same period. Looking at a longer time scale, Intel has underperformed the broader market while performing better than its peers in the PC and server processor markets. However, Intel has trailed behind large cap semiconductor peers who have benefited from the growth in the mobile chip industry. Intel's stock trades at a low forward P/E of 9.6x with a P/B and P/S both at 2.1x. The company trades at a discount to the industry average, despite having better revenue and earnings growth over the last 3 years. The reason for the lower valuation is due the lower PC growth prospects.
Summary
Intel has been underperforming the market as PC sales have declined faster than expected. Despite its dominance in the PC and server processor, Intel has been hurt by the broad sector dynamics. However, Intel is moving aggressively into the mobile processor chip area. Given its $10 billion R&B spend and equally gargantuan capital spending, I think it's only a matter of time before Intel carves out a large market share in the mobile processor space. I think that any weakness in the stock due to PC shipment decline news, is a buying opportunity for one of the best technology stocks. The company has impressive competitive barriers, which are not being factored in by the market currently. As Intel maintains / increases its technological lead over its competitors in semiconductor technology, the stock could appreciate sharply. With a P/E of around ~10x and a dividend yield of ~4%, Intel remains one of my top technology picks.
Disclosure: I have no positions in any stocks mentioned, and no plans to initiate any positions within the next 72 hours. I wrote this article myself, and it expresses my own opinions. I am not receiving compensation for it (other than from Seeking Alpha). I have no business relationship with any company whose stock is mentioned in this article.