Back in June of 2012 I bought some ARM Holdings (NASDAQ:ARMH) stock when it seemed relatively cheap at $22 a share. In a couple of months, it rallied to $32 a share, and I, becoming nervous about its valuation, sold. However, it continued to rally, and has been trading in the low $40s since January. Naturally I was a bit disappointed that I missed out on that leg of the rally, but I stand by my decision to sell back in October.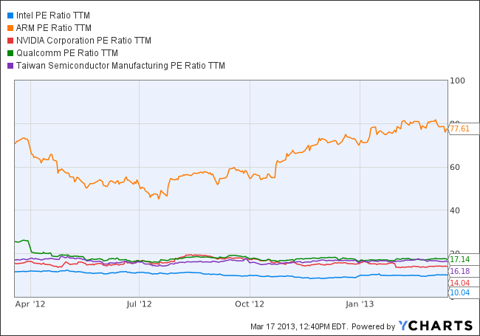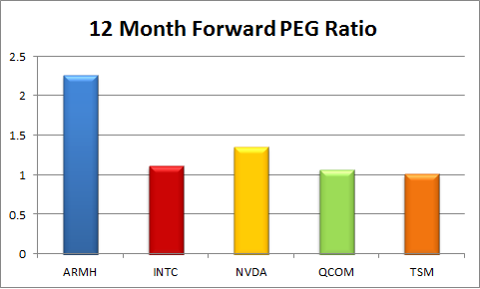 As you can very well see, ARM Holdings is trading at a PE of 77 and a 12 month forward PEG of 2.26 - well above its major industry peers. Judging by the company's fundamentals, however, there really is nothing justifying its absurdly high valuation multiples.
ARM's latest earnings report is relatively unimpressive. It shows that revenue and earnings grew at a rate of 16% and 18% respectively in FY 2012. While those numbers may seem high, they still do not justify such a high valuation. What's worse is that they show a marked decline from 2011's revenue and EPS growth rate of 24% and 33%.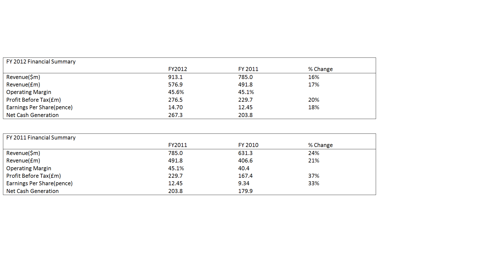 What about the possibility of accelerating earnings growth in the future? While the relatively weak earnings report can be attributed in part to global economic uncertainty, judging by the current state of affairs in the semiconductor industry, I would still say that those prospects seem nary to none. Here's why:
All This Windows RT Hype Is Overblown
I believe that one of the major contributing factors to ARM's rally is the hope that with Microsoft's (NASDAQ:MSFT) Windows RT, they will manage to steal some of sales that would have originally gone to Intel (NASDAQ:INTC). However, what many consumers, and apparently investors, fail to realize is that Windows RT and Windows 8 devices are two very different products. Contrary to popular belief they are not substitute goods.
Windows RT devices are built to be cheap, lightweight and relatively portable. However, one major caveat is that Windows RT is not backwards compatible with the 4 million existing Windows programs that have been built for the x86 instruction set. It is clear that the lack of backwards compatibility with x86 programs has taken its toll on Windows RT sales. If that wasn't bad enough, Samsung, HP and Toshiba have canceled their plans to manufacture RT devices, and it looks like Acer may follow suit.
ARM Is No Longer the Sole Contender In the Mobile Space
While ARM may face significant barriers to entry in Intel's segment of the market, Intel faces no such constraints. Most smartphones and tablets, which comprise the brunt of ARM's revenue, make use of virtual machines to run applications. This means that application developers do not need to program with a specific instruction set in mind, but simply need to make their programs compatible with the virtual machine.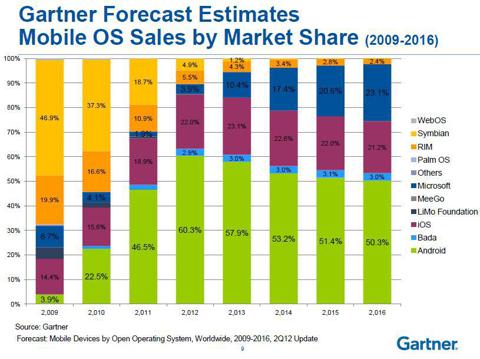 Google , which currently claims around 60% of the mobile OS Market, has partnered with Intel to make Android's Dalvik Virtual Machine compatible with the x86 instruction set. A number of phones running Intel Atom SoCs have already hit markets, and it seems that more will follow. ZTE, the 4th largest manufacturer of Android devices, announced a line of phones and tablets running on Atom SoCs, and, if the benchmarks of the Z2580 are indeed accurate, it is inevitable that other manufacturers will follow suit.
Disclosure: I have no positions in any stocks mentioned, and no plans to initiate any positions within the next 72 hours. I wrote this article myself, and it expresses my own opinions. I am not receiving compensation for it (other than from Seeking Alpha). I have no business relationship with any company whose stock is mentioned in this article.