After extensive research and reasoning, I want to present to you my case on why DirecTV (NYSE:DTV) will reward shareholders greatly over the next three years. By continuing their strong share buy backs, they will continue to enhance shareholder value by leveraging low cost financing. Their Latin American market is still growing strong and will continue as they enhance their value proposition. Lastly, their strong cash flow generation will allow DirecTV's management to pursue endeavors that will further enhance shareholder value.
For those of you that are unfamiliar with the company, DirecTV is a leading provider of digital television entertainment in the United States and Latin America. They operate two direct-to-home, DTH, business units: DirecTV U.S. and DirecTV Latin America, which are differentiated by their geographic location and are engaged in acquiring, promoting, selling and distributing digital entertainment programming primarily via satellite to residential and commercial subscribers. In addition to operating the two DTH business units, they also own and operate three regional sports networks and own a 42% stake in Game Show Networks, LLC.
The company goes on to describe their three different operating units:
DirecTV U.S. DirecTV Holdings LLC and its subsidiaries, or DirecTV U.S., is the largest provider of DTH digital television services and the second largest provider in the multi-channel video programming distribution, or MVPD, industry in the United States. As of December 31, 2012, DirecTV U.S. had approximately 20.1 million subscribers.
DirecTV Latin America. DirecTV Latin America Holdings, Inc. and its subsidiaries, or DirecTV Latin America, is a leading provider of DTH digital television services throughout Latin America. DirecTV Latin America is comprised of: PanAmericana, which provides services in Argentina, Chile, Colombia, Ecuador, Puerto Rico, Venezuela and certain other countries in the region, and Sky Brasil Servicos Ltda., or Sky Brasil, which is a 93% owned subsidiary. DirecTV Latin America also includes our 41% equity method investment in Innova, S. de R.L. de C.V., or Sky Mexico. As of December 31, 2012, PanAmericana had approximately 5.3 million subscribers, Sky Brasil had approximately 5.0 million subscribers and Sky Mexico had approximately 5.2 million subscribers.
DirecTV Sports Networks. DirecTV Sports Networks LLC and its subsidiaries, or DSN, is comprised primarily of three regional sports television networks based in Seattle, Washington, Denver, Colorado and Pittsburgh, Pennsylvania, each of which operates under the brand name ROOT SPORTS®. The operating results of DSN are reported as part of the "Sports Networks, Eliminations and Other" reporting segment.
Now that we have a better understanding of DTV's business model, let's look at why I believe it will be a double in three years.
If anyone ever glanced at DTV's balance sheet, the first thing that will pop into your head is, "wow, stockholder's equity is negative." Yes, this is true.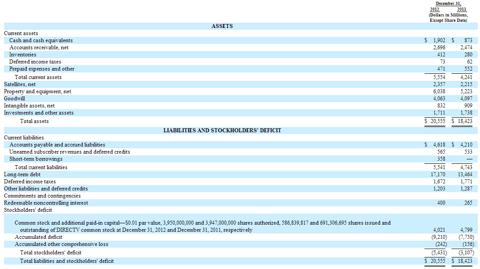 As of December 31, 2012, total stockholder's deficit was at 5.431 billion. Now, sometimes the first conclusion to this is that the company is deteriorating or it's inefficiently utilizing capital. But let's look at the cash flow statement to verify.

Cash flow from operating activities has been solid. It has been growing at an annualized rate of 7.57% for the last 5 years.

Cash spent on property and equipment takes up nearly 50% of the operating cash flow. But this should be expected as DTV continues to expand its digital footprints in Latin America. Further CapEx spending should be warranted going into the future. Since 2010, CapEx spending has been around $2.6 billion.
Now here is the part I want you to pay close attention to, all the things I wrote earlier was for the preparation of this.
If we take a look at Cash Flow from Financing, a set of glaring numbers will appear.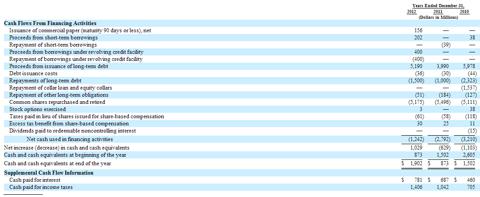 Notice how proceeds from issuance of long-term debt have been around 4 - 5 billion, and the amount of common shares repurchased and retired have been around the same. What this simple figure tells us is that the management team at DTV is taking full advantage of the historically low interest rates to buy back 5 billion worth of shares a year.
As a matter of fact, in the last 7 years, they've retired nearly 60% of their shares outstanding.
"Strong Balance Sheet. We believe our cash position and borrowing capacity combined with our current and expected future cash generation capability provides us with significant financial flexibility to improve stockholder value. As of December 31, 2012, we have repurchased approximately $25.7 billion of our common stock over the last seven years, retiring approximately 60% of our then-outstanding shares, and have announced a new $4 billion share repurchase program."
As you can see from this simple statement, DTV's management will continue to repurchase shares with debt financing.
Now you might ask, "Wouldn't too much debt be burdensome? Wouldn't that increase risk?"
The answer is yes and yes, however, if we take a look at the amount of cash paid for interest in year 2012, the total amounted to $781 million.
And if we take a look at their current debt schedule, one can reasonably assume that the DTV management is taking full advantage of the low interest rates.

With some of their longest debt yielding 5.15% - 6.375% and not due until 2042, we can reasonably assume that with a solid cash flow generation of $5.6 billion a year, debt financing shouldn't be a problem.
So how does all this relate to my thesis, a possible double in three years?
Before we begin, there are a few important assumptions we will need to make.
Interest rates remain depressed until 2015, which is what the Fed has guided.
DirecTV

stock to be relatively undervalued (sub 15x P/E) for the next three years.

9.2% growth in Revenue.
Continuous support in the share buyback program from the management team.
Now that we have laid out the assumptions, I believe DTV to be undervalued at current levels. At a multiple of 12, it does not reflect the solid growth in Latin America, strong share buyback program, and a solid business model.
But the market isn't going to care about what I think, so that's why it will be extremely beneficial if the market continues to undervalue DTV. Given that management has stated that they will continue their share buyback program, I believe the management will initiate at least $15 billion in debt issuances in the next three years to buy back shares. With most of their CapEx spending funded through operating cash flow, the likelihood of needing cash will be slim.
If DTV is able to buy back shares at an average price of 65 over the next three years, that would retire 230,769,230 shares outstanding, which would bring the total shares outstanding from 611,000,000 down to 380,230,770 shares outstanding.
Now that we figured out the shares outstanding, let's apply some assumptions for our pro-forma income sheet analysis.
We will be assuming a revenue growth of 9.2%.
Cost of revenue will increase due to the increased content cost, and the likelihood of offsetting the full cost of it through increased pricing will be low. We will be assuming deterioration in gross margin of 0.729% a year going forward.
Operating expense will remain at 30.518% of revenue.
Each year, roughly 5 billion of debt has been raised, and 1 billion paid off giving us a total of 4 billion net borrowing. Interest expense only increased from 763 million to 842 million given the $4 billion in new borrowing, but that could have also been affected by the timing of the debt issuances. To be safe, we will assume an increase of $250 million in interest expenses per year at a 5% interest rate.
Effective tax rate of 30%.
Putting it all together, this is what it looks like in 2016.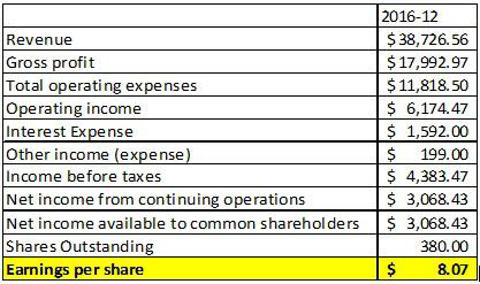 Let's apply a P/E multiple to this analysis:

I gave it three scenarios. The one I believe to be the most likely gives us a price target of $104.97, which isn't EXACTLY a double given that DTV shot up last week to $55. But it still gives us a return of 90.85% over a three year span.
Now if the market feels exuberant, a multiple of 15 is possible and that could give us a return of 120% over a three year span. That's a 30% annualized return PER YEAR.
Risk(s):
As most investment ideas, there will always be risks associated with it. Let's explore what's out there.
DTV price appreciates too fast for management to buy back the estimated shares.
(Um, I don't know about you, but if the stock appreciates too fast, I would gladly take that any day.)
Interest rate rises prematurely causing debt financing to cost more than initially expected.
This is a possible risk, and it shouldn't be taken out of context as debt financing will the main driver for share buybacks.
Subscriber growth slows in Latin America.
Content cost continues to outpace subscriber growth.
New threat of entrants that disrupts the pay TV business.
While the last three risks are all materially impactful risks, we must remember that DTV has been growing subscribers in the face of all three risks. The Latin America subscriber base added on 658,000 last quarter compared with 558,000 a year earlier. But the U.S. subscriber base only tacked on 103,000 compared to 125,000 a year ago. So the three risks listed are possible risks, and we should be mindful of them.
Conclusion:
In the face of the risks listed, I believe DTV to be a strong buy at $54.75 a share. In the investment thesis, I outlined that the management will purchase back shares at an average price of $65. That's an 18.72% premium to yesterday's closing price. And if the shares do stay depressed for the next three years, then DTV's management will be able to buy back more shares which will materially impact the EPS figures.
With a solid business model, capable management team, strong balance sheet, and great free cash flow generation, I believe DirecTV to possess all the right ingredients for a great business, and this investment will reward investors greatly over the next ensuing years.
Disclosure: I am long DTV. I wrote this article myself, and it expresses my own opinions. I am not receiving compensation for it (other than from Seeking Alpha). I have no business relationship with any company whose stock is mentioned in this article.