ConocoPhillips (NYSE:COP) announced a significant oil discovery yesterday. The discovery, from the recently drilled WR51-2 Shenandoah appraisal well in the deepwater Gulf of Mexico, encountered more than 1,000 feet of net pay in high-quality Lower Tertiary-aged reservoirs. Log and pressure data collected in the Shenandoah-2 well indicate high-quality reservoir and fluid properties similar to those encountered in the discovery well. The well was about one mile southwest from the 2009 Shenandoah-1 discovery well.
The location of the Shenandoah well can be seen on the following slide from a February presentation: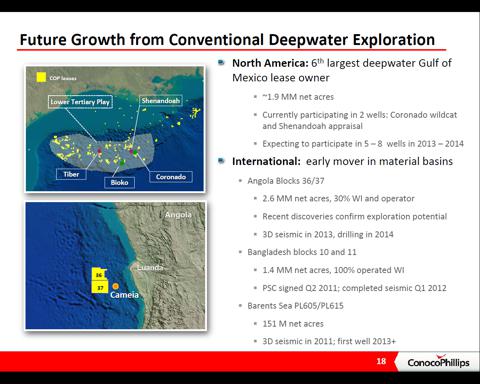 ConocoPhillips holds a 30% working interest in Shenandoah. Anadarko Petroleum Corporation (NYSE:APC) holds a 30% working interest and is the operator. Cobalt International Energy (NYSE:CIE) holds a 20% interest while Marathon Oil Company (NYSE:MRO) and Venari Offshore LLC each hold a 10% interest.
Here is how the Shenandoah partners traded in the after hours session according to Yahoo.finance:
- COP: $59.54 +$0.23
- APC: $84.88 +$1.60
- CIE: $27.00 +$1.21
- MRO: $33.96 unch
- Venari Offshore (private so far as I know)
It's not surprising the biggest movement was in the smaller sized Cobalt.
Larry Archibald, Conoco Senior VP of Exploration, had this to say about the discovery:
The potential of the Shenandoah discovery, combined with very positive indicators of hydrocarbons in the nearby Coronado well, further strengthens our position in the Lower Tertiary Play. We believe this discovery could be material and, together with the doubling of our deepwater Gulf of Mexico acreage position in the last two years, reinforces our global exploration strategy of getting into the right plays early in their life-cycle. Today's announcement is an important first step in demonstrating our ability to grow a high-value Gulf of Mexico portfolio through organic exploration.
Coronado
Conoco also gave an update on the Coronado wildcat exploration well. It is located in Walker Ridge Block 98 and was drilled to a total depth of 31,866 ft in 6,127 ft of water. The well is located approximately 12 miles southeast of the Shenandoah discovery. Results from the Coronado well are still being evaluated. An additional appraisal will be needed to determine the full extent of the resource. ConocoPhillips holds a 35% working interest in Coronado. Chevron Corporation (NYSE:CVX) holds a 40% working interest and is the operator. APC owns 15% and Venari Offshore LLC holds 10%.
In Venari's press release concerning the Shenandoah discovery, Brian Reinsborough, CEO and President of Venari Resources, had this to say about Coronado:
The Coronado prospect appears to be a sizable discovery with excellent reservoir properties, and an important reminder that the region continues to hold prolific hydrocarbon potential.
I did not see any announcement by operator Chevron on the Coronado well. Although I recently wrote an article about CVX's GOM operations, I have tended to focus on ConocoPhillips' uncoventional activity - especially the Eagle Ford shale. But ConocoPhillips is one of the largest leaseholders in the deepwater Gulf of Mexico with approximately two million net acres. In 2013, the company plans to drill between five and eight wells, including the Ardennes prospect, which spud in early March 2013, and the Thorn well, scheduled to spud in the second quarter of 2013. The Thorn well represents the company's reentry into the deepwater Gulf of Mexico as an operator. Investors may well be underestimating COP's GOM operations, the potential for significant additions to reserves, and future production growth.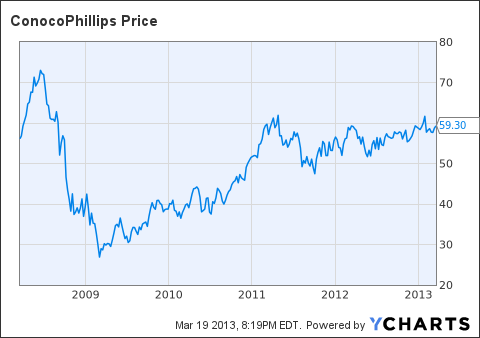 COP: P/E=8.8
Div (Yield): $2.64 (4.5%)
Investors considering a position in the Gulf of Mexico should consider COP because of its extensive acreage position, the Shenandoah and Coronado drilling results, and its fat dividend.
Anadarko
As I mentioned before, Anardarko has a 30% working interest and is the operator of the Shenandoah-2 well. I found a more detailed picture of the Shenandoah Basin on the APC website: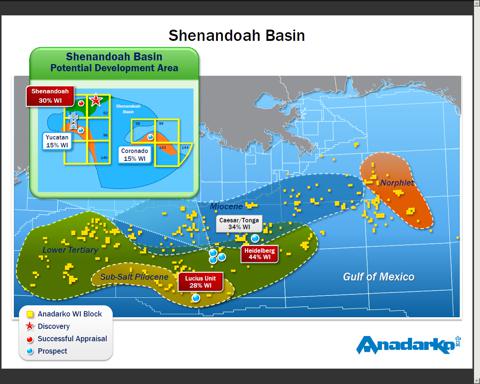 Bob Daniels, Anadarko Sr. VP Deepwater and International
Exploration, had this to say:
The successful Shenandoah-2 well marks one of Anadarko's largest oil discoveries in the Gulf of Mexico, with more than 1,000 net feet of oil pay and reservoir rock and fluid properties of much higher quality than previously encountered by industry in Lower Tertiary discoveries. With ownership in the successful Shenandoah wells, the adjacent Yucatan prospect, and the very encouraging results from the nearby Coronado well, Anadarko is strategically positioned in the Shenandoah Basin, which has the potential to become one of the most prolific new areas in the deepwater Gulf of Mexico
It will be very interesting to see what the partners have to say about the Coronado well once the appraisals have been completed. For now, suffice it to say that the Shenandoah WR51-2 well have hit high quality pay-dirt. And that's obviously good news for all the partners.
Disclosure: I am long COP, CVX. I wrote this article myself, and it expresses my own opinions. I am not receiving compensation for it (other than from Seeking Alpha). I have no business relationship with any company whose stock is mentioned in this article.
Additional disclosure: I am an engineer, not a CFA. Please do your own research and contact your investment adviser. I am not responsible for investment decisions you make. Thanks for reading and good luck!