Introduction
Suntech (NYSE:STP) the poster boy of the Chinese solar industry has seen its fortunes plummet in the last couple of months quite drastically. I had warned about Suntech in our last article saying that the company had negative book value and was only existing due to government generosity. The government has apparently decided that bailing out the company's shareholders and bondholders is not a good idea leading to the stock declining by more than 50% and touching all time lows. The bad results reported by other solar companies such as First Solar (NASDAQ:FSLR), Solarcity (SCTY) and MEMC had also resulted in a pullback in the broader solar sector. However, Suntech has been in the eye of a storm with its founder and chairman Zhengrong Shi being dumped by the Board of Directors. I have been of the opinion that Suntech has the worst management in the solar industry and this move should have been done a long time ago. At this stage, it looks unlikely that the new management can do anything much to salvage the company's sinking fortunes. The investors who had gone short on Suntech should probably take profits as most of the money has been made in the trade and this penny stock will see violent fluctuations now.
Sequence of Steps how Suntech Reached this State
Suntech is Bankrupt - Suntech has been bankrupt for some time in my view as the company has not correctly written down the value of its asset to reflect the true value. The company has already made billions of asset write downs, due to its poor investments in polysilicon and thin film ventures. The company also lost money due to investing in an Italian solar developer which turned out to be a fraud.
Issues in March Debt Repayment - Suntech has been under pressure for some time now over the repayment of $541 million in convertible debt which was due on 15th March 2013. The company had appointed UBS to help it restructure its debt. However, given the company's finances, I had predicted that the investment bank had almost no chance of being able to do much.
Chairman and Founder ousted unceremoniously - Suntech fired its founder and chairman Zhengrong Shi from the post of the chairman. Shi made a lot of noise about his firing saying that it was illegal. However, this was a good step in my view though it was too late to save the company and the stock.
Reaches settlement with GSF- This was the first bit of positive news in the long series of bad news with the company settling with GSF. However, market analysts have said that the company would not be able to recover the money it had lost. Again this news was not going to save the company which needed more than $500 million to stay alive.
Closes its Arizona Factory in USA - Suntech was one of the first Chinese companies to start a manufacturing plant in the US. The company had started a small panel making plant using imported solar cells. The company announced the closure of even this small factory citing economic non-viability due to the US duties on imports of Chinese products.
Defaults on Debt - Suntech had agreed with only 60% of the bondholders to defer payment till May 15, 2013. However, 40% of the bondholders had not agreed to these conditions. The company has not made payment to 40% of the bondholders, as it does not have the money and has defaulted on the debt. These bondholders are now preparing to sue Suntech to recover their investment.
Suntech Turnaround chances
It is difficult to predict how the Chinese government and banks will behave. The sentiment towards Suntech is quite bad with one of the leading banks the Bank of China suing Suntech, over debt recovery as well as top officials in the government advocating that Suntech should not be bailed out. However there remains a remote possibility that the local or provincial governments will completely bailout Suntech. Given Suntech's massive $2 billion plus debt it remains highly doubtful that the government could come out with such a big sum.
Stock Price Performance
Suntech has become the worst Chinese solar stock performer over the last 5 years losing ~98% of its value. Over the last one year, Suntech has gone down by ~75%, compared to the solar ETF (NYSEARCA:TAN) which has decreased by ~36%. The company has seen its value halve over the last 1 month, falling from ~$1.6 to close at 70c. The last few days have been especially bad given the speculation that the company will default on its convertible debt.
What you should do with Suntech stock and debt
It is difficult for anyone to tell how the Suntech story will play out now. There is speculation that the local Wuxi government will take over Suntech's manufacturing operations in order to protect the thousands of jobs. LDK Solar has already sold out substantial equity stakes to the quasi-government vehicles in order to remain afloat. It looks unlikely that the Wuxi government will bail out Suntech's shareholders and bondholders. At best, investors may get part payment from the government. You should probably sell out your Suntech investments for what you can get now and look for greener pastures in the solar industry.
Solar Industry is still growing at a tremendous rate
Solar Energy has already reached grid parity in many regions around the world. As solar technology improves and costs keep going down, more countries will reach grid parity. NPD Solarbuzz is predicting that solar energy installations will double to 200 GW, by 2015 up from 100 GW in 2012. Japan's solar energy demand is set to grow by 200% in 2013 from 2 GW in 2012 to 6 GW, while China is expected to install a massive 10 GW. With the weaker companies like Suntech going bankrupt or stagnating, the stronger solar companies are set to increase their revenues and profits.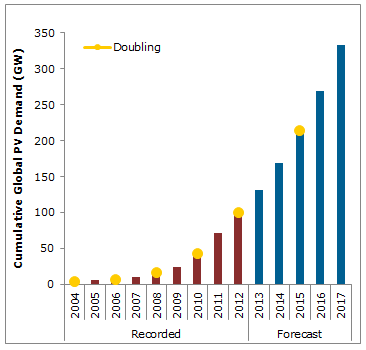 Source : NPD Solarbuzz
Where can you invest in Solar Energy now?
The best companies to invest in the solar energy space are those with relatively good balance sheets, industry leading costs, presence across the downstream installation segment and good management. They should also be diversified geographically as solar markets are prone to a boom and bust cycle. Being overly exposed to one market or region can prove to be fatal. I have already written about some of the good stocks to buy in the solar space.
Yingli Green Energy (NYSE:YGE)
Other solar companies that you can evaluate are Canadian Solar (NASDAQ:CSIQ) and Jinko Solar (NYSE:JKS). These 2 stocks were the best performing solar companies in 2012.
Summary
I had warned about the dangers of investing in bankrupt companies such as LDK Solar (NYSE:LDK) and Suntech when their stock prices were shooting up along with the rest of the solar energy sector. It is better to invest in fundamentally strong solar stocks such as Renesola to take advantage of the recovery in the solar energy industry. I think that the bankruptcies of these companies should have happened a long time ago and would have brought a better demand supply balance in the industry. However, repeated government interventions have prevented the development of a healthy industry. I think that the future of the solar industry is quite bright with more than 75% growth in US solar installations in 2012 and almost 20% growth expected for the global solar industry in 2013.
Disclosure: I have no positions in any stocks mentioned, and no plans to initiate any positions within the next 72 hours. I wrote this article myself, and it expresses my own opinions. I am not receiving compensation for it (other than from Seeking Alpha). I have no business relationship with any company whose stock is mentioned in this article.