Stocks making big moves like the ones listed herein are favorites among short-term traders - mainly due to the massive volatility and potential profits to be made. Stocks that are making big-percentage moves- either up or down- are usually in play because their sector is becoming attractive or they have a major fundamental catalyst: such as a recent earnings release or change in analyst forecast.
Regardless of the reason behind it, when a stock makes a large-percentage move, it is often just the start of a new major trend - a trend that can lead to huge profits. If you time your trade correctly, combining technical indicators with fundamentals, discipline and sound money management, you will be well on your way to investment success. This list is made up of four stocks that are making big moves for the week of March 18th, 2013.
1. Joe Jean's Inc. - (NASDAQ:JOEZ)
Joe's Jeans Inc. (Joe's Jeans) is engaged in designing, developing and marketing its Joe's products, which include denim jeans, related casual wear and accessories. The company sells its products to numerous retailers, which include department stores, specialty stores and distributors worldwide, and through its retail stores. Joe's primary operating subsidiary is Joe's Jeans Subsidiary Inc.
There was no particular reason for Joe's Jeans to suddenly perk up Tuesday. There was no news on the wires, it has no real short sellers to speak of, it already reported its earnings last month, and it announced a couple of days ago that it would participate in an investor conference next week. In short, this was one of those situations where some transient mutations in the market caused the stock to spike. Nonetheless, shares have more than doubled from their 52-week low and it trades 25% higher than it did just a week ago. Fundamentally, JOEZ has done exceptionally - sales were 32% higher and same-store sales were up 6% in the fourth quarter alone.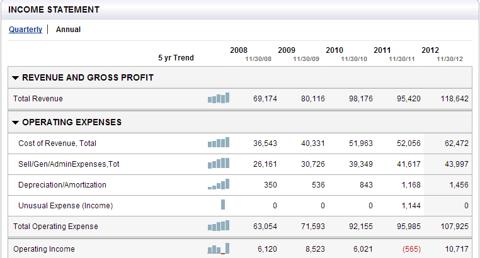 2. Adam's Resource & Energy Inc. - (NYSEMKT:AE)
Adams Resources & Energy, Inc, along with its subsidiaries, is engaged in the business of marketing crude oil, natural gas and petroleum products, tank truck transportation of liquid chemicals, and oil and gas exploration and production. The company is headquartered in Houston, Texas and founded by Bud Adams, owner of the NFL Tennessee Titans. The stock is up 20.27% in the last five days and 35.34% in the last 4 weeks.
A review of AE's latest Annual Report reveals that oil production was up 59.5% from 2011 to 2012. Natural gas production increased 37.6% from 2011 to 2012 and Oil & natural gas revenues combined for a 13% increase in 2012 from 2011. AE operates debt free and is one of only a handful of companies in the industry doing so. Many analysts, including Thomson Reuters, SmartConsensus and MarketEdge all recommend a buy of AE. Additionally, AE still has 237,000 acres of land with known reserves in 7 different states which should warrant growth for many years to come.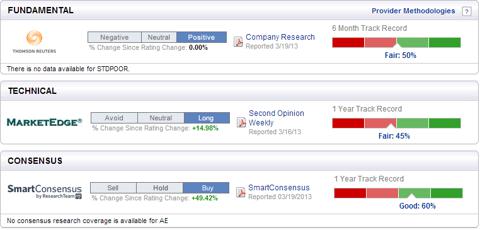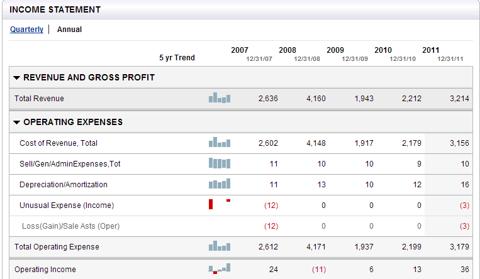 3. MicroFinancial Inc - (NASDAQ:MFI)
MicroFinancial Incorporated (MicroFinancial) operates primarily through its wholly owned subsidiaries, TimePayment Corp. (TimePayment) and Leasecomm Corporation (Leasecomm). TimePayment is a specialized commercial finance company that leases and rents microticket equipment and provides other financing services. The Company provides financing alternatives to a range of lessees ranging from start-up businesses to established enterprises. The company borrows long-term funds at a fixed rate and lends at a higher rate to small businesses, capturing spread income. MFI borrows at around 4% and earns around 34% average lease return. That spread, less charge-offs, get you to their margins. The company is up 12.27% in the last 5 days, and 22.57% in the last 4 weeks.
At 1.3x book value and ~11x 2013 earnings, MFI is reasonably valued given the current macro backdrop in the United States. In the event of a stronger macroeconomic environment, MFI is poised to benefit as small businesses typically lead an economic recovery. The company has one of the best collection agencies, a conservative management team, large insider ownership and over a 3% dividend yield - making it appetizing to any value investor.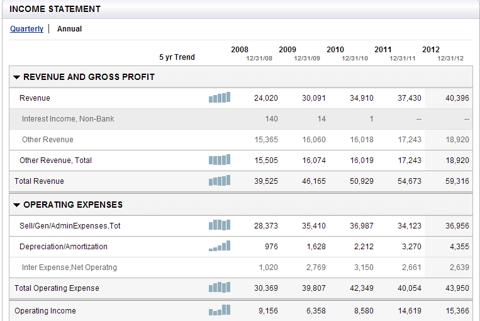 4. SAIA Inc. - (NASDAQ:SAIA)
Saia, Inc. is an asset-based trucking company that provides regional and interregional less-than-truckload (LTL) services and selected longer haul LTL, along with limited truckload (TL) service solutions to a base of customers and industries across the United States; including the retail, chemical and manufacturing industries through its wholly owned regional transportation subsidiary, Saia Motor Freight Line, LLC. Saia began in 1924 with one terminal in Houma, Louisiana, and built terminals throughout Louisiana and Texas over the next fifty years.
In 1980, an application by the carrier to service additional southern states was approved. With that expansion, Saia became one of the premier regional less-than-truckload carriers in the United States. Today, Saia is one of the most successful LTL carriers in the United States, ranking in the top ten of carriers in the LTL sector and providing to over 34 states including Puerto Rico.
Thomson Reuters, SmartConsensus and MarketEdge all recommend a buy of SAIA. SAIA's EPS Growth Rate of 175.7x is greater than 94% of its peers in the Trucking industry. The company has also shown revenue growth every year since 2009. Over the last five days, SAIA has increased by 10.88% and 22.13% over the last four weeks. The aforementioned increase has been a result of a strong earnings report and rumored expansion in the coming months.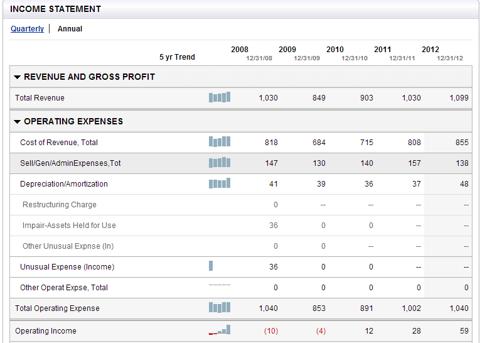 Disclosure: I have no positions in any stocks mentioned, and no plans to initiate any positions within the next 72 hours. I wrote this article myself, and it expresses my own opinions. I am not receiving compensation for it (other than from Seeking Alpha). I have no business relationship with any company whose stock is mentioned in this article.