As many of you know, I have a portfolio of dividend stocks (shown here, although you must note the additions of Novartis AG (NVS), ConocoPhillips (COP) and Textainer (TGH)). I plan to buy all the stocks in the portfolio between now and mid-2014. In the span of the next year-and-a-half, I expect to find some good buy points for me to take up positions that I do not have at the moment. But please note, if I feel that a certain company is far too overvalued and not suitable to be bought, I will not hesitate to either drop it from the portfolio or wait until we see a better buying price in the future.
I also want to raise a point about my portfolio that I believe that many of you have noticed too: I have only 1 utility stock in my portfolio - Southern Co. (SO). Thus, today I am planning to add one more company to the list - a highly profitable and growing company with low volatility and a 15% dividend growth rate - Wisconsin Energy (WEC).
Founded in 1981, Wisconsin Energy generates and distributes electric energy, as well as distributes natural gas. It also generates electricity from coal, natural gas, wind, and other hydro sources. The company provides electric utility services to customers in a variety of industries, including mining, food products, large retail chains. It also generates, distributes, and sells steam. The company served approximately 1,122,500 electric customers in Wisconsin; around 1,068,200 gas customers in Wisconsin; and also 465 steam customers in metropolitan Milwaukee, as of December 2011. It also transports gas for approximately 1,400 customers. Besides its main utility business, it also invests in and develops real estate, including business parks and other commercial real estate projects primarily in southeastern Wisconsin.
This article will present a few reasons why Wisconsin looks like a great buy, but first, here is a snapshot of Wisconsin Energy's key figures:
Snapshot:
Price (19.03.2013)
$41.09
Market Cap
$9.41B
Income (Trailing 12-mths)

$546.30M (P/E: 17.49)
(Forward P/E: 16.18)

Sales (Trailing 12-mths)
$4.25B (P/S: 2.22)
Book Value Per Share (BVPS)
$18.18 (P/B: 2.26)
Long Term Debt/Equity Ratio
1.07
EPS Growth Past 5 Years
10.62%
EPS Growth Next 5 Years (est.)
5.70%
Dividend
$1.36 (3.31%)
Dividend Growth Rate (5-yrs)
19.1% per annum
Payout Ratio
50.58%
Beta
0.28
1. Creating Shareholder Value
-High & Consistently Increasing Dividend
Wisconsin Energy pays a high and consistently increasing dividend. At the moment, this dividend of $1.36 equates to a yield of 3.31% based on the stock's closing price on 19.03.2013, which is considerably high for an income-generating stock and is generally higher than most stocks in the S&P 500 and Dow. The best part is, this dividend had been increased for 10 consecutive years (since 2003, when CEO Gale Kappa and team started managing the company - I will elaborate more on this later), and that it has grown from $0.40 in 2003 to a significantly higher $1.36 today. This equates to an 11.6% 10-year dividend growth, which obviously outpaces inflation.
The chart below shows Wisconsin Energy's past dividend payments: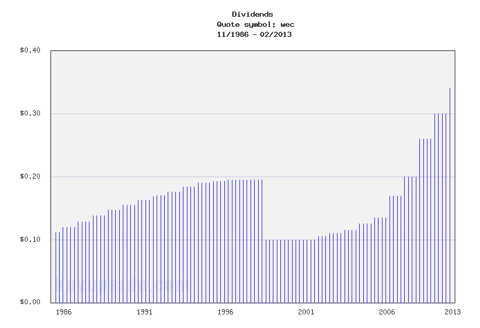 In addition, if you had invested $1,260 into 100 Wisconsin shares in January 2003 and reinvested all the dividends that you received along the way, you would have gotten $909.93 in dividends, about 72% of your original cost-on-investment. You would also have 135.67 shares worth $5,574.68 which equates to a 15.70% growth in capital yearly since 2003 over the 10 years and 2 months that have gone by, which is a fabulous return.
I expect the company to grow its dividends near or at this pace for at least the next 2 years, with the following quote from the management during the Q3 2012 Wisconsin Energy conference call, which can be found here.
Our Board has adopted a dividend policy that targets a 60% payout ratio in 2014. This policy should support double-digit growth in the dividend in both 2013 and 2014.
Wisconsin has seen 19.1% annual growth in dividends over the past 5 years and in 2013, it had grown its dividend by 13.3% (2012 growth rate was 15.4%). Its payout ratio at the moment is in the 50% range.
-Buying Back Shares
Furthermore, besides paying dividends to shareholders, the company has also been returning shareholder value in another, more intangible way - buying back shares. The company's total shares outstanding number had barely budged over the past 10 years, but the company is finally taking some action to enhance shareholder value on this way. Shareholders do not own the whole company, therefore, share buybacks bode well for shareholders as they are able to own a bigger part of the company without increasing the number of shares they own. From the same Q3 2012 conference call I mentioned previously, here is another confirmation from the management of Wisconsin that the company will continue buying back shares through 2013:
Our Board has approved a share repurchase plan scheduled to run through the end of 2013 that authorizes us to buy back $300 million of Wisconsin Energy common stock.
Here are Wisconsin Energy's shares outstanding numbers over the past 3 years:
| | |
| --- | --- |
| Year | Shares Outstanding (Millions) |
| 2010 | 233.82 |
| 2011 | 230.49 |
| 2012 | 230.07 |
| Now | 229.01 |
2. Considerable Growth In Earnings Under New Management; Favorable Future Prospects
Under CEO Gale Klappa and his management team, which took over Wisconsin Energy in 2003, the company has thrived ever since. Management has also put a stronger than ever focus on shareholders' interests ever since, with dividends increasing yearly since 2003.
Here is some proof that Wisconsin has been in a much better shape now than ever before. Over the past 10 years (2003-2012), EPS numbers has increased from $0.85 to $2.35 (as shown below), and this number has continued increasing even through the recession, as shown below. This represents a 10.7% growth rate over the past 10 years, which is truly remarkable for a utility company. Utility companies are normally the widow-and-orphan kind of company that usually experience little to no growth (in both EPS numbers and dividends).
But, after one compares these figures with the figures from the pre-2003 period, one will realize that the figures are a world apart. From 1993 to 2002, there was drop in EPS, with EPS numbers dropping from the $0.80 range to a mere $0.73 in 2002. What made this worse, profits were extremely volatile, with EPS figures rising to the $1 range in 1996 before dropping to the $0.20 range in 1997, thus it can be concluded that Wisconsin Energy is in a much better shape now than it was 10 years ago.
| | | |
| --- | --- | --- |
| Year | EPS ($) | Growth (%) |
| 2003 | 0.85 | - |
| 2004 | 0.92 | 8.2% |
| 2005 | 1.28 | 39.1% |
| 2006 | 1.32 | 3.1% |
| 2007 | 1.42 | 7.6% |
| 2008 | 1.50 | 5.6% |
| 2009 | 1.59 | 6.0% |
| 2010 | 1.92 | 20.8% |
| 2011 | 2.18 | 13.5% |
| 2012 | 2.35 | 7.8% |
Even so, past performance is no representation of future performance. Here are some reasons to believe that earnings will continue to rise in the future:
Wisconsin Energy has been spending money mainly on new smaller projects and the improvement of existing facilities recently. The company is involved in several major projects like the construction of a biomass fuel generating plant at the moment. Construction has started already and the plant is scheduled to be operational late this year, as stated here on the company's website. This plant will enable the company to diversify and expand its renewable energy portfolio.
Besides this, the company has also constructed the Glacier Hills Wind Park, as shown here, and had bought Monfort Energy Center, a generator which uses wind to generate electricity from another utility company, NextEra Energy (NEE).
The company is doing these with an aim of generating 10% of its energy from renewable sources (from merely 5% in 2010), based on a law by the state Wisconsin by 2015. These are only a few examples of projects that will benefit Wisconsin Energy in the future. Along with increases in the company's electric generating efficiency from such projects, I believe that future earnings will continue to grow.
Furthermore, with the recent completion of the Power The Future (PTF) plan by subsidiary WE Power, the company is now more self-sufficient in terms of generating energy. This program, started almost a decade ago, involved the construction of 2,320 megaWatts of generating capacity, and an improvement in existing generation plants and other assets. For more information, here is a 2005 investor presentation about the Power The Future plan.
3. Strong Fundamentals
Ever since the company has been under Klappa's helm, the company's fundamentals has also improved drastically, as shown below.
Firstly, its ROE has nearly doubled since 2002, from just 7.7% to 13.5% in 2012. A high ROE indicates that a company's management is using shareholders' investments more effectively, which is highly beneficial to both the company and its shareholders. The definition of ROE is the amount of net income returned as a percentage of shareholders' investments. The table below shows Wisconsin's ROE numbers.
| | |
| --- | --- |
| Year | ROE (%) |
| 2002 | 7.70 |
| 2003 | 10.20 |
| 2004 | 12.10 |
| 2005 | 11.40 |
| 2006 | 10.80 |
| 2007 | 10.70 |
| 2008 | 10.80 |
| 2009 | 10.60 |
| 2010 | 11.90 |
| 2011 | 13.90 |
| 2012 | 13.50 |
Secondly, its Book Value per Share number has been increasing annually ever since 2002, from merely $9.40 then to $18.18 now. This is a modest 6.2% growth in BVPS per annum over the last 11 years. The BVPS value is calculated by subtracting all liabilities from all assets, then dividing it by the total number of outstanding shares. The table below shows Wisconsin Energy's BVPS values.
| | |
| --- | --- |
| Year | BVPS (Book Value Per Share, $) |
| 2002 | 9.40 |
| 2003 | 10.20 |
| 2004 | 10.72 |
| 2005 | 11.58 |
| 2006 | 12.48 |
| 2007 | 13.39 |
| 2008 | 14.40 |
| 2009 | 15.39 |
| 2010 | 16.39 |
| 2011 | 17.17 |
| 2012 | 18.18 |
Lastly, the company's profit margins have been increasing considerably - almost tripling, since 2002, which is fabulous, as it shows that the company is able to gain a lot more income out of every dollar in sales. The company's profit margin is now at an impressive 12.87%, which is much higher than many of its similar-sized US competitors like Scana (SCG), American Electric (AEP) and Alliant (LNT). This, again, shows the effectiveness of its current management team. The table below shows Wisconsin's profit margins.
| | |
| --- | --- |
| Year | Profit Margins (%) |
| 2002 | 4.50 |
| 2003 | 6.00 |
| 2004 | 8.90 |
| 2005 | 8.10 |
| 2006 | 7.90 |
| 2007 | 7.90 |
| 2008 | 8.10 |
| 2009 | 9.30 |
| 2010 | 10.90 |
| 2011 | 11.70 |
| 2012 | 12.87 |
4. Low Volatility & Resistant To Recessions
Wisconsin Energy has an extremely low beta of 0.28, which essentially means that it only moves 28% of what the markets move. This has been proven from the Wisconsin Energy 8-year chart as shown below. The company's shares has remained steady over the past 8 years, and during the latest recession, shares had barely dropped, trading within the range of $15-$20 throughout the recession. Such companies are great for any portfolio in my opinion- it can act as an anchor for more volatile portfolios, it can act as a source of income for dividend portfolios like mine, and also act as a great addition to low volatility portfolios.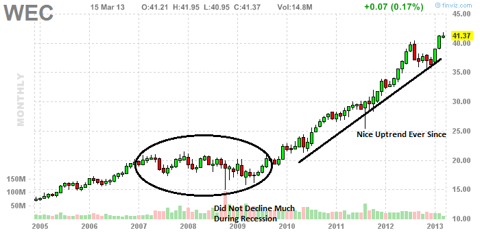 Courtesy Of Finviz.com
Valuation
As of 19.03.2013, the company is trading at 17.5X earnings. With the company's average P/E ratio over the past 5 years at 15.1X (Maximum: 18X earnings, minimum: 12X earnings) and EPS growth over the past 5 years at 10%, I find the company's stock rather overvalued at the moment. Although it is a fabulous company to hold, I suggest waiting until the stock hits the $38-$40 range, when the company's valuation will be at a more reasonable 16X earnings.
Key Risks & Flaws
1. Low Current Ratio
Firstly, the company's current ratio is at a low 0.91, which could be potentially dangerous for the company. The formula for the current ratio is current assets divided by current liabilities. A current ratio below 1, like Wisconsin Energy has, means that the company has more current liabilities than assets, and therefore the company could have difficulties paying off short-term obligations.
Even so, it must be noted that the company's quick ratio is at an acceptable number- 0.66, higher than my expectation of 0.5. The formula for the quick ratio, or the acid-test ratio, is current assets minus inventory divided by current liabilities.
Current Assets
Current Assets- Inventory
Current Liabilities
$1.314B
$953.2M
$1.443B
Current Ratio: 0.91 Quick Ratio: 0.66
Here is the link to the company's balance sheet
2. High Amount Of Debt
Secondly, Wisconsin Energy's debt/equity ratio is at a considerably high 1.26, which equates to about $4.85B in debt. This is a high number to me, as I normally would like a company's debt to be much lower than its equity, with my limit for the ratio at 0.5. This ratio shows the proportion of equity and debt the company is using to finance its assets, and the higher the ratio, the more debt, rather than equity is financing the company. A high level of debt compared to equity may result in volatile earnings and large interest expenses.
Although this is the case, I think that Wisconsin's debt consists mostly of what is called "Good debt," which is money borrowed to expand the company further, with the many projects that the company has going on, that will benefit it over the long term. All these projects all need lots of financing. "Bad debt," on the other hand, is debt that is used to maintain the company and fund internal operations that should be funded by earnings.
3. Earnings Impacted By Weather
This factor is more of a double edged sword. It can adversely impact the company's earnings, but can also create fantastic earning reports. In harsh winters or summers, the demand for electricity is much higher than normal, as people need to use them for a variety of purposes. But, when there are mild winters or summers, the company's earnings will undoubtedly be adversely impacted as there is not enough demand for the company's electricity services.
Conclusion
Wisconsin, still poised for steady EPS and dividend growth going forward, makes it one of the best utility picks in the market at the moment. Its other qualities, including its strong fundamentals and its high dividends, make the stock a suitable dividend pick for me, as a person looking for continued income growth in my portfolio over the long term. Although it has also some flaws, like having a low current ratio and having quite a lot of debt, I believe that its many qualities make up for these flaws and make it a good dividend pick for the long term.
Disclosure: I have no positions in any stocks mentioned, but may initiate a long position in WEC over the next 72 hours. I wrote this article myself, and it expresses my own opinions. I am not receiving compensation for it (other than from Seeking Alpha). I have no business relationship with any company whose stock is mentioned in this article.