I've been following Chesapeake Energy (NYSE:CHK) for a long time. I became interested in the company around 2005 when it became apparent that the application of horizontal drilling and multi-stage fracturing meant Chesapeake had captured a huge quantity of recoverable natural gas.
For years a big selling point made by the company (about itself) was how adept they were at not only hedging to protect cash flow, but hedging in order to make money.
I suppose with the benefit of hindsight, the fact that Aubrey and gang fancied themselves to be "players" in the derivative markets should have been a warning sign with respect to their lack of respect of risk.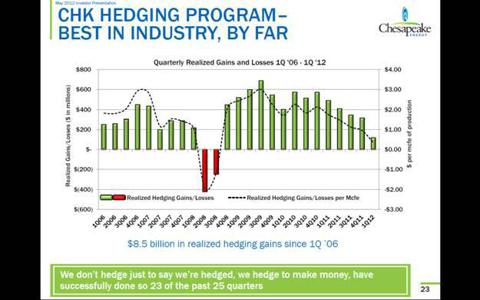 The slide above is an example of the aggressive claims that Chesapeake used to make. Check out the line "We don't hedge just to say we're hedged, we hedge to make money."
This month, I was having a look at the most recent Chesapeake presentation and noticed that the slide referring to Chesapeake's hedging skills was no longer there.
I have an inkling why the slide has disappeared. The company has been humbled.
Entering 2012 - No Hedges On the Books
In the fall of 2011, Chesapeake decided to remove all of its natural gas hedges and head into 2012 fully exposed to natural gas prices.
Here is Chesapeake explaining why, in the Q3 2011 Chesapeake conference call:
Lastly, I'd like to focus a bit on our hedge profile. As I'm sure you've all noticed, we are relatively unhedged at the current moment. We believe the natural gas pricing environment in Q3 represented a floor and are now exposed to being able to hedge again at higher prices in the future. As Aubrey noted, there are multiple factors on both the supply and demand side of the natural gas equation that can very positively impact the natural gas price in 2012, and we're well-positioned to take advantage of those dynamics.
Chesapeake was not well positioned for what was about to come in 2012. The graph below shows what the relentless supply strength and a warm winter did to 2012 natural gas prices.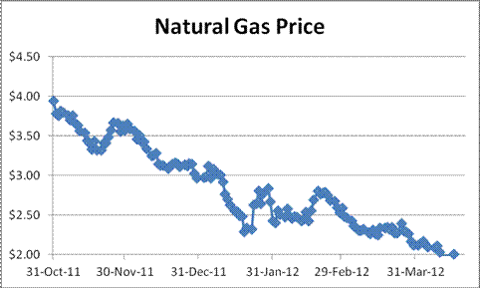 This crushed Chesapeake's cash flow in 2012 which was a big problem for a company with Chesapeake's balance sheet.
Entering 2013 - Again Positioned The Wrong Way
Now, sadly for Chesapeake's shareholders, with the price of natural gas rebounding significantly in 2013 (see the graph below), Chesapeake finds itself hedged fairly heavily.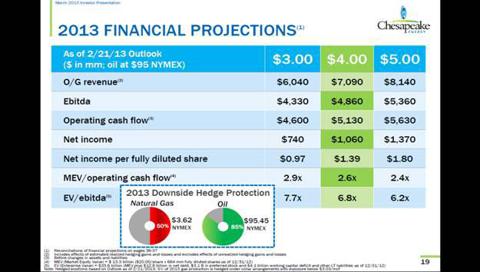 Given that Chesapeake has blown its hedging strategy two years in a row, I guess there is good reason to remove the "We hedge to make money" boast from the monthly presentation package.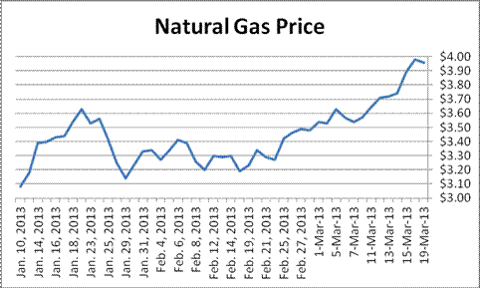 Predicting Natural Gas Prices Is Hard
You would think that the second largest producer of natural gas in the United States would have a better idea of where the commodity price is likely to go. Who else would have better data from which to make such a prediction from?
The poor hedging decisions of the last two years is one thing. But what really blew my socks off was when I went back to Chesapeake's April 2009 investor presentation and dug out the following slide: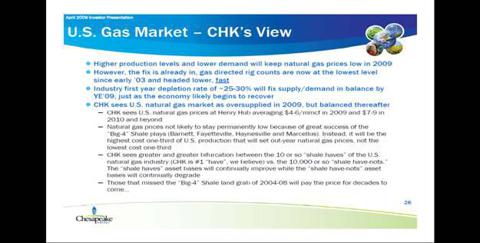 In April 2009, Chesapeake was predicting that natural gas prices would average $4-6/mmcf in 2009 and $7-9 in 2010 and beyond!
That was so far off the mark it is unbelievable. Natural gas hasn't even averaged half of what Chesapeake suggested it would.
It would be hard to imagine that the company could have made a less accurate forecast.
I think there are several lessons for investors from this look at Chesapeake's lack of forecasting ability.
1) Don't trust everything you read in a company presentation.
2) Predicting natural gas prices is next to impossible for even those with the best data.
3) Chesapeake is going to miss out on a fair bit of upside if this is the year natural gas prices rebound.
Disclosure: I have no positions in any stocks mentioned, and no plans to initiate any positions within the next 72 hours. I wrote this article myself, and it expresses my own opinions. I am not receiving compensation for it (other than from Seeking Alpha). I have no business relationship with any company whose stock is mentioned in this article.