I took a very close look at Canadian Dividends in a series of articles that began here. At the time I also promised that I would comprise a list of suggestions (please hit up dictionary.com for the word suggestion) for American readers. And that is - a list of Canadian dividend payers that will add some diversification to the All-American equity portfolio.
A U.S. investor who had been practicing international diversification by way of Canada, would have been rewarded handsomely through the last two equity bear markets. As you can see, the Canadian market in blue outperformed the S&P500 from 1999 heading into the tech meltdown of 2000-2001. The chart does not include dividend reinvestment. That likely would have widened the lead for Team Canada.
What's more, a U.S. investor would have benefited through currency diversification.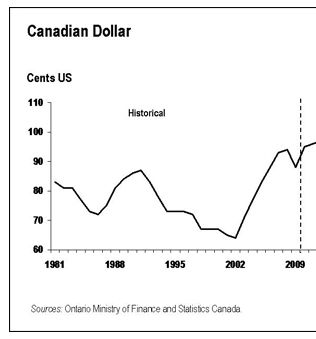 Depending on your entry points, tack on another diversification premium, up to 50%. There's no guarantee that Canadian companies will outperform U.S. companies over the next 12-13 years, or the Canadian Dollar will rise above the U.S. dollar, but if you are looking for diversification and some great dividend growth stocks at the core, here are some suggestions. These are Canadian companies that are listed on the New York Stock Exchange.
I will start with notable SA writer Bob Johnson and the Canadian holdings he uses to top up his U.S. dividend aristocrats and champions. Bob holds Bell Canada (NYSE:BCE), The Bank of Montreal (NYSE:BMO), Scotiabank (NYSE:BNS), The Royal Bank of Canada (NYSE:RY) and Telus (NYSE:TU). Bob's a big fan of the oligopoly situation in Canada. Canadian banks and telcos benefit from an oligopoly environment that provides a large moat and incredible pricing power. With respect to Canadian banks, you might also want to take a look at TD Canada Trust. Please note that TD has a very significant U.S. presence. While it generates the bulk of its profits in Canada (read oligopoly) TD has more branches in the U.S. than Canada. That said, it has executed quite nicely on its U.S. strategy. Scotiabank provides exposure to Mexico, South America and Asia. Full disclosure, I am a Streetwise Coach at Scotia's subsidiary - ING Direct of Canada. Note to Canadian readers who pay the highest mutual fund fees in the developed world - call me!
Bob and I have both penned articles on Canadian banks. Here's my story on the Royal Bank of Canada, "The One Stock Portfolio."
To add to Bob's list I would suggest the two utilities that I hold in my retirement account - Enbridge (ENB) and TransCanada (TRP). Certainly utilities are expensive, so pay attention to your entry points. For some more insurance, let's add some insurance companies in the form of Sun Life (NYSE:SLF), Manulife (NYSE:MFC) and Power Financial (NYSE:PFE). Power Financial is more than an insurance play, it holds a basket of mutual fund companies that are raking it in - again, by charging Canadians the highest mutual fund fees in the world!
And another company that I hold is Tim Hortons (THI). It has a lower yield at 2%. But I purchased it several years ago in the hope that once the coffee and sandwich shop filled in every street corner in Canada, it would return those profits in a very meaningful way in the form of dividends. Canadians are addicted to the coffee and the brand. In fact there's only one company in the world that has knocked off McDonald's (NYSE:MCD) as the dominant quick serve restaurant QSR - and that company is Tim Hortons. Tim's recently increased its dividend by 25% or by some silly caffeine-infused amount.
I am an index investor, but I continue to hold those three companies TRP, ENB and THI.
Here's what that core dividend growth portfolio would look like. Please note that the period does not represent years of consecutive growth. In some cases there may have been a cut or stall on the way to continued dividend growth. PO represents payout ratio.
| | | | | | |
| --- | --- | --- | --- | --- | --- |
| Company | Ticker | Yield | Div Growth | Period | PO Ratio |
| BCE | BCE | 5.0% | 7.4% | 10 years | 70 |
| Telus | TU | 3.7% | 14% | 10 years | 60 |
| BMO | BMO | 4.6% | 8.9% | 10 years | 47 |
| Sun Life | SLF | 5.0% | 10.5% | 10 years | 61 |
| Power Financial | PFE | 4.7% | 11% | 14 years | 54 |
| Royal Bank | RY | 4.0% | 13.5% | 15 years | 47 |
| Scotiabank | BNS | 3.9% | 12.5% | 15 years | 70 |
| Enbridge | ENB | 2.8% | 9.5% | 17 years | 146 |
| TransCanada | TRP | 3.8% | 3.9% | 15 years | 95 |
| Manulife | MFC | 3.3% | 5.5% | 8 years | 58 |
| Tim Hortons | THI | 2.0% | 30% | 5 years | 32 |
| Average | | 3.8% | 11% | 11 years | 65 |
And if you're feeling more adventurous you can check out the top holdings from two Canadian dividend ETFs in this article.
And of course, for the investor who wants to hold the entire Canadian market, they can purchase the Canadian index ETF through iShares with the ETF (NYSEARCA:EWC).
Here's a look at the top ten holdings (and their percentage of portfolio) from EWC. You'll see some familiar names.
EWC offers a yield of 2.09% and it will deliver some modest dividend growth. But largely you would be gaining exposure to Canada's strong financial, energy and resource sectors.
Final thoughts.
Diversification is always in style. Americans might benefit from exposure to Canada and other foreign markets. Canada delivered for many American investors over the last decade or more. Canada has the most sound banking system in the world. Canadian banks and telcos experience a rare oligopoly situation that is tailor made for dividend growth investors.
And those core suggestions with an average 3.8% yield and a dividend growth rate of 11% - what's not to like eh?
Disclosure: I am long DIA, THI, ENB, TRP. I wrote this article myself, and it expresses my own opinions. I am not receiving compensation for it (other than from Seeking Alpha). I have no business relationship with any company whose stock is mentioned in this article. Dale Roberts aka cranky is a Streetwise Coach at ING Direct Mutual Funds. Streetwise Portfolios offer Canadians low-fee, complete, index-based portfolio options. Dale's commentary does not constitute investment advice. The opinions and information should only be factored into an investor's overall opinion forming process.