Abstract: Warren Buffett prefers to own large cap companies, but investors can employ the same kind of quantitative criteria that he uses to make his selections to companies of all sizes. In the mid cap world, doing so produces not only some intriguing technology stocks but also a series of other Buffett-esque businesses with a track record of outperforming the S&P 500.
Warren Buffett is at it again. In his March 1, 2013 annual letter to Berkshire Hathaway (NYSE:BRK.B) shareholders, Buffett and long-time partner Charlie Munger made it clear that they are on safari, hunting for elephants. Or rather, the corporate equivalent, probably companies with a market capitalization of $10 billion to $30 billion. But while the Sage of Omaha prefers to make larger corporations his targets, there is also an array of mid cap stocks that display the same characteristics that traditionally have appealed to Buffett. Just as we identified 28 companies that fall into the large cap segment of the stock market universe, we now turn our attention to somewhat smaller companies in the mid cap arena. While they may be too small to appeal to Buffett or for inclusion in the Berkshire Hathaway portfolio, they do offer the same characteristics that we highlighted in our February review.
Taking the Buffett Approach
Over the decades that it has taken for Warren Buffett to establish his reputation, his investment objectives have become clear. Indeed, he has discussed - frequently and publicly - the characteristics he favors. While one of the primary parameters is size, we believe that Buffett's parameters can be useful for picking any size company and so in this study we sought to use his remaining criteria to identify stocks of companies with a market capitalization of between $3 billion and $10 billion that we believe a size-agnostic Buffett might find intriguing.
Using StarMine data and models as filters, we sought out companies with:
A ratio of net debt to market capitalization of less than 40%

An Enterprise Value/EBITDA (current) ratio of less than 12 times

A SmartGrowth earnings per share growth estimates of 2% or more

A SmartGrowth revenue growth forecast of 2% or more
Other than size, a criterion that Buffett uses that we didn't employ is his preference for investing in companies whose executive teams have a particularly long tenure; that is harder to quantify and track.
StarMine Filtering
To cut our list down to a manageable size, we took three additional screening steps.
We ruled out any company that didn't have a StarMine five-year analyst earnings compound annual growth rate (OTCPK:CAGR) of 8.4% or higher. (This is above the current CAGR forecast for S&P 500 index, which stood at 7.4% at the time of the study).

We required the corresponding five-year market-implied growth in earnings per share to be at least one percentage point below the analysts' growth forecast, in order to winnow out any more costly stocks. This market-implied forecast is derived by reverse engineering the intrinsic or fair value estimation, in which one assumes that the current share price correctly reflects the market's expectations for earnings growth.

We included only companies whose earnings growth forecasts by analysts exceed market-implied earnings growth by at least two percentage points.
Buffett-Like Mid Cap Investments
Our March 2013 mid cap list that attempts to approach Buffett-like investment candidates, with an extra margin of safety as just described, composed of 28 companies in the table below.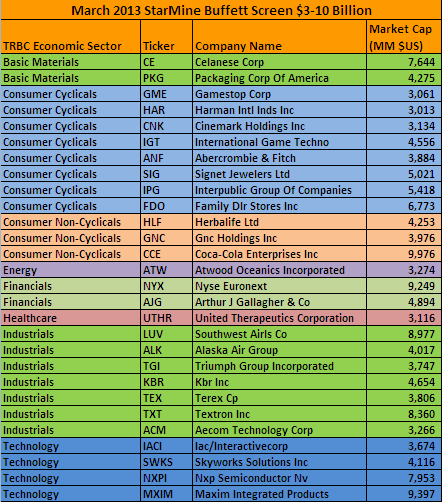 Companies that belong to the Consumer Cyclicals sector within the Thomson Reuters Business Classification universe dominate the list; the eight companies included in this group range from Abercrombie & Fitch (NYSE:ANF) and International Game Technology (NYSE:IGT). The Industrials sector runs a close second, with seven companies making the final list. That group includes two airlines, Alaska Air Group (NYSE:ALK) and Southwest Air (NYSE:LUV), in spite of their strong stock price performance so far in 2013.
While our large cap list last month didn't produce any "Buffett would love it" technology stocks, four TRBC Technology sector names made this mid cap list. Of those, three are semiconductor companies: Skyworks Solutions (NASDAQ:SWKS), NXP Semiconductor (NASDAQ:NXPI) and Maxim Integrated Products (NASDAQ:MXIM). The fourth and final company from the Technology is IAC (IACI), whose portfolio of Internet companies includes Vimeo.com, Match.com, Dictionary.com and Citysearch.com.
In this analysis, we'll focus on three specific and very distinctive companies, each of which has handily outperformed the S&P 500 on a total return basis over the last five years.
Arthur J. Gallagher & Co.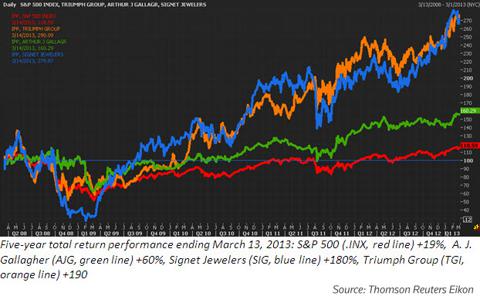 If Warren Buffett and Berkshire Hathaway were in the market for another mid cap insurance company, it's hard to imagine that Arthur J. Gallagher & Co (NYSE:AJG), with a market capitalization of nearly $5 billion, wouldn't end up on their shortlist. Certainly, had Berkshire Hathaway (or anyone else) owned stock in the company over the last five years, they would have been very happy indeed with a total return of 60% during a period in which the S&P 500 index's total return was only 19%. The company, an insurance broker that also provides third-party claims settlement and administration services, generates 80% of revenues in the U.S. and the remainder mostly in the U.K. and offers investors a dividend yield of 3.6%.
In an industry where those with the greatest financial strength tend to fare best, Gallagher stands out. Its cash flow has exceeded its net income in 13 of the last 20 quarters. That is graphically represented by the distance between the green bars and the white bars in the chart below, in which the red bars show lower cash from operations compared to reported net income.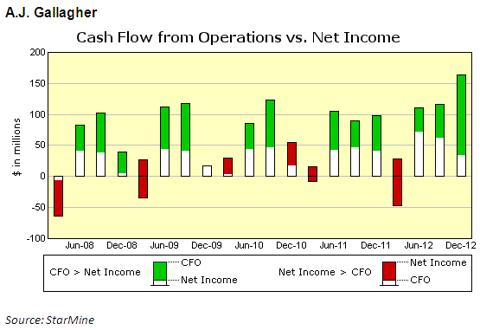 The company earns 89 out of a possible 100 on the StarMine Analyst Revisions Model (ARM), when ranked among all U.S. companies: that is no small feat in a slow growth economic climate. With a quarterly dividend of 35 cents a share and the StarMine SmartEstimate suggesting that the company should earn $2.51 a share in the coming 12 months, the dividend payout rate should then be around 55% in the coming 12 months, down from 93% for the trailing 12 months. The lower payout ratio is a positive for the company, giving management the ability to retain more of its earnings in order to reinvest in the business (or even to boost the dividend payment in the future).
Signet Jewelers Ltd.
Of the three companies on which we are focusing in this article, Signet Jewelers Ltd (NYSE:SIG) has generated a total return over the last five years of no less than 180%, a dramatic contrast to the 19% advance for the S&P 500. Starmine's analyst forecasts, adjusted for forecast biases, project that Signet's five-year analyst earnings CAGR will be 10.6%, while the market prices its earnings growth at only 7.5%. Analysts are also anticipating healthy top-line growth: StarMine SmartEstimates for 12-month and 24-month revenue growth stand at 5.7% and 4.1% respectively.
Signet - parent company of jewelry retailers Kay Jewelers and Jared the Galleria of Jewelry - has had a bumpy road in recent years as it grappled with goodwill impairment and re-listing charges, and the company took a large write-off in the quarter ended March 31, 2009. But by now the company has recovered to the point where the latest StarMine SmartRatios Credit Risk model awards the company a score of 92 out of a possible 100. The component scores for Leverage and Coverage of interest (see below) are particularly robust.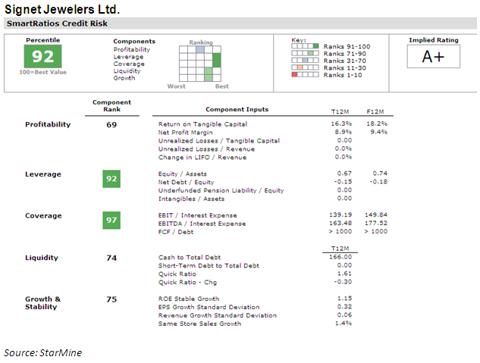 Triumph Group Inc.
Aerospace specialty company Triumph Group Inc. (NYSE:TGI) boasts a market capitalization of $3.8 billion and a total return of 190% (orange line) over the last five years, ten times that of the S&P 500. StarMine data shows that the current five-year analyst earnings compound annual growth rate (OTCPK:CAGR) forecast for Triumph now stands at 11.7%, a stronger forecast than the 7.4% CAGR forecast for the S&P 500. StarMine data also reveals that only a 4.9% forward growth in earnings has been priced into the stock by the market. In spite of the stock's hefty outperformance, StarMine's Intrinsic Valuation Model gives the company a high score out 78 of a possible 100. Meanwhile, Triumph's Enterprise Value to EBITDA ratio stands 6.6, well below the maximum level of 12 that Buffett has laid down in his own guidelines as he searches for value-priced acquisitions. (At its current levels, that ratio also remains below its 10-year median score of 7.)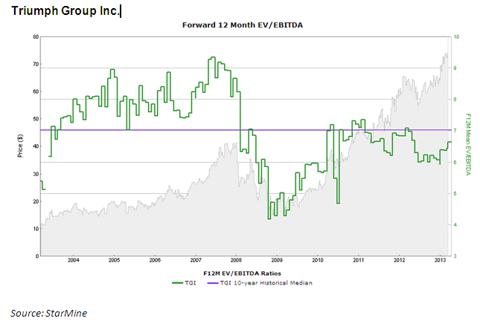 Triumph also can be found on our list of 2013 Low Yield and Low Payout stocks, offering investors a current dividend yield of 0.2%. (The Low Yield and Low Payout list has returned 11.9% year to date through March 12, 2013, compared to 9.4% for the S&P 500.)
The Takeaway
As we mentioned in our earlier analysis of large cap companies that appear to meet Warren Buffett's investment criteria, no single company or stock has proven to be a safe investment in all market conditions. Nonetheless, Buffett's quest for value remains an attractive investment approach, at least if one judges by the number of investors and analysts who parse his every public pronouncement and scan every word he writes in his reports to shareholders. By replicating many of the factors that Buffett has clearly allowed to shape his own investment strategies (albeit taking some poetic license) and adding proven quantitative filters to fundamental analysis to help stack the odds in the investor's favor, we hope to provide readers with a starting point for applying "Buffetology" to the universe of mid cap stocks.
Disclosure: I have no positions in any stocks mentioned, and no plans to initiate any positions within the next 72 hours. I wrote this article myself, and it expresses my own opinions. I am not receiving compensation for it. I have no business relationship with any company whose stock is mentioned in this article.