We are becoming more and more worried about these royalty trusts and what they may do to investor confidence moving forward in regards to funding the shale E&P plays with cash upfront for promises of assets in the future. The trust model may be broken now and we envision a trend back towards the MLPs where actual producing assets may have to be sold in order to obtain funding. It is the bed the industry has made for itself and as funding dries up for these assets prices shall fall and we envision some distressed sales. Not sure who yet, but it always happens when markets reprice assets and that is obviously the case here with the recent transactions having taken place.
Commodity prices this morning are as follows:
Gold: $1607.80/ounce, up by $0.30/ounce
Silver: $28.87/ounce, up by $0.053/ounce
Oil: $92.98/barrel, down by $0.52/barrel
RBOB Gas: $3.1044/gallon, down by $0.0119/gallon
Natural Gas: $3.957/MMbtu, down by $0.003/MMbtu
Chart of the Day: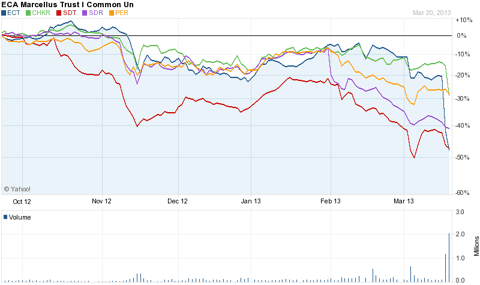 Royalty Trusts
As the above graph indicates, it has been a very rough past few months, and last few weeks even, for the royalty trusts. Those having the most trouble are focused in the shale plays and deploying horizontal drilling techniques to unlock their reserves. Part of the problem is the underlying commodity pricing, another part production mix coming in unfavorable versus expectations and actual reserves not adding up to early estimates. We would not be buyers of these trusts, as we have stated before, and would instead look to the MLPs for yield as they have older, proven reserves and nice payouts which in many cases are protected by the depreciation and other tax credits partners are able to take via the K-1s they receive each year. In yesterday's trading investors continued their sell-off of ECA Marcellus Trust I (NYSE:ECT) which saw units fall by $1.24 (10.75%) to finish the session at $10.30/unit on strong volume of 2.04 million. Also coming under pressure yesterday was the Chesapeake Granite Wash Trust (NYSE:CHKR) which saw volume of 2.8 million as shares fell $2.59 (15.27%) to close at $14.37/unit.
Oil & Natural Gas
Anadarko Petroleum (NYSE:APC), a name we highlighted a few days ago due to their exposure in the US west shales, had some nice results from the US Gulf of Mexico that they reported. Shares hit a new 52-week high of $87.50/share on the news. The appraisal well in their Shenandoah Field indicated that the company could have a 600-900 million barrel asset on their hands. The fact that they had 1,000 feet of net oil pay is impressive as well. There is a good summary on the story from Reuters located here.
'Cliff Watching'
As we were looking at our trading screen yesterday we were captivated for a time by Cliffs Natural Resources (NYSE:CLF) and whether they were going to break the $20/share level. The answer was no as the shares found support a little bit above that and then actually closed up on the day by $0.38 at $20.71/share. We will continue to watch this, but the low of $20.16/share, a new 52-week low mind you, may represent the low here. If not, as we have said before this is heading lower for a possible retest of lows set during the financial crisis and could open this up to a short. The trend is you friend unless it is against you, and when it is against you one must make it your friend by adjusting the strategy. We remain convinced to stay away, but will keep readers posted on whether to open new shorts or go long if we see anything.
Iron-ore
The Brazilian iron-ore play has been a bit of a downer for investors recently...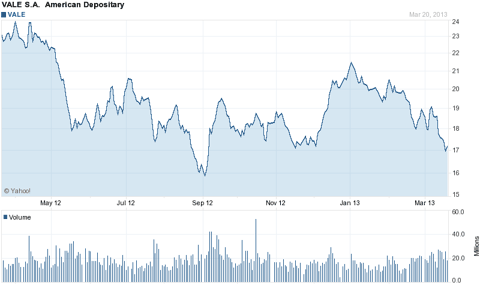 Chart courtesy of Yahoo Finance.
Any break below the $17/share level (which the shares bounced back above yesterday) could result in testing the 52-week lows, a 10% fall from current levels.
It has been a rough few weeks for Vale (NYSE:VALE) as they have had to cut their payout due to falling profits and have taken some charges related to assets which are no longer worth what they once were. Such is the reality for a commodity company, and we would remind investors that the vast majority of the fortunes are made in this industry by either finding a huge deposit while exploring or buying large, low cost production when the business is out of favor. One hardly ever makes a killing by being the one to bring a mine online or start something from scratch, so expect more write-offs in the future from those who brought on new production during the boom years. If Goldman Sachs is correct in their estimates for the iron ore market, then we have some serious problems with being involved here. Yield or no yield difficult times lie ahead, but Vale will be one of the iron ore players left standing at the end of the day so we would wait to accumulate here as we are still about 10% from a 52-week low and it seems the story is just beginning to get worse for the market.
Disclosure: I have no positions in any stocks mentioned, and no plans to initiate any positions within the next 72 hours. I wrote this article myself, and it expresses my own opinions. I am not receiving compensation for it (other than from Seeking Alpha). I have no business relationship with any company whose stock is mentioned in this article.