Introduction
GMX Resources (GMXR) is a natural-gas weighted producer, which is currently developing its Bakken and Three Forks oil shale resources located in the Williston Basin, North Dakota. The company also holds acreage in the DJ Basin targeting the Niobrara shale, and in the East Texas Basin targeting the Haynesville/Bossier gas shale and the Cotton Valley Sand formation.
GMX Resources has been in my stocks-to-avoid list since last summer when I started contributing to Seeking Alpha. My stocks-to-avoid list also included Athabasca Oil (OTCPK:ATHOF) among others. Athabasca Oil's stock has dropped from $14 in October 2012 down to $9 today.
Those readers who listened to my repeated warnings about Athabasca Oil and GMX Resources saved and/or made a lot of money by shorting both stocks.
GMX Resources is in a financial stretch and has several burdens to deal with. This is why the severe drop from $7 in late December 2012 down to $3.4 has not surprised me either.
The Ratios Are Worsening
The company has continuing losses and a rising debt/equity ratio on a quarter over quarter basis. The stockholder equity has turned negative since Q2 2012, and the long-term debt stands at $380 million as of Q3 2012. The operating cash flow for the nine months is also negatively eroding the balance sheet, although it turned slightly positive for Q3 2012.
The cash resources have declined significantly and it dropped from $107 million in Q4 2011 down to $18 million in Q3 2012. Eventually, the current ratio (current assets/ current liabilities) has dropped from 3.18 in Q4 2011 down to 0.38 in Q3 2012.
After all, the company faces severe liquidity problems and according to the latest news, it elected to suspend payment of quarterly dividends on the outstanding shares of its 9.25% Series B Cumulative Preferred Stock in order to preserve capital and improve liquidity.
The Niobrara Solution
GMX produces approximately 5,400 boepd (15% oil and liquids). As GMX is heavily natural gas weighted, the recent rise of the natural gas will help the situation and improve its operating cash flow on a going forward basis. United States Natural Gas (NYSEARCA:UNG) has risen almost 20% since Q3 2012, and the trend is upwards at least for the short term. However, this cannot be the solution for GMX's problems in my opinion. Waiting for the natural gas price to rise is not a strategy. The company needs a concrete strategy that will generate cash. It also announced recently that it is working with Chatham Asset Management on restructuring its balance sheet in light of its current liquidity and cash needs. This is not the solution for GMX's problems either. These treatments are like aspirins to a patient who suffers from cancer.
To me, the key solution is the company's Niobrara acreage in the DJ basin. There is bullish sentiment surrounding the DJ Basin currently, and GMX has to capitalize on this as soon as possible. GMX holds 40,082 net acres at the Bear Creek in Wyoming targeting the Niobrara formation. It holds 12,687 net acres in Goshen County, WY and 27,395 net acres in Platte & Laramie County, WY. The majority of that acreage is contiguous, has significant oil potential and holds 584 total locations that provide a drilling inventory for many years.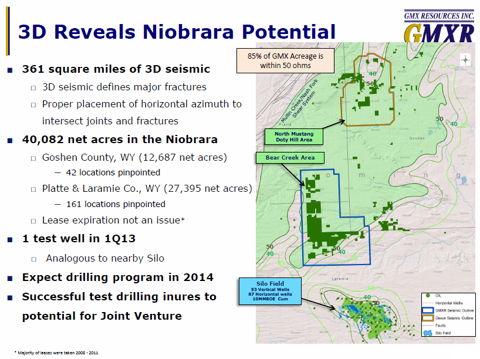 However, the company has not drilled there yet to de-risk its properties. It has received the majority of the seismic information over 300 square miles, and the engineering team is in the midst of an evaluation that is highlighting the presence of joint and fracture networks needed to identify specific targets. This acreage is to the north of the oily Silo Field.
Area Deals
1) Marathon Oil (NYSE:MRO) has significant exposure to the Niobrara shale though its acreage in Goshen, Laramie and Weld Counties of Wyoming and Weld County of Colorado. Marathon Oil has more than 100 years of experience in exploration and development in Wyoming and is the state's number one oil producer. In 2011, Marathon signed an agreement with the Japanese Marubeni Corp. under which Marathon will assign a portion of its interest in the Niobrara shale play within the DJ Basin. Under the terms of the agreement, Marubeni received a 30% WI in Marathon's approximately 180,000 net acres in the DJ Basin for a total consideration of $270 million, or $5,000 per acre.
2) In January 2011, the Chinese firm CNOOC (NYSE:CEO) entered into a $1.2 billion Niobrara JV with Chesapeake (NYSE:CHK). Chesapeake sold a third of its interest in its 800,000 acres in the Niobrara shale to CNOOC for $570 million in cash. CNOOC also agreed to pay for two-thirds of Chesapeake's share of drilling and completing costs, to as much as $697 million. These drilling costs are to be spent by year-end 2014. Actually, Chesapeake flipped the same acreage purchased from Samson Oil (NYSEMKT:SSN) to CNOOC, which paid $4,150/acre for this 33.3% WI. That asset was undeveloped without any reserves associated with it back then. Chesapeake has not spent a significant amount of money to develop it since 2011, and it plans to spend there only 4% of its total Capex for 2013, according to its latest presentation. Chesapeake's acreage is located at the southeast Wyoming (Goshen and Laramie Counties), and it is very close to GMX's acreage.
3) In early 2012, Devon Energy (NYSE:DVN) had 300,000 net acres in the Niobrara, but sold one-third of it to Sinopec (NYSE:SHI) for $2.2 billion to accelerate the derisking and commercialization of this play without diverting capital from its core development projects. The deal also included acreage in four other prospective plays.
Prior to this transaction, Devon had assembled 1.2 million net acres in the Tuscaloosa Marine Shale, Niobrara, Mississippian, Ohio Utica Shale and the Michigan Basin. Part of Devon's acreage is in Goshen County to the west of Chesapeake's acreage.
Sinopec made a $900 million cash payment upon closing and $1.6 billion paid in the form of a drilling carry. The drilling carry would fund 70% of Devon's capital requirements of the overall development costs during the carry period. The entire $1.6 billion carry should be realized by year-end 2014.
4) Carrizo Oil and Gas (NASDAQ:CRZO) made two joint ventures in late 2012 for its Niobrara acreage in Weld and Adams Counties of Colorado.
The first JV was with OIL India and Indian Oil Corporation. Carrizo sold 30% (18,000 net acres) including 24 producing wells for $41.25 million cash and $41.25 in development carry to be fully utilized by early 2014. That was a ~$4,500/acre transaction.
The second JV was with Lanzhou Haimo Technologies Co. Carrizo sold 10% (6,000 net acres) including 24 producing wells (185 boepd) for $27.5 million. That was a ~$4,600/acre transaction.
5) Looking to unlock Niobrara oil reserves and reduce its mounting debt, Quicksilver Resources Inc. (NYSE:KWK) closed a deal with Shell (NYSE:RDS.A) in late 2012. Quicksilver now owns a 50% WI in 320,000 acres in the Sand Wash Basin in Northwest Colorado, which will be jointly developed with Shell. Further terms of the transaction were not announced.
"We are pleased to have Shell as a partner in this important oil project. It is also a step toward improving Quicksilver's liquidity position," said Glenn Darden, Quicksilver's President and CEO. Despite this, Quicksilver has still a very long way to go because its long-term debt is almost $2.1 billion as of Q4 2012.
Capitalize Niobrara's Potential
The Niobrara is the youngest of the tight oil plays in the U.S. Truth is that through March 2012, Niobrara tight oil production is significantly lower than the Eagle Ford and North Dakota's Bakken, although an old-fashioned land rush was on during 2011 with more than 100 granted drilling permits in southeast Wyoming. The formation hasn't produced as much oil as companies originally anticipated. However, the Niobrara formation does not look like a dud as Montana's Bakken seems to be, for the reasons I analyzed here and here.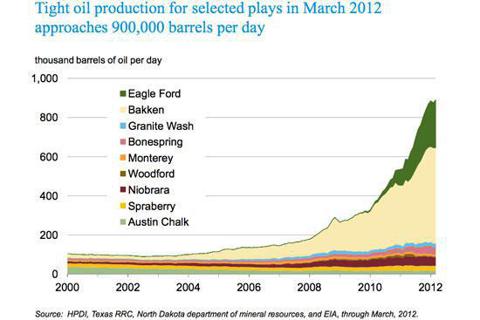 Despite the fact that production in the Niobrara doesn't come close to North Dakota's Bakken, there is a common thing between these two formations. The decline rates for Niobrara wells are as high as the ones for Bakken wells, and they are close to 90% in many cases.
Based on Niobrara's liquids potential, and given a decent $4,000/acre metric, GMX Resources can sell 50% of its Niobrara acreage for $80 million. This cash pool will strengthen the balance sheet, helping the company fund its ongoing drilling program in Bakken. The current operating cash flow is not sufficient to provide enough liquidity for its Bakken wells.
Once the oily production from Bakken starts rising, the operating cash flow will also rise to fuel further the drilling program. Thus, the domino effect to the upside will begin. Any rise of the stock will give GMX the chance to make an offering in order to pay down part of its debt. In the meantime, a restructuring of the long-term debt (i.e. maturity extension) will also be very helpful.
Conclusion
The company's acreage in the Haynesville/Bossier gas shale and the Cotton Valley Sand formation in the East Texas basin is heavily natural gas weighted, and unfortunately the price tags is low for these properties currently.
On the other hand, GMX hasn't got contiguous acreage in the Williston basin. This is a drawback that prevents GMX from getting a high price tag for its Bakken assets. Restructuring the balance sheet is a short-term relief measure that is kicking the can down the road.
After all, the company has to exploit the fact that it holds a big and contiguous acreage in the emerging Niobrara shale. To me, this is the most effective way for GMX to turn things around.
Disclosure: I have no positions in any stocks mentioned, and no plans to initiate any positions within the next 72 hours. I wrote this article myself, and it expresses my own opinions. I am not receiving compensation for it (other than from Seeking Alpha). I have no business relationship with any company whose stock is mentioned in this article.