Much ink has been spilled on the subject of dividend growth investing, particularly during our period of zero interest rates. Without a doubt identifying companies that are able to grow their dividend over time is a very compelling strategy, however, knowing which companies will be able to increase their dividend over time is considerably more difficult. The purpose of this article is to make readers aware of one factor that tends to anticipate dividend growth.
Obviously, increasing profitability, revenue and a low payout ratio portend well for future dividend increases. However, one correlation many overlook is the ability of a company to increase dividend yield while lowering share count through simultaneously buying back stock and paying a dividend. The strategy is intuitively obvious, since a company which has consistently reduced its share count:
Must have free cash flow beyond what is required to pay its dividend (i.e. a low payout ratio)
Must increase its dividend per share simply to maintain its overall payment (i.e. a constant dividend payment for the entire float becomes a CAGR of however much the number of shares outstanding have been reduced)
In order to fact check my thesis the stocks from PowerShares Buyback Achievers ETF (NASDAQ:PKW) were screened for those that paid a dividend in excess of 2% and had paid a dividend continuously over the past five years. The average dividend growth of these approximately 50 stocks was 15.90%, whereas the dividend growth of the Dividend Aristocrats was 11.60% over the same time period. It is also worth noting that the Dividend Aristocrats most likely had an advantage since a stock would not be labeled as such unless it had increased its dividend over the prior five-year period.
Finally, it should be noted that the companies which repurchase the most stock have consistently outperformed the S&P 500 index as can be seen by the outperformance of PKW compared to the S&P 500 (NYSEARCA:SPY).
A vivid illustration of the power of a buyback/dividend growth strategy is that of The Traveler's Companies (NYSE:TRV). It should interest the layman to know that over the prior 10-year period Travelers has increased its revenue by only 6%. However, over that same period the company has repurchased 43% of its float, while increasing its dividend by 109% to yield a total return with dividends reinvested of 176%. Over that same period the valuation in terms of price/book remained constant, meaning that Travelers today should be expected to net approximately the same return for its shareholders into the distant future.
Travelers Insurance: A Buyback/Dividend Growth Champion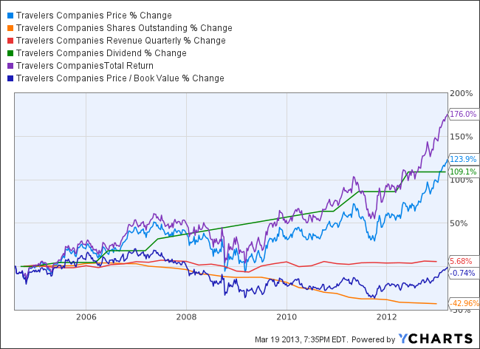 So if you want dividend growth pay attention to share count. Of course share count is also a double-edged sword: a company reducing its float can more easily pay its dividend, but a company issuing shares will be more challenged in paying its dividend, all other things being equal. For this reason, I have recommended caution on some MLP investments that in my opinion appear to be issuing shares in order to pay an oversized dividend.
In conclusion: dividends can be only half of the remuneration that you can expect from many well managed companies. Several reasonably priced companies that have demonstrated years of dividend growth and repurchases are: Allied World Assurance Co. (NYSE:AWH), Deere and Company (NYSE:DE), McDonald's (NYSE:MCD), International Business Machines (NYSE:IBM), Target (NYSE:TGT) and Exxon Mobil (NYSE:XOM). If you need income today buying a stock like AT&T (NYSE:T) with a nearly 5% yield may be the best bet, however, if you would like more income 10 or more years from now buying a stock such as those listed above is likely to net more income and appreciation as well.
Finally, in a previous piece I expressed concern that the market was due for a pullback. Recent trends in the market cause me to believe that a pullback is not forthcoming. I expect concerns over Cyprus to be very short lived and a relief rally is likely to follow. As such, my suggestion to halt buying or pare positions before the market opened at 1525 several weeks ago is suspended. At the time of this writing the market is scheduled to open around 1535 tomorrow and I now recommend buying any weakness. I cannot be certain that I was wrong: a correction could still be in the cards. However, at this point I believe the odds are at the least even and some over-bullish sentiment has been drained from the market. A number of cyclical stocks have even pulled back to the point that they are positively cheap: specifically, Apache (NYSE:APA) and Rio Tinto (NYSE:RIO).
Disclosure: I am long APA, AWH, IBM, MCD, RIO, T, XOM. I wrote this article myself, and it expresses my own opinions. I am not receiving compensation for it (other than from Seeking Alpha). I have no business relationship with any company whose stock is mentioned in this article.
Additional disclosure: Some of the positions above are constructed or hedged through the purchase or sale of options on the underlying stock. I am short APA and RIO put options as selling puts into a downtrend is generally preferable to buying directly.