Intel (NASDAQ:INTC) is well known for its chip making business, especially the PC chips. The company has gone on to build a reputation on its famous identifier phrase "Intel Inside" as found in several PCs. However, the declining popularity of personal computers has been eating on Intel's PC business over the last three years. Indeed, the company's market share in the chip making business overall has declined substantially, owing to the rapid growth in the usage of smart devices.
The emergence of tablets and smartphones has cannibalized the PC business without discrimination. Apple (NASDAQ:AAPL) has seen its Mac business decline continuously while Hewlett-Packard (NYSE:HPQ) and Dell (NASDAQ:DELL) have been hit worst. The latter two are key customers for Intel, which explains why the same picture is mapped to its books.
Intel's perceptual computing unlikely to revamp PC industry
Over a month ago, Intel revealed to the world that it was in the process of testing new technology that could revive the dwindling PC industry. Perceptual computing as described by the company's strategist and product manager, Barry Solomon, is expected to revolutionize human interaction with PC computers.
We're not trying to replace anything. We're just trying to augment existing modes of interaction. We're adding senses to the computer's brain so it can perceive its surroundings, identify who's interacting with it, and make those interactions more intuitive. We want to go beyond simply delivering technology. The tech world has morphed into delivering experiences," Solomon said in a statement in January.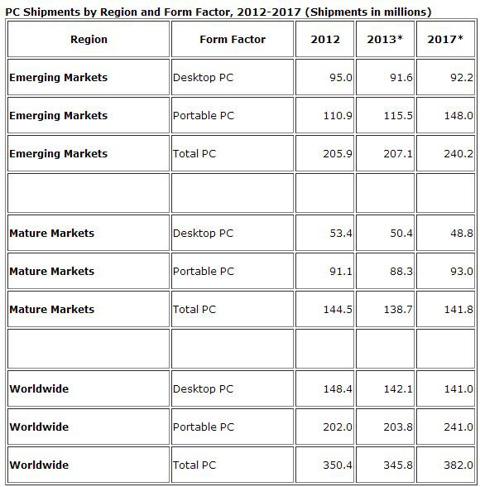 The PC market is set to contract further overall, in 2013, with realizable growth expected no sooner than after four years. This gives an indication that the PC industry is somewhat expected to reinvent itself into the computing world, at some point in the future.
According to IDC's predictions, the desktop computers market is expected to contract despite the surge in laptop computers segment. This implies that the likely recovery could be triggered by making laptops smarter to challenge tablets and phablets. Intel's perceptual computing seems set to make personal computers smarter by incorporating a collection of features available in smart devices.
Nonetheless, the mature market is expected to continuously contract in the coming years, in terms of sales volumes for PCs. Assuming continuous developments, the emerging markets should at some point in the future reach maturity, and I bet that point is not far off the radar. This means that in the long-run, the PC market is generally a contracting business.
A majority of Intel's revenue comes from the sale of PC chips, a scenario that must change if indeed the company is to begin recouping some of its lost market share. Therefore, with declining PC sales, that leaves Intel with one option, mobile chips.
The mobile opportunity
The chipmaker has been advancing in its quest to join the exciting mobile computing battle by producing mobile chips. Intel joins Qualcomm (NASDAQ:QCOM) and ARM Holdings (ARM), the two dominant companies in the business, which seems to promise incremental sales due to the rapid growth in mobile computing devices.
Intel would need to attract some of the leading smartphone and tablet manufacturers as part of its mobile chip business strategy. According to reports earlier this month, Intel is looking to make Apple one of its main partners in its new line of business.
In a recent post, Reuters quoted Pat Becker Jr, of Becker Capital Management, saying, "If you can have a strategic relationship where you're making chips for one of the largest mobile players, you should definitely consider that. And for Apple, that gets them a big advantage." This indeed would guarantee Intel a massive opportunity given Apple's smart devices and sales volumes in the form of iPhones and iPads.
Intel is yet to forge traction in the mobile chip business, but in terms of potential, this unit promises better revenues than the PC unit does, which is currently on the decline. Apple is believed to be looking for a way out of its relationship with Samsung Electronics, which has become one of its fiercest rivals. Intel on the other hand increased its capital expenditure for 2013 by $2 billion to $13 billion, prompting speculation that this was in readiness for a chipset production deal with Apple, as the iPhone maker looks to use better chipsets for its iPads and iPhones.
The Bottom Line
The idea of Intel cutting a deal with Apple puts the company in a balance. If this happens as highly expected, then that would result in an upside for a stock, which has barely breached the $22 mark over the last three months. The stock attracts a consensus price target of $24.59, or about 16% upside, which also signifies analyst neutral rating.
Once again, Intel's mobile plans are what could drive the stock to a level that will trigger a series of upgrades by analysts, but first, it will have to see off the challenge of Qualcomm, Samsung and ARM, among others. And Apple is the right weapon at the moment. Despite the overwhelming neutral rating, I believe that Intel is still a good buy given the opportunity at hand.
Disclosure: I have no positions in any stocks mentioned, and no plans to initiate any positions within the next 72 hours. I wrote this article myself, and it expresses my own opinions. I am not receiving compensation for it (other than from Seeking Alpha). I have no business relationship with any company whose stock is mentioned in this article.