Who says you can't have it all? Invest opportunistically in your dividend growth portfolio and you can constantly enhance its performance. Let me explain.
It is common practice for REITs (real estate investment trusts), MLPs (master limited partnerships) and BDCs (business development companies) to raise capital not only by floating new bonds, but also by issuing secondary share offerings.
Often, investors mistakenly interpret this action as a negative event that will dilute their holdings. They figure they will suffer, as current holders, because the EPS (earnings per share) will fall; same earnings divided by more shares=less earnings per share.
Investors Panic on dilution fear
So, they hit the sell (panic) button and run for the hills. Large amounts of investors selling huge amounts of their shares pull the plug on the share price, and this is where our opportunity lies.
Yesterday, March 19, Hospitality Properties Trust (NYSE:HPT), a REIT that owns and manages hundreds of hotels, announced an issuance of 14 million new shares at $25.55 each, to raise $357.7 million in the offering. The Newton, Mass., company expects to use the offering's net proceeds to pay back outstanding amounts under its unsecured revolving credit facility and for general business purposes.
The stock dropped from $27.17 from the previous close, to $25.71 in minutes, a fall of $1.46, or 5.4%. The stock closed the day, bouncing back to $26.59.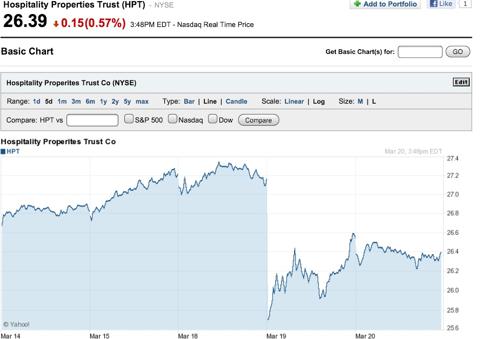 Yahoo Finance chart
Investors panicked at the dilution of approximately 11.5% to their holdings. (14 million new shares issued, divided by about 122 million outstanding shares =11.5%)
The Thesis: Buy Opportunistically on Temporary Dips
Those investors who understand that REITs commonly issue secondary stock to raise capital to expand their businesses, and trust the management to make good use of this new capital to grow earnings further, can take great advantage of these market events. Instead of panicking, the opportunistic investor buys additional shares for her portfolio on sale, at a great discount. Not only did she save $1.46 per share on her new shares, but she also increased the dividend yield on these new shares.
| | | | | | |
| --- | --- | --- | --- | --- | --- |
| Date | Stock | Price | Dividend $ | Yield % | Annual income on $100K |
| 3/18/2013 | HPT | $27.17 | $1.88 | 6.90% | $6,900 |
| 3/19/2003 | HPT | $25.71 | $1.88 | 7.31% | $7,310 |
| | | | | | Additional income $410 |
| | | | | | Percentage increase in income 5.95% |
The Dividend Income and Yield Boost
This easy maneuver results in additional portfolio income on this one position of $410.00 more than the previously established position, and a consequent increase in the dividend yield on this new purchase of 41 basis points (each basis point equals 1/100 of a percent). So, the new purchase came with a 5.95% increase in the dividend income from just a day before, and a yield boost on the new position, from 6.9% yield to 7.31%.
The Capital Gain Triple Boost
Here's the triple kicker: sophisticated investors understand that these secondary offerings lead to panic selling from unsophisticated investors. So they stand at the ready to buy the shares that others have dumped, and they buy them at great discounts. In most instances, knowing-investors understand that good managements are to be trusted to use the new capital raised in an efficient manner. They believe this will result in higher per share earnings in the near future and the shares will normally bounce back to the pre-secondary announcement price in only a few days.
That's where the capital gain pay-off comes in. The smart investor who buys more shares at the panic-induced price of $25.71 sees those very same shares bounce back shortly to the pre-announcement price of $27.17, pocketing a fast and cool $7946.00. She can take her quick profit, or hold her new position and simply be satisfied that she's taken advantage of a very temporary sale and added both capital gains and a dividend boost to her portfolio.
$100K Investment at Panic Induced Price

Date

Stock

Price

# of shares

Value of shares

3/19/2013

HPT

$25.17

3973

$100,000.00

3/26/2013?

HPT

$27.17

3973

$107,946.00

Capital gain

$7,946.00
Conclusion
The investor who comes to understand the workings of REITs, MLPs and BDCs can seize opportunities based on secondary share offerings, sometimes several times per year. Other recent secondary offerings by MLPs in the past 12 months include Kinder Morgan Partners (NYSE:KMP) and Plains All American Pipeline LP (NYSE:PAA). In the business development sphere, Main Street Capital (NYSE:MAIN) did a secondary on December 11, 2012.
The pay-off is triple-barreled for the long-term dividend growth investor who seeks to increase his total portfolio value, dividend income and yield over time. With a portfolio containing 30-40 names diversified amongst these sectors, an investor will be handed such opportunities on a regular basis and can profit commensurately. Yield on cost expands hand in hand with dividend income along with growth in the portfolio. Have your cake and eat it too!
For strategies to smooth these ever-growing dividends into regular monthly or quarterly distributions to make bill-paying easy in retirement, please read my previous article.
Disclosure: I am long HPT, KMP, MAIN, PAA. I wrote this article myself, and it expresses my own opinions. I am not receiving compensation for it (other than from Seeking Alpha). I have no business relationship with any company whose stock is mentioned in this article.