Tekmira (TKMR) (TKM-TO) is a development stage biopharmaceutical company focused on the research and development of novel RNA interference (Pending:RNAI) therapeutics by utilizing its leading lipid nanoparticle (LNP) delivery technology. Based on this platform technology, Tekmira has built a diversified pipeline with both internal and partnered programs.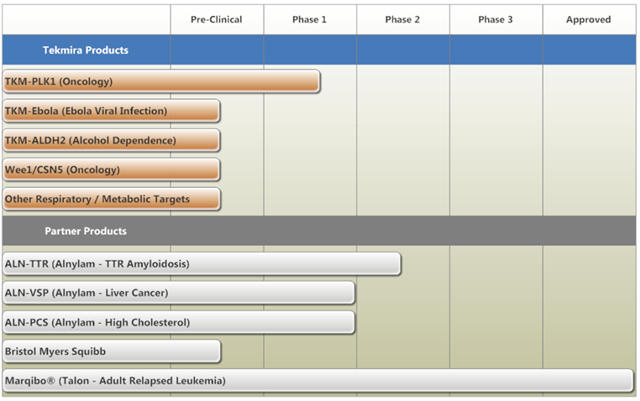 Tekmira: The Pioneer in the Field of RNAi Therapeutics
RNA interference is considered to be one of the most important discoveries in the field of biology in the last decade. The scientists who discovered the mechanism of RNAi were awarded the 2006 Nobel Prize in Medicine for their discovery. This Nobel Prize winning discovery of RNAi is a revolution in biology, representing a breakthrough in understanding how genes are turned on and off in cells, and a completely new approach to drug discovery and development.
RNAi therapeutics offer some advantages over conventional therapies. An RNAi therapeutic can target virtually any protein synthesized by the body. This is a significant advantage over small molecule or antibody drug candidates that target only specific classes of proteins. With knowledge of the sequenced human genome, scientists should be able to develop RNAi compounds for each and every gene/mRNA. Additionally, identifying RNAi drugs is more straightforward than traditional small molecule or antibody drugs. Scientists only need to identify the specific gene worth testing, and then design the RNAi therapeutic. This can offer a significant time and cost of discovery advantage.
Tekmira is one of the pioneers in the field of RNAi therapeutics. The Company has been at the forefront of the RNAi technology revolution over the last decade and has been involved in the research and development of RNAi therapeutics since the early days of RNAi discovery and has developed the "gold-standard" systemic RNAi delivery technology: lipid nanoparticle (LNP) platform.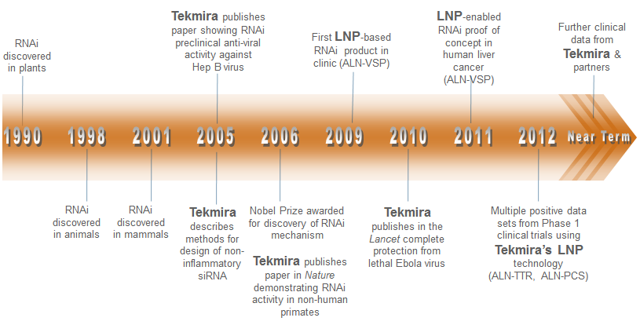 Unique LNP Platform Technology Constitutes the Core Competency
RNAi has been one of the most promising fields of targeted therapy. However, development of RNAi has been limited by the lack of a suitable method to deliver these RNA drugs to the diseased cells with high uptake into the cell without causing toxicity. Tekmira's LNP technology is designed to accomplish this goal.
Unlike small molecule drugs, one key problem with RNAi therapeutics is the instability of the RNA molecules in the bloodstream and the inability of these molecules to access target cells or organs, following intravenous (systemic) administration, and their inability to gain entry into the cell cytoplasm, where they carry out their action. Therefore, delivery is the key to the successful development of RNAi therapeutics. An ideal delivery technology should be able to protect these RNA drugs in the blood stream following administration, allow efficient delivery to the target organs and facilitate cellular uptake and release into the cytoplasm of the cell.
Tekmira has developed a unique RNAi delivery platform technology, which constitutes the core competency of the Company, and is the key to the Company's success. The Company's core technology is called lipid nanoparticle (LNP) delivery technology, which enables systemic delivery of RNAi for treatment of various diseases.
The core concept of LNP technology is based on two basic principles: RNA molecules are encapsulated in various lipids, forming the lipid nanoparticles (LNP) particles to protect these RNA molecules in the bloodstream. These LNP particles can then be systemically delivered to target cells or organs based on enhanced permeability and retention effect, which occurs because these nucleic acid-containing particles have a long circulation time in the blood, resulting in increased accumulation at sites of vascular leak such as those found at sites of tumor cell growth, infection or inflammation. Once at the target site, cells take up the LNP through endocytosis and the nucleic acid payload is delivered inside the cell resulting in unparalleled potency.
Tekmira's LNPs can fully encapsulate and systemically deliver a variety of nucleic acid molecules such as siRNA and MV-RNA. Both pre-clinical and clinical studies have shown that LNP technology is effective in delivering RNAi therapeutics to target organs and into cells where the nucleic acid-based drug can carry out its desired effect (efficient and selective 'silencing' or reduction of certain target proteins) while minimizing systemic toxicity.
The advantages of LNP technology can be summarized below:
encapsulates, protects and delivers the RNA drug 'payload';
promotes efficient cellular uptake;
intracellular release of the RNAi drug;
manufacturing process is rapid, scalable, and highly reproducible;
Continued improvement in LNP potency and tolerability;
These advantages of LNP have made it the "gold-standard" of RNAi delivery. With the power of its LNP technology, we believe Tekmira is strongly positioned to take advantage of the need for delivery technology that can efficiently encapsulate RNA molecules and deliver them to sites of disease. The Company and its partners are advancing RNAi therapeutic product candidates using the LNP technology as the delivery vehicle to access target tissues and cells.
With all the advantages mentioned above, it's our belief that the LNP technology has the potential to revolutionize the treatment of cancer and other diseases where the targets of disease are well characterized.
The LNP technology has not only generated favorable pre-clinical data, but also demonstrated powerful potency in humans. This below chart shows that improved LNP technology results in more than 10 fold increase in potency in a human clinical trial.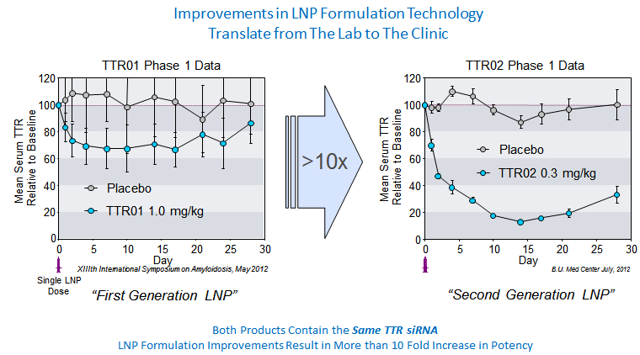 Lead Candidate TKM-PLK1 Has Moved into Clinic, Targeting Multiple Cancer Indications
Tekmira's lead internal product candidate is TKM-PLK1, which is in a Phase I clinical trial. TKM-PLK1 employs Tekmira's LNP technology, and targets PLK1 (polo-like kinase 1), a protein involved in tumor cell proliferation and a validated oncology target. Inhibition of PLK1 expression prevents the tumor cell from completing cell division, resulting in cell cycle arrest and death of the cancer cell. Knock-down of PLK1 gene induces tumor cell death and leads to potent anti-tumor activity.
Based on positive preclinical studies, Tekmira initiated a Phase I clinical trial of TKM-PLK1 on December 22, 2010. The Phase I clinical trial is an open label, multi-dose, dose escalation study designed to evaluate the safety, tolerability and pharmacokinetics of TKM-PLK1 as well as determining the maximum tolerated dose. Secondary objectives of the trial are to measure tumor response and the pharmacodynamic effects of TKM-PLK1 in patients providing biopsies. The trial is enrolling patients with advanced solid tumors.
On August 14, 2012, Tekmira released interim results from the TKM-PLK1 Phase I study. TKM-PLK1 had been administered to 21 patients at doses ranging from 0.15 mg/kg to 0.90 mg/kg with a total of 105 doses administered. Patients are dosed on an aggressive once weekly protocol with each cycle consisting of three doses followed by a rest week. The interim results showed that TKM-PLK1 has been generally well tolerated and has shown drug activity to date. One patient with a partial response who is continuing treatment at 0.6 mg/kg has received 15 doses to date over 5 months; Another patient attained stable disease and completed six cycles of treatment with 18 doses in total at 0.6 mg/kg over 6 months;
Based on these interim data, patient enrollment is continuing at 0.75 mg/kg. Results from the Phase I clinical trial will be presented at the American Association of Cancer Research meeting to be held in April 2013. Tekmira anticipates initiating a Phase II clinical trial in 2H2013.
TKM-Ebola, Accelerated Program Could Provide Significant Near-Term Cash Flow
TKM-Ebola is an RNAi product candidate developed by Tekmira in collaboration with the US Department of Defense (DOD) under a $140 million contract. Ebola is a virus associated with periodic outbreaks of hemorrhagic fever in human populations with mortality rates reaching 90%. Currently there are no approved treatments for Ebola or other hemorrhagic fever viruses.
Tekmira has submitted a modification request to the existing contract to the United States DoD in order to integrate recent advancements in LNP formulation and manufacturing technology in the TKM-Ebola program. The program will utilize an LNP formulation that is more than 10-fold more potent than previous formulations and more potent than all other LNP formulations currently being evaluated in clinical trials. It is expected that the LNP formulation work will be completed and submitted to the FDA in the second half of 2013 in order to initiate a new Phase I clinical trial.
TKM-Ebola is being developed under specific FDA regulatory guidelines called the "Animal Rule." The Animal Rule provides that under certain circumstances, where it is unethical or not feasible to conduct human efficacy studies, the FDA may grant marketing approval based on adequate and well-controlled animal studies when the results of those studies establish that the drug is reasonably likely to produce clinical benefit in humans. Demonstration of the product's safety in humans is still required.
We think the "Animal Rule" means a lot for Tekmira, because this can accelerate the development of TKM-Ebola. Once approved by the FDA, Tekmira will have the opportunity to negotiate a stock-pile contract with the US government. These stock-pile or procurement contracts have been very lucrative for other companies supplying similar drugs to the US government.
Tekmira is the RNAi Partner of Choice
As a pioneer in the RNAi therapeutics, Tekmira owns and controls the patented LNP platform. In addition to advancing its own pipeline and programs, the Company has been making every effort to monetize its revolutionary LNP technology to enable its partners to advance their own RNAi therapeutics.
Partnership is an integral part of Tekmira's growth strategy. So far, the Company has established relationships with prestigious companies in the biotech/pharmaceutical industry including Merck (NYSE:MRK), Bristol-Myers Squibb (NYSE:BMY), Takeda Pharmaceutical Company (OTCPK:TKPHF), Alnylam (NASDAQ:ALNY) and the US government to utilize Tekmira's LNP technology to develop RNAi therapeutics to target various medical indications. We think these partnerships are important to Tekmira, not only do these partnerships provide essential non-diluting funding for the Company, but also they validate the Company's LNP technology.
Among these partnerships, the most advanced and important agreement is with Alnylam.
Settlement and License Agreement with Alnylam
On November 12, 2012, Tekmira entered into an agreement to settle all litigations between Tekmira and Alnylam. Tekmira also entered into a new licensing agreement with Alnylam that replaces all earlier agreements.
As a result of the new Alnylam license agreement, Tekmira will receive a total of $75 million in near-term cash including $65 million up-front payment; $10M in new milestones anticipated in 2013.
Alnylam has transferred all agreed upon patents and patent applications related to LNP technology for the systemic delivery of RNAi therapeutic products, including the MC3 lipid family, to Tekmira, who will own and control prosecution of this intellectual property portfolio. Tekmira is the only company able to sublicense LNP intellectual property in future platform-type relationships. Alnylam has a license to use Tekmira's intellectual property to develop and commercialize products and may only grant access to Tekmira's LNP technology to its partners if it is part of a product sublicense. Alnylam will pay Tekmira milestones and royalties as Alnylam's LNP-enabled products are developed and commercialized.
The new licensing agreement with Alnylam also grants Tekmira intellectual property rights to develop its own proprietary RNAi therapeutics. Alnylam has granted Tekmira a worldwide license for the discovery, development and commercialization of RNAi products directed to thirteen gene targets - three exclusive and ten non-exclusive licenses.
Significant clinical advances enabled by Tekmira's LNP technology have been made in Alnylam's pipeline. Alnylam has already reported Phase I data of ALN-TTR02 and will report Phase II data this year and plans to initiate a Phase III trial in late 2013. Alnylam has also reported positive Phase I data from ALN-VSP and ALN-PCS. All these data further validate the LNP technology.
Financial Position is Very Strong
Unlike most small cap biotech companies, which have weak balance sheets, Tekmira's financial position is very strong at this point.
At September 30, 2012, Tekmira had cash and cash equivalents of approximately $5.6 million. Tekmira settled all litigation with Alnylam in November 2012. As a result, Tekmira received $65 million up front, and is expected to receive another $10 million in milestone payments in 2013. After taking into consideration certain contingent legal fees, Tekmira ended 2012 with $46.8 million in cash and equivalents.
We estimate this cash balance should be run into 2015.
Furthermore, Tekmira will receive royalty payment from Talon's marketed product Marqibo which we expect to launch in the near term. These royalty payments together with license fees and milestone payments will provide additional non-dilutive funding.
Tekmira is Undervalued
Tekmira is one of the pioneers and leaders in the field of RNAi therapeutics. We are especially optimistic about the Company's LNP delivery platform technology, which has proven to have the power to systemically deliver RNA drug candidates to a variety of organs and cells throughout the body.
Based on the LNP platform, Tekmira has built a diversified pipeline, which targets cancer and other indications. Its lead drug candidate TKM-PLK1 for cancers is completing a Phase I clinical trial and preliminary data has shown promising efficacy and favorable safety profile. A Phase II study will be initiated in 2H13.
Tekmira has also established a strong partnership with the US government and biotech/pharmaceutical companies to utilize its LNP technology to advance RNAi therapeutics. These partnerships not only provide non-dilutive financing, but also validate the technology and diversify the Company's risk.
Our call also considers the Company's strong balance sheet. Tekmira's cash balance should last into 2015 according to our long-term financial model. This is compelling for a small cap biotech company. The Company will also receive royalty payments from Marqibo sales which we expect will start in 2013. Further, Tekmira will continue to monetize its LNP platform technology and receive license fees and milestone payments from its partners. With the Alnylam settlement completed, Tekmira is well positioned to execute its long-term growth strategy.
Based on our analysis, we think Tekmira shares are undervalued at this time. Currently, shares of Tekmira are trading at around $4.45 per share, which values the Company at a $62 million market cap. We admit that it's always difficult to value a development stage biotech company, Tekmira is no exception. However, we do think that current market value of Tekmira is a huge discount compared to its peers in the same industry.
Most small biotech companies of development stage are valued from $50 million to $500 million depending on how advanced the pipeline is and which indications the company is targeting. Tekmira's TKM-PLK1 for cancer will enter a Phase II clinical study this year, and the Company's TKM-Ebola product is being developed under the accelerated FDA "Animal Rule." TKM-PLK1 has the potential for the treatment of multiple cancers providing a large market opportunity. In the next year or so, Tekmira may advance two other programs into the clinic for alcohol dependence and oncology.
| | | | | | | | |
| --- | --- | --- | --- | --- | --- | --- | --- |
| Name | Ticker | Share Price | Market Cap ($million) | Phase I | Phase II | Phase III | Marketed Products |
| | | | | | | | |
| Isis Pharma | | $17.94 | $1,830.00 | 5 | 15 | 2 | 1 |
| Alnylam | ALNY | $24.76 | $1,530.00 | 4 | 3 | 0 | 0 |
| Regulus | | $6.17 | $221.00 | 0 | 0 | 0 | 0 |
| Arrowhead | | $2.28 | $39.47 | 2 | 1 | 0 | 0 |
| Sarepta | | $30.62 | $779.30 | 3 | 1 | 0 | 0 |
| RXi | | $0.25 | $38.87 | 1 | 0 | 0 | 0 |
| Tekmira | TKMR | $4.37 | $62.16 | 3 | 2 | 0 | 0 |
| | | | | | | | |
| Average | | $12.34 | $642.97 | | | | |
Therefore, we think at this time Tekmira should be valued between $150 and $400 million in market cap. If we look at the table of RNA based biotech companies, we think Tekmira should be worth more than Regulus. Our price target of $12 values Tekmira at $168 million in market cap which we think is conservative.
Disclosure: I have no positions in any stocks mentioned, and no plans to initiate any positions within the next 72 hours. I wrote this article myself, and it expresses my own opinions. I am not receiving compensation for it (other than from Seeking Alpha). I have no business relationship with any company whose stock is mentioned in this article.
Disclosure: I/we have no positions in any stocks mentioned, and no plans to initiate any positions within the next 72 hours.
Business relationship disclosure: I work as a Consultant Analyst for Zacks Investment Research. The article is written by me and is 100% my opinion. I receive compensation from Zacks for writing equity research reports and providing valuation analysis on this company's stock and expect to do so in the future. Zacks receives compensation from the company. Please see the Zacks Disclaimer for further information: http://scr.zacks.com/Disclaimer/default.aspx