Guess (NYSE:GES) is one of my favorite retailers. Not because of its growth, management or its ability to execute against its strategic plan. It is a great stock as it routinely disappoints investors, triggering a sell-off and then recovers on a consistent basis. I have profited handsomely over the last two years by taking bull put spreads every time it has a pull back. The retailer is again having a setback off poor guidance, but this time I may play it by taking positions in out of the money bull call spreads as the company is starting to be the subject of buyout rumors which would seem to make a lot of sense. Even without a buyout, I look for the retailer to post its usual rebound in the near future.
The news -
The company just issued dismal guidance for FY2013 year. Guess now projects earnings between $1.70 and $1.90 per share on revenue between $2.60 billion and $2.64 billion. That's far short of Wall Street's view which was calling for a profit of $2.38 per share on revenue of $2.77 billion in FY2013.
The Reaction -
The stock is down some 5% in early trading today and is off some 15% over the last two weeks.
Valuation -
4 reasons GES still offers value at just over $25 a share:
The stock now yields over three percent (3.1%) after this recent selloff. It is also selling at around 80% of annual sales even on the reduced guidance which is at the bottom of its five year valuation range.
The company has a solid balance sheet with no net debt and over $200mm in net cash on the balance sheet.
It is also now selling at less than 7x operating cash flow and insiders have sold less than 1% of their total outstanding shares last six months despite its retailing challenges.
The stock has solid long term technical support at the $25 level (See chart).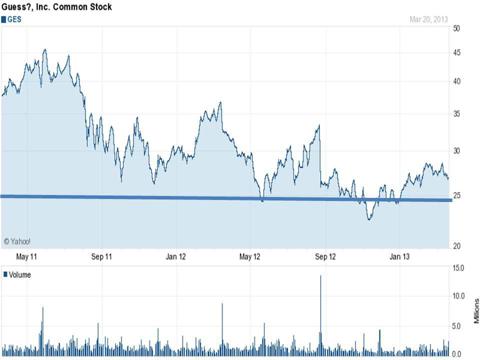 Why a buyout could make sense -
Besides the low valuation, Guess is an iconic brand. In addition, its CFO and COO left late last year so it needs to add to its management team. Interest rates remain extremely low and private equity firms have plenty of cash to spend. Finally, it sells for a very low 5.4 EV/EBITDA ratio. Competitor True Religion (NASDAQ:TRLG) is also already looking at "strategic alternatives".
Disclosure: I have no positions in any stocks mentioned, but may initiate a long position in GES over the next 72 hours. I wrote this article myself, and it expresses my own opinions. I am not receiving compensation for it (other than from Seeking Alpha). I have no business relationship with any company whose stock is mentioned in this article.