Oracle (NYSE:ORCL) plunged about 10% today after yesterday's Q3 earnings announcement. Revenues decreased 1% year over year to $9 billion, but the most important issue here is that management was way off on its guidance, having predicted that revenue would grow from 1% - 5%. Another bump that caught my eye was that non-GAAP operating income was down 1% to $4.2 billion. Lower net income is not something that we have been used to from Oracle.
However, please note that GAAP earnings per share were $0.52, up 6% compared to last year while non-GAAP earnings per share were up 5% to $0.65. And the reason why I note this is that at the end of the day, what really matters is the EPS figure and nothing else.
And why is EPS up? For the same reason I have said this stock is a buy since December - the float is shrinking. According to yesterday's report, $8.2 billion was used to repurchase stock for the last three quarters ending February 28, compared to just 3.45 billion the same period in 2012.
Technically speaking, if the stock corrects all the way down to $29.50, it's a buy.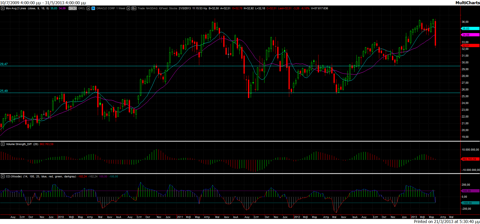 Dell (DELL)
Bloomberg reported that Blackstone (NYSE:BX) has approached Oracle president and former Hewlett-Packard CEO Mark Hurd to lead Dell, because they might be interested in making a bid.
I have talked about such a possibility many times and in fact, I have been sort of shocked that we have not had other official offers for Dell till now. Either way, this means that there is greater interest in Dell than meets the eye, even though we have not seen it officially.
My recommendation is to continue to hold the stock because like I said in my last take, investors can probably expect to get several more dollars a share if they wait it out a little more.
Juniper (NYSE:JNPR) And Cisco (NASDAQ:CSCO)
FBR Capital Markets analyst Scott Thompson cut his rating on both Juniper and Cisco. The current rating is under perform - that is a kind way of saying sell. The new target for Cisco is $17 per share from $22 and the new target for Juniper is $15 per share from $18.
As for Cisco I am not that bearish. I think the correction will prove a buying opportunity and nothing less. But as for Juniper, I think that even $15 a share is a lot. Cisco has a forward P/E of 10 but Juniper has a forward P/E of 14, from a trailing 53 P/E today. So unless Juniper increases its profits but a lot until next year, I think the forward P/E of this stock is not going to be what investors are discounting.
Technically speaking, if Cisco corrects to about $19 a share, I would be a buyer.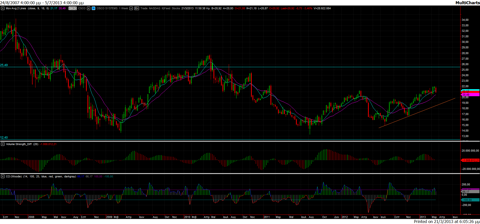 As for Juniper, I do not find it unrealistic for the stock to correct all the way down to about $12.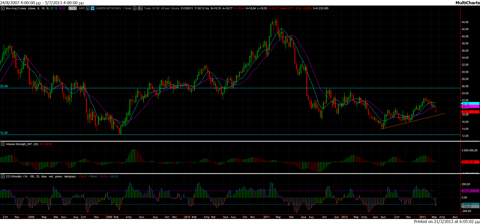 Disclosure: I have no positions in any stocks mentioned, and no plans to initiate any positions within the next 72 hours. I wrote this article myself, and it expresses my own opinions. I am not receiving compensation for it (other than from Seeking Alpha). I have no business relationship with any company whose stock is mentioned in this article.