Right now Carnival Corporation (NYSE:CCL) stock is a tremendous gamble. The company will not quickly recover from all of the lost revenue, and even more importantly, lost reputation due to what some are calling a string of "bad luck." There are many customers and investors who do not trust Carnival anymore. To buy the stock right now, could be like putting money in the slots at the Jackpot Casino on the Carnival Dream.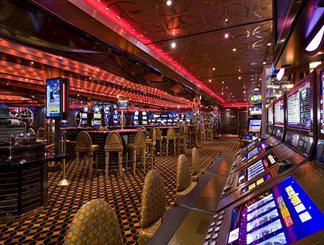 According to Fox Business, analysts are "growing bearish" toward the company:
Shore Capital downgraded the world's largest cruise operator to "hold" from "buy," while independent brokerage Exane cut Carnival to "neutral" from "outperform."

Standard and Poor's revised its rating outlook on Carnival to "negative" from "stable," citing the potential for a sales hit deriving from its recent ship problems. "The negative outlook revision reflects our belief that net revenue yield may decline in the low-single-digit area as a result of greater ticket price discounting than previously expected following a number of incidents involving Carnival branded ships," S&P credit analyst Emile Courtney said in a note.
The discounting has already started. The company slashed prices dramatically in an attempt to get more passengers on board its ships. On Wednesday, it announced a "Friends and Family" event, which takes up to $600 off select cruises that last six days or longer. The sale will go through Friday. When I called to see if the sale was successful, the recording said it would be a 90 minute wait to speak to someone, and if the call was not "time sensitive," people should call back next week. Once I did finally get through, three different salespeople confirmed that they were selling cruises like hot cakes. Even though this type of marketing cuts into profits, it will definitely help raise the revenue for this quarter. One of the other reasons for the long phone delay, was due to all of the calls coming in pertaining to the cancellation of more trips on the Carnival Triumph, and the Sunshine:
Carnival Cruise Lines has canceled 10 more cruises aboard its ship Triumph, which was undergoing repairs after an engine fire left it stranded in the Gulf of Mexico last month, the company said on Tuesday. The Triumph's return to service was pushed back to June 3. The company said it also canceled two European cruises aboard the Carnival Sunshine, which had been scheduled to relaunch in April after a $155 million renovation. It is now scheduled to return to service on May 5.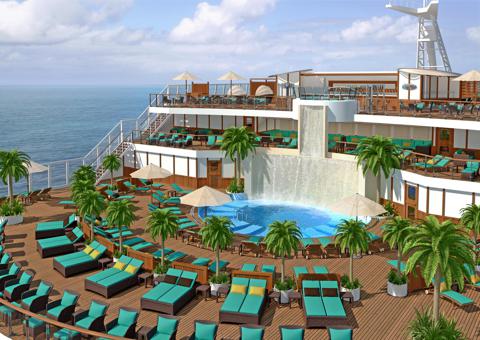 The Carnival Sunshine (shown above), is formerly the Carnival Destiny, which is being transformed, and renamed. These new cancellations are part of a decision to "beef up" the emergency power on the entire Carnival fleet. It will allow the use of more hotel services when using a back up generator, thus avoiding recent situations like those on the Triumph, and the Dream. This is a good move, since the Sunshine will be making a 16-day transatlantic voyage from Spain to New Orleans in November. Without power, that would be a really long 16 (or more) days. But for investors this will be costly.
In a recent article about Carnival, I mentioned that there were four ships with serious enough mechanical problems, that the incidents drew national media attention in the last few weeks. Carnival has seven classes of ships, which are divided by age and size. None of those four ships has anything else in common, other than they are Carnival ships. The Elation is from the oldest, smallest Fantasy Class of ships, while the Legend is from the small but fast Spirit Class. The Triumph is from the newer, larger Triumph Class, and the Dream is part of the newest and largest Dream Class. It is interesting to note however, that the older, smaller Elation and Legend both had propulsion problems, while the larger Triumph and Dream had electrical backup problems.
The share price has remained fairly stable considering all of the recent bad publicity. It stayed above the major market indices last week. However it dipped lower early this week:
New York Democratic Senator Charles Schumer is calling for a "Bill of Rights" for cruise passengers:
It would require shipping lines to offer refunds for canceled outings, provide beefed up medical staffing and install backup power. This comes in the wake of two high-profile breakdowns - including one Carnival Cruise liner that suffered a power failure in the Gulf of Mexico last month and had to be towed back to port stinking of human waste.
Under this proposal, passengers would receive a full refund if their cruise was cut short due to mechanical problems. This is great for passengers, but very expensive for the cruise lines.
Although most investors and analysts are taking a bearish stand right now, Stifel analyst Steven Wieczynski is very bullish on Carnival. In spite of the recent "bad luck," he maintains a "Buy" rating with a target price of $43. That would be a $10 increase to the current price of $33. It would be a very tempting gamble, but don't bet your rent money just yet.
Disclosure: I have no positions in any stocks mentioned, and no plans to initiate any positions within the next 72 hours. I wrote this article myself, and it expresses my own opinions. I am not receiving compensation for it (other than from Seeking Alpha). I have no business relationship with any company whose stock is mentioned in this article.