Africa's economy is poised for growth as some countries are adopting a Democratic political system, which opens the door for development. Focused exchange traded funds are a relatively safe way to ride this growth from the bottom up as various regions attempt to industrialize.
"Although many of the greatest investment opportunities of the next decade will likely emerge from the frontier, these markets are often characterized by limited research coverage and low liquidity. However, investing in frontier markets offers a good deal of potential for investors who hope to increase their exposure to developing nations, including the majority of the African continent," Larry Seruma wrote for Morningstar.
Africa remains the world's highest growth continent, as real income per person has grown by 30% over the past decade and GDP is set at around 6% over the next 10 years, reports Federico Zaldua for The Motley Fool. War, starvation and dictators are becoming less common while life expectancy has grown by 10% and school enrollment is becoming a priority.
The S&P SPDR Emerging Middle East & Africa ETF (NYSEARCA:GAF) is a play on South Africa and some Sub-Saharan African countries. The 3% dividend yield will appeal to most investors and the expense ratio is 0.59%. Telecom, consumer discretionary and consumer staples make up most of the holdings. GAF has $73 million in assets under management.
Another option is the iShares MSCI South Africa Index (NYSEARCA:EZA) which tracks the most developed region on the continent. The 3% yield and 0.60% expense ratio mirrors GAF. This ETF is not as diversified as the Spider fund, so investors should take a close look at the holdings to figure out which one suits their strategy best. EZA has $488 million in assets under management, the most liquid of the African-focused ETFs.
The Market Vectors Africa Index ETF (NYSEARCA:AFK) is expensive at 1.07%. There are about 51 companies in the portfolio, and about half of the portfolio is allocated to the financial sector. This can prove volatile over time, so investors who want to buy and hold should consider this. AFK has about $97 million in assets under management.
Market Vectors Africa Index ETF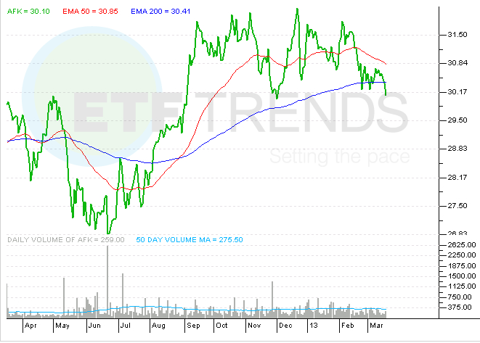 Tisha Guerrero contributed to this article.
Disclosure: I have no positions in any stocks mentioned, and no plans to initiate any positions within the next 72 hours. I wrote this article myself, and it expresses my own opinions. I am not receiving compensation for it. I have no business relationship with any company whose stock is mentioned in this article.