Ignore all the hype surrounding potential streaming services or web-based applications that could have a substantial impact on Google's (NASDAQ:GOOG) bottom line. Let's look closely at the performance of its internet division. Apparently Google Fiber could be one of the biggest and most disruptive technology divisions in the company. The up-front investment costs will be large, but the potential windfall for Google investors is even larger. This small business unit is going to be the key ingredient for Google's business success going forward.
According to Parmy Olson, from Forbes:
Fiber gives customer's broadband that's 100 times faster than the average U.S. connection, or one gigabit-per-second for $70 a month, or $120 for the added cable-TV service. Google began rolling out the service in the Kansas City metro area last fall, following years of planning, and is already cited as the fastest ISP in the United States by Netflix.
Defining Google's Market
It was last estimated by the census bureau that in 2010, the number of, households within the United States was 114,000,000. I define this is as Google's market because the internet is provided on a per household basis. According to International Telecommunication Union, the number of, internet users in 2011, in developed economies was 72%. By multiplying the number of households by 0.72, we can arrive at a close estimate of the total market for broadband services. The size of Google's market is 82.08 million subscribers.
Assuming the data is correct, and the subscription rates remain constant, ignoring population growth we can arrive at a reasonable approximation of the effect this business unit can have on Google.
Google Business Analysis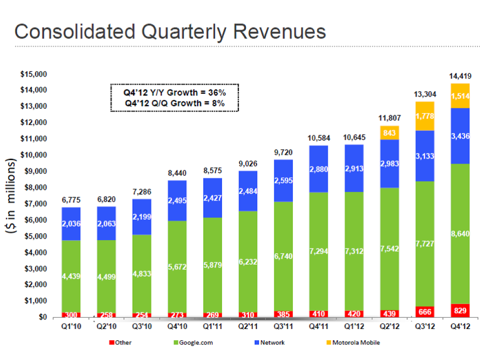 Let's break down the business units real quick. Motorola Mobility represents the electronics division of the company at $1.5B revenue in Q4 2012. The Google Network is the ad-sense network through its various media sites (Google+, YouTube, Gmail) which represented $3.4B in revenue for Q4 2012. Following that, the Google search engine (ad words) represented $8.6B in revenue for Q4 2012. The other category represented $829M for Q4 2012.
Let's focus on the potential of the "other category" as this is the division where Google Fiber would most likely be found. Currently the other category could have a variety of businesses. Let's just assume three things.
Google accomplishes 10% of the United States market share for broad band services.
Google accomplishes operating margins that are similar to the industry average.
Assuming Google is able to secure both cable and internet services with 10% of the United States market then it is calculated that Google would be able to generate 8.21 million subscribers. I based the subscriber figures on the number of internet users and total households. I stated other for the remaining internet users because I did not have enough access to data to approximate the market share figure of all other competitors. That being the case, I believe that Google will be able to at least secure 10% of the total U.S. market for broadband services over the course of 5 to 10 years. One of Google's most prized assets is its ability to advertise through its network of media and internet based services (YouTube, Google+, and Google Search). Google will most likely leverage its advertising network in order to push its Google fiber product offerings. Google also has $14B in cash on its balance sheet, meaning that Google is a fully capitalized competitor in a space that is already crowded by well-capitalized companies.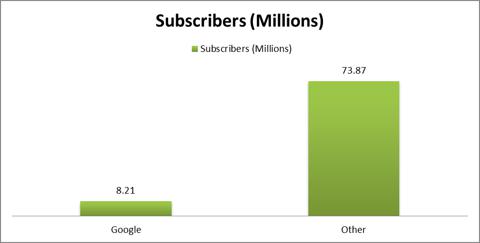 Assuming that Google is able to generate 8.21 million subscribers, by 2018, Google will be able to generate an additional $11.822B per year from this business division. I assume that Google will be able to charge $120 per subscriber per month for its services, which translates to $1,440 per year. I also assume that the company will be able to secure 10% of the market based on the strong brand, advertising capability, and superior product offering.
Currently Google generates $50B in revenue per year. Google fiber may be able to contribute anywhere from $12 to $24 billion in revenue per year by the end of ten years. I assume $12 to $24 billion in added revenues per year because Google could end up securing anywhere from 10-20% of the market by 2020. This could imply a very broad range of revenue for Google. Furthermore, I anticipate that Google's pre-existing operations in mobile, search, and media to continue to grow. Meaning that this is not Google's only avenue of growth, but it is nice to know that Google's product portfolio is growing.
I assume that Google's operating margin from Google fiber will be equivalent to the industry average (I calculated the industry average by averaging the operating margin for all 112 companies in telecoms that are publicly traded). The industry average operating margin based on Ycharts data is approximately 10.6%. This means that the contribution to Google's profit (not factoring taxes) could be approximated to be anywhere from $1.2B to $2.4B.
Google's operating income could improve by 18% from this business unit alone by 2015. On a whole-basis, Google's search and media continue to grow. The Motorola Mobility division could become a hit and generate substantial revenues for shareholders. While all that is going on, in the background, Google has an emerging business unit that could add an extra $1 to $3B to Google's bottom line in several more years.
Conclusion
Ultimately, I believe Google Fiber will be a success. The product has superior features, plus the marketing buzz and push behind the product will be considerable. Google has a lot of cash on its balance sheet, allowing Google to invest and build its own fiber optic network. Google will be a huge contender in the broadband space. When that happens, growth rates on an EPS basis will increase, but profitability will decrease. Despite profit margin erosion, I would always welcome any additional source of revenue so as long as it adds to the bottom line. It is business initiatives like these that proves to Google shareholders time and time again that the company will always remain at the cutting edge of new products and services.
Source: Information pertaining to Google came from the shareholder annual report, shareholder quarterly earnings report, US Census Bureau, ITU, Forbes, and Ycharts.
Disclosure: I have no positions in any stocks mentioned, and no plans to initiate any positions within the next 72 hours. I wrote this article myself, and it expresses my own opinions. I am not receiving compensation for it (other than from Seeking Alpha). I have no business relationship with any company whose stock is mentioned in this article.