The Bakken play provides a terrific case study in the dynamics of North American NGLs and natural gas supply. It illustrates the critical position that the Midstream sector currently holds in the liquids-rich gas value chain. This note provides an update on the status of natural gas production in the Williston Basin; draws attention to those elements of the delivery chain that stand to benefit the most from the play's growth; and discusses potential implications for relevant stocks.
BAKKEN'S GAS BOUNTY
Natural gas is perhaps not the first association that springs up to mind at the mention of the Bakken. Yet, the U.S. #1 horizontal oil play is quickly rising through the rank of top natural gas producing shales, with its gas volumes likely to cross above the 1 Bcf per day mark in just a few months.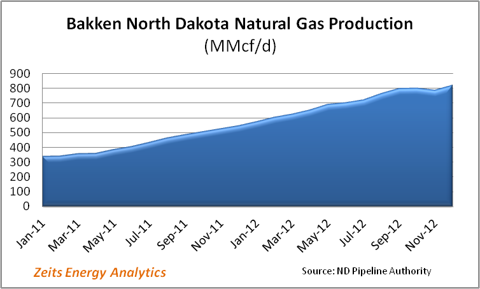 (Source: North Dakota Pipeline Authority; Zeits Energy Analytics)
Bakken gas seems to be often overlooked as an inconsequential and operationally troublesome by-product of the play's mighty stream of light sweet crude (which is quickly approaching its own notable milestone - the Williston Basin oil production may reach 1 million barrels per day already this year). However in reality, the Bakken's natural gas production is very significant, both in terms of volume and economic value.
Three things are important to note about Bakken gas:
It is super-rich in NGLs and is characterized by perhaps the highest heat content among North American unconventional plays;
It is growing fast; and
As a by-product of drilling for oil, it is essentially "costless."
The Bakken's natural gas production will continue to increase alongside oil production (and in fact is likely to grow at a higher rate than crude oil, given that in a typical Bakken well the oil component declines faster than the associated gas component). Based on the announced schedule of processing capacity additions, the Williston Basin natural gas production is likely to reach 1.5 Bcf/d already in 2015-2016.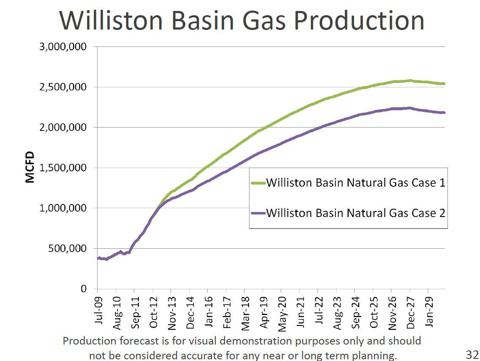 (Source: ND Pipeline Authority)
Where will Bakken gas go? What are the infrastructure requirements? Which industry players stand to benefit the most? The following sections cover these and other related topics.
IT'S LIQUIDS-RICH, IT'S SUPER-RICH!
Associated solution gas produced from the Bakken's oil wells is exceptionally rich in petroleum liquids - typically has 1,500+ Btu heat content - and after processing yields high NGL volumes. The heavy NGL components that can be transported via rail or truck - propane, butanes and natural gasoline - alone can yield as much as 3.5-5 gallons per thousand cubic feet of raw gas at the wellhead, depending on the area and formation. On a fully extracted basis (i.e., also including ethane), the NGL yield can be as high as 8-12 gallons per thousand cubic feet of gas.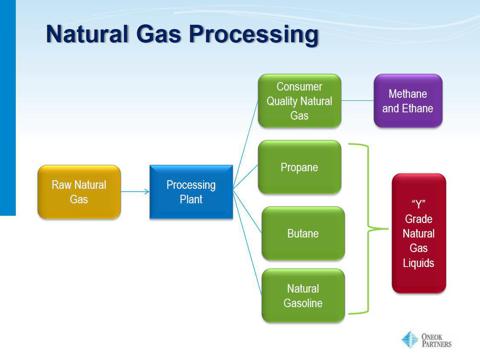 (Source: Oneok Partners)
While NGLs have significant economic value, they also create a formidable infrastructure challenge for producers. With few exceptions, liquids-rich gas would be considered "off-spec" by common carrier gas pipelines. Therefore, wellhead gas needs to be gathered and treated in a processing plant to extract at least the minimum amount of NGLs before it can be delivered to end users or transported for further (deeper) processing. Modern processing plants tend to be complex, expensive and take long time to permit and construct.
The NGL stream separated from the residue gas creates a need for its own transportation solution. Ethane is particularly problematic as it cannot be shipped by rail or truck (this is the key reason why ethane is often left in the residue gas and burned as fuel alongside methane, despite its higher value as a petchem feedstock).
Even assuming that ethane is left in the residue gas stream, the 1.5 Bcf/d gas production in the Bakken that is likely to be achieved within the next three years would translate in a requirement to take away, fractionate into purity products, and deliver to end users ~150,000 bbl/d of C3+ NGLs (propane and heavier). If ethane is also extracted, the NGL volume would almost double. The pipeline-quality residue gas volume would be ~1.1 Bcf/d, after processing "shrinkage" and with no ethane extraction, and would consume a sizeable block of takeaway capacity on interstate pipeline systems (local demand can only absorb a portion of produced volumes).
With crude production from the Bakken expected to grow for over a decade, associated gas output should also rise to much higher levels, possibly as high as 2.5 Bcfe/d of raw gas at the wellhead. This would position the Bakken as a very significant source of NGL supply in North America and will create a continued growth opportunity for Midstream infrastructure providers focused on the Bakken.
The economic value of the combined NGL and dry gas streams should not be underestimated. Bakken's fractionated NGL barrel, not including ethane, can receive a $50+ pricing from end users, even in current depressed price environment, and ethane-rich residue gas trades at a significant premium to Nymex due to its higher heat content.
FLARES IN THE PRAIRIE
As often is the case with liquids-rich gas, its production growth in the Bakken has been largely defined by the pace of processing and takeaway infrastructure build-out. Excess gas that could not be accommodated by the infrastructure has been flared.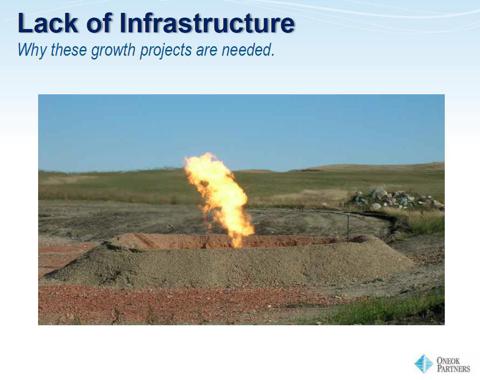 (Source: Oneok Partners)
Oneok Partners (NYSE:OKS), a leading midstream infrastructure developer in the Bakken, estimates that, based on North Dakota production statistics, as of January of this year, over 30% of total natural gas at the wellhead still had to be flared in the Williston Basin.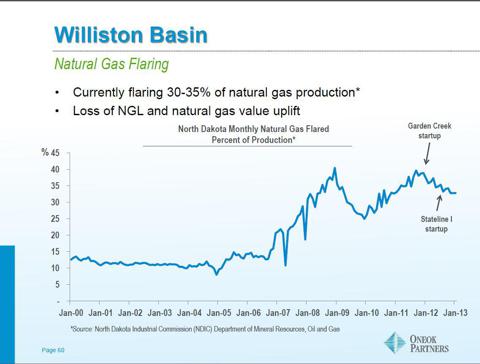 (Source: Oneok Partners March 2013 Investor Presentation)
GATHERING AND PROCESSING
A closer analysis of gas infrastructure in the Bakken indicates that processing capacity currently represents the primary constraint for production growth. The industry has been working very hard to construct processing plants in the area (several of the processing facilities also include NGL fractionation).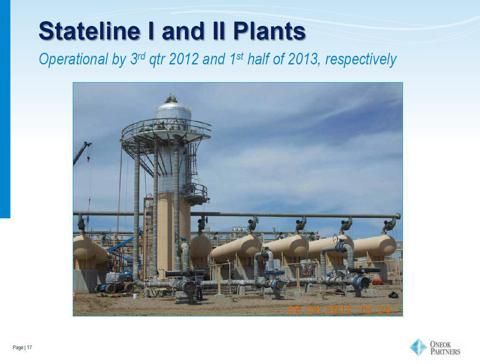 (Source: Oneok Partners June 2012 Presentation)
A very busy in-service schedule for new gas processing infrastructure will add ~0.5 Bcf/d of additional capacity in the next two years. However, this may still be insufficient to accommodate the growing gas volumes and the build-out would need to continue at a rapid pace. However, the percentage of flared gas should contract dramatically.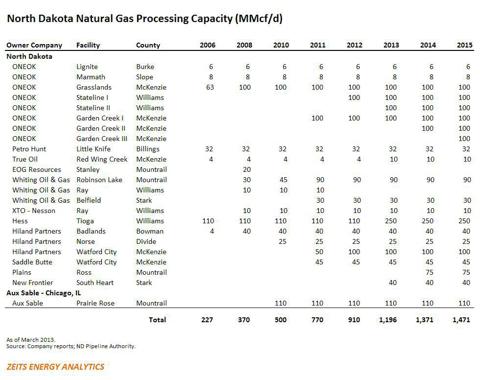 (Source: ND Pipeline Authority; Company Reports; Zeits Energy Analytics)
Not all E&P operators will benefit equally from the processing infrastructure build-out. Given that the Williston Basin remains gas infrastructure short, some operators may find themselves without processing agreements and will have to wait until sufficient capacity is finally available. Production volume and acreage/well concentration are particularly important to an operator's ability to secure gathering & processing agreements on reasonable terms.
The distribution of economic benefit is another important issue. Operators who control processing and gathering infrastructure will obviously be in a better position to receive the highest value for their product. Hess Corp. (NYSE:HES) and Whiting Petroleum (NYSE:WLL) are two examples of large operators taking significant control of infrastructure development in their operating areas. Hess' midstream solution is the most comprehensive and integrated: it includes a large-scale processing and fractionation facility, a dedicated ethane pipeline (Vantage pipeline), and an anchor shipper position on a new lateral interconnection to an interstate gas pipeline.
Processing capacity is just one part of the infrastructure challenge the Bakken is facing in natural gas. The other two major components are takeaway capacity for residue gas and takeaway capacity for natural gas liquids.
GAS TAKEAWAY INFRASTRUCTURE
There are two major interstate pipelines that pass through the Williston Basin and can provide transportation options for Bakken gas: the 1.5 Bcf/d Alliance Pipeline and 2.4 Bcf/d Northern Border Pipeline (the green lines on the picture below). A third pipeline system, WBI Energy Transmission (the purple lines), serves residential, commercial and indus­trial demand in the Williston Basin region, mainly in Montana, and has delivery interconnections with Northern Border, Alliance, and Colorado Interstate Gas pipelines. WBI Energy has system-wide capacity of ~1 Bcf/d and at the moment can receive ~440 MMcf/d of Bakken gas.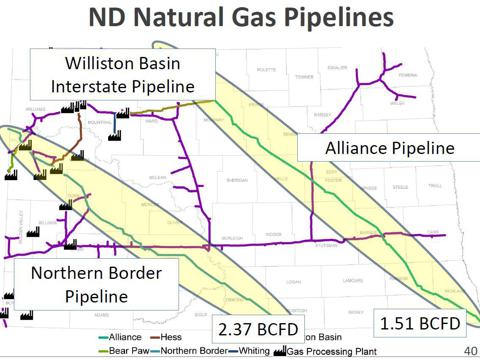 (Source: ND Pipeline Authority, January 2013)
Northern Border and Alliance pipelines carry natural gas originating in Western Canada to markets located mainly in the U.S. Midwest and Eastern Canada. Both pipelines are currently close to full utilization (discussed in greater detail in the following sections). However, there are some indications that capacity on these two carriers can be expanded to accommodate the Bakken demand. In addition, significant capacity exists on TransCanada mainline, which goes along the U.S.-Canada border and can provide an alternative route to some of the same markets served by Northern Border and Alliance. Given that Bakken gas has no other long-haul transportation alternatives, the economic logic would dictate that Bakken volumes, as they continue to ramp up, displace Canadian volumes and, as a result, receive pricing "at AECO" (in order to induce some Canadian volumes to be re-routed via TransCanada mainline or nominated from alternative sources such as the Rockies via REX Pipeline, etc.).
In summary, gas takeaway capacity from the Williston Basin does not appear to have structural constraints, at least in the near term, and all the volumes produced by processing plants should find transportation solutions, regional or interstate. While Bakken gas may trade at a Canadian-type differential to Nymex, the basis should stay reasonably narrow (by the historical standards for AECO basis).
Alliance Pipeline System and Aux Sable NGL Complex
The 2,300-mile, 1.5 Bcf/d Alliance Pipeline carries natural gas primarily from Western Canada to the U.S. Midwest and passes through the Williston Basin. Alliance is an important outlet for Bakken gas: the pipeline can accept super-rich gas for delivery to Alliance's large-scale Aux Sable processing and NGL fractionation complex in the Chicago area. Beginning in the third quarter of this year, once a second Williston Basin interconnect is placed in service, Alliance will be able to accommodate up to 250 MMcf/d of rich and super-rich gas from the Bakken (based on pipeline receipts data, Alliance shipped ~110 MMcf/d of 1,350 Btu Bakken gas in January this year).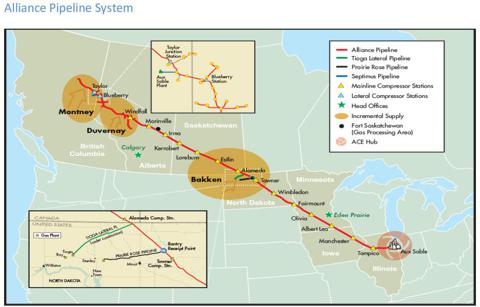 Alliance has enjoyed very high utilization rates. According to Veresen (OTC:FCGYF), a 50% owner in Alliance, the pipeline currently has 1.325 Bcf/d under firm capacity contracts (contracts are ship-or-pay and the majority are in place until late 2015) which can be expanded to 1.825 Bcf/d "at attractive cost." This suggests that some additional demand can potentially be accommodated on the existing line, likely with additional compression installed. However, to achieve a significant volume increase above the 250 MMcf/d planned for the near term, new receipt points and laterals may need to be permitted and constructed in the Williston Basin (which will define the timing of capacity ramp up).
In the longer term, Bakken operators face potentially fierce competition from Canadian gas producers for capacity on Alliance due to the pipeline's unique liquids-rich "ship and process" service. Alliance is strategically positioned in the Western Canadian Sedimentary Basin and provides takeaway capacity to the Montney and Duvernay shales, both of which have strong liquids-rich potential. While overall Western Canadian production has declined 15% since 2001, production within 40 km of Alliance has grown 14%, driven recently by rich gas development. Similar to the Bakken, the early-life Montney and Duvernay plays may end up short local gas processing and fractionation capacity and would compete aggressively for Alliance's "total solution" service.
Currently, Alliance receives Bakken gas through the Prairie Rose Pipeline interconnection. The 12-inch diameter, 83-mile Prairie Rose Pipeline and Stanley Condensate Recovery Plant were originally constructed by EOG Resources (NYSE:EOG) and have been in operation since February 2010. EOG sold the pipeline and the plant to Aux Sable in 2011 for $185 million. EOG retained a firm contract to initially ship 80 MMcf/d on a long-term basis on the Prairie Rose and Alliance pipelines. The Stanley plant removes the heavier hydrocarbon compounds while leaving the majority of the natural gas liquids in the rich gas delivered into the Prairie Rose Pipeline. The Prairie Rose Pipeline has an estimated capacity of 110 MMcf per day and, according to Alliance, "can be easily expanded to meet additional demand."
Alliance's capacity to receive rich gas from the Bakken is increasing this year with the Tioga Lateral Pipeline currently being constructed and expected to be in service by the third quarter of 2013. The 12-inch diameter, 80-mile Tioga Lateral has initial contracted capacity of 61.5 MMcf/d (with Hess Corporation as the anchor shipper), which, according to Alliance, should be "easily expandable" to 110-140 MMcf/d.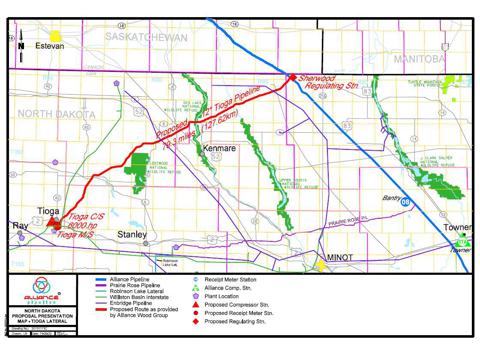 The Tioga Lateral and Prairie Rose Pipeline will provide total takeaway capacity of up to 250 MMcf/d of liquids-rich gas from the Bakken area.
At its endpoint near Chicago, Alliance interconnects with the Aux Sable extraction plant. The Aux Sable facility is one of the largest, state-of-the-art extraction and fractionation plants in North America and provides access to multiple NGL markets and distribution channels. It is capable of processing 2.1 Bcf/d of natural gas and can produce approximately 102,000 bbl/d of purity NGL products (ethane, propane, butanes, pentanes+). The extracted liquids are sold in the U.S. Midwest market or moved to other markets, including the U.S. Gulf Coast.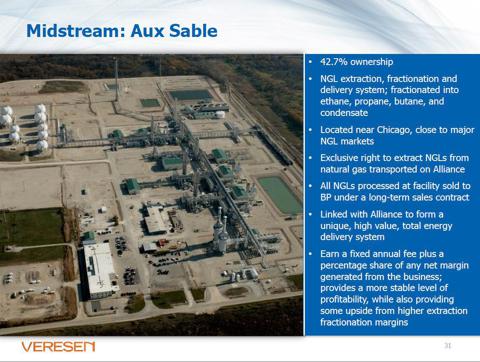 After NGL extraction at the Aux Sable facility, the pipeline-quality residue gas is delivered to consumers via interconnecting pipeline systems which include five interstate pipelines and two local gas distribution systems serving U.S. Midwest and Ontario.
Equity interests in the Canadian portion of the Alliance System are owned by the Enbridge Income Fund (OTC:EBGUF) (50%) and by Veresen (50%). Equity interests in the U.S. portion of the Alliance Pipeline System are owned by Enbridge Inc. (NYSE:ENB) (50%) and by Veresen Inc. The Aux Sable NGL complex is owned by Enbridge (42.7%), Veresen (42.7%) and Williams (NYSE:WMB) (14.6%).
Northern Border Pipeline
Similar to Alliance, the 1,400-mile, 2.5 Bcf/d Northern Border Pipeline transports gas from Western Canada to the U.S. Midwest. Northern Border receives the majority of its feed from the Foothills Pipeline in Canada and extends between the Canadian border near Port of Morgan, Montana to a terminus near North Hayden, Indiana, south of Chicago, passing on its way through the Williston. In addition to transporting Canadian sourced supply, Northern Border can receive and transport a significant amount of the Rockies gas from the Powder River Basin via the 425 MMcf/d Bison Pipeline which was placed into service in January 2011. However, very little gas is currently being shipped on Bison as the Rockies producers see better netbacks from sending their volumes to other destinations (Bison still receives revenue as its construction was supported by long-term ship-or-pay contracts that extend through 2020).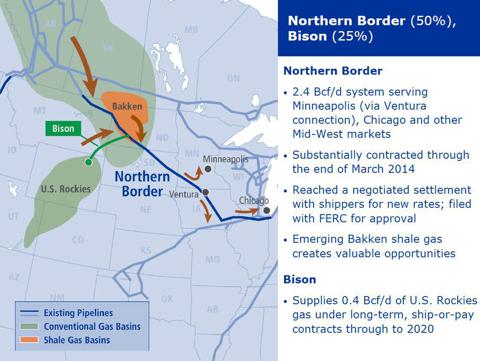 Northern Border also carries a stable ~150 MMcf/d load of synthetic natural gas produced at the Dakota Gasification plant to markets in the Midwest. The $2.1-billion Synfuels Plant is the only commercial-scale coal gasification plant in the U.S. The facility manufactures natural gas and CO2 for enhanced oil recovery projects using Lurgi gasifier technology (began operating in 1984 and is owned and operated by Dakota Gas).

In the past two years, Northern Border experienced very high utilization rates (the chart below).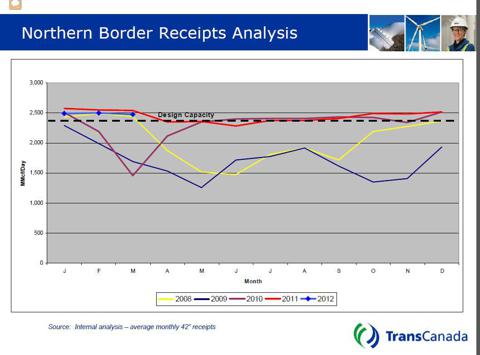 Northern Border has indirectly benefited from demand contraction for Canadian gas in the U.S. Northeast (which is served by TransCanada mainline) due to growing supply from the Marcellus. As a result, some of the Canadian gas was effectively pushed out towards the U.S. Midwest market via Northern Border and Alliance. The bulk of Northern Border's firm transportation contracts have been extended through March 2014. The fact that Northern Border was able to negotiate contract extensions for terms of three years or longer as contracts expired in 2012 indicates strong demand for capacity on Northern Border from Canadian marketers.
While Northern Border has limited uncontracted capacity at the moment, operationally it could receive ~750 MMcf/d of Bakken gas through its seven interconnections throughout the Williston Basin.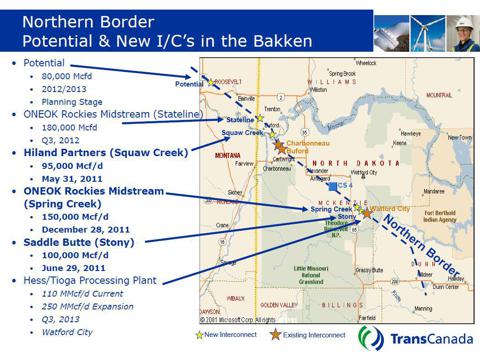 Northern Border Williston Basin interconnection list: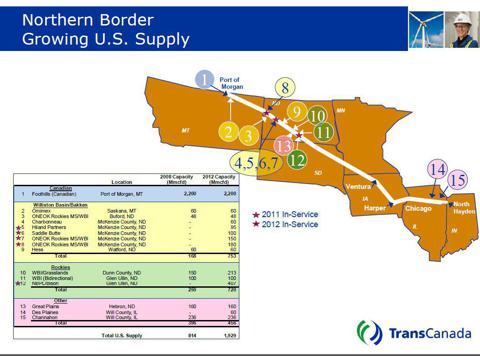 Currently, total firm capacity that Bakken producers have on Northern Border is less than 200 MMcf/d, and typical daily flow from the Williston Basin is less than 300 MMcf/d.
The Northern Border Pipeline is operated and 50% owned by TC PipeLines LP (NYSE:TCP) which is a pipeline MLP sponsored and 33% owned by TransCanada Corporation (NYSE:TRP). Oneok Partners owns the remaining 50 percent of Northern Border. TC Pipelines also owns 25% of Bison and TransCanada owns the remaining 75% of Bison.
NGL TAKEAWAY INFRASTRUCTURE
The Bakken has several potential transportation alternatives for NGLs. Heavier NGLs (propane, butanes, pentanes-plus) can be shipped by truck or rail similar to oil. In addition, Oneok is constructing a 110,000 bbl/d mixed NGL Pipeline and Mistral Midstream is building a dedicated ethane pipeline that will deliver ethane from Hess' processing plant to a Nova Chemical petchem complex in Alberta. NGLs can also be exported as part of the super-rich gas stream on Alliance Pipeline for processing at Aux Sable NGL facility.
Rail
Rail delivery infrastructure in the Williston Basin has grown dramatically in the past year and has the capacity to accommodate all the C3+ NGLs to be produced in the Bakken in the near future, if necessary. Rail remains a fairly expensive transportation alternative but provides the flexibility to deliver product into a variety of pricing points across the continent.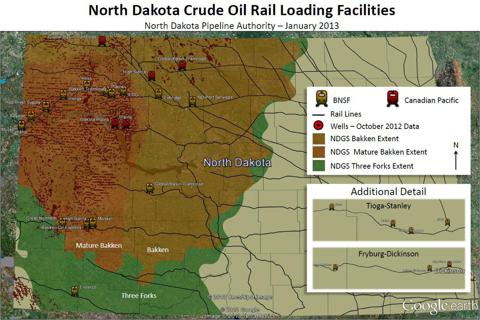 Oneok's NGL Pipeline
Oneok is finishing the construction of the first dedicated NGL pipeline out of the Bakken that will have initial capacity to transport 60,000 bbl/d (expandable to 110,000 bbl/d) of mixed NGLs to the interconnection with the existing Overland Pass Pipeline (50% owned by Oneok). The 525-mile, 12"-diameter pipeline is expected to be completed in the first half of 2013 and will cost $450-$550 million.
Via Overland Pass pipeline, Bakken NGLs will be delivered to Oneok's Bushton Fractionator in Kansas for processing into purity products.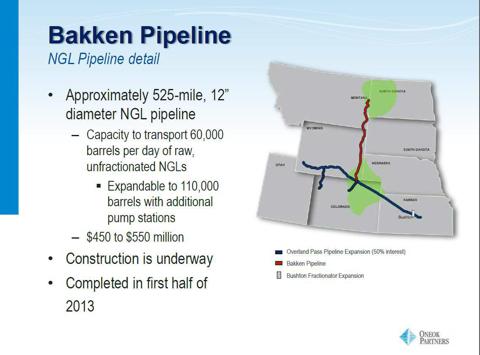 Vantage Ethane Pipeline Project
The proposed 430-mile, 10"-diameter Vantage Pipeline will carry ethane from Hess's Tioga Gas Plant in North Dakota through Saskatchewan to NOVA Chemical's petchem complex in Alberta, Canada. In 2011, NOVA announced a long-term agreement with Hess and Vantage under which NOVA would have the right to purchase 100% of ethane production from Hess's Tioga Gas Plant in North Dakota. This arrangement represents one of several NOVA Chemicals initiatives to complement its traditional ethane supply sources in Alberta. The proposed pipeline design will allow for the transport of up to 60,000 barrels per day of ethane and will be capable of further capacity additions if required in the future. The pipeline is currently under construction and is expected to start-up in 2013. The pipeline will be owned and operated by a portfolio company of Riverstone Holdings, a private equity firm.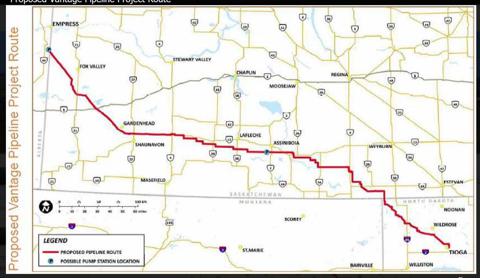 CONCLUSIONS
The completion of many significant NGL and natural gas midstream projects in the Bakken area in the next two years should largely address infrastructure needs related to the monetization of the associated gas production stream. E&P operators should see a meaningful revenue uptick from gas and NGL volumes that previously have been lost to flaring or had inadequate price realizations. Hess and Whiting seem to have particularly strong involvement in the midstream through asset ownership or distribution channel control.
Midstream developers will be among the largest beneficiaries of the Bakken's associated gas production growth and commercialization. As the above discussion demonstrates, the complex and expensive processing and delivery infrastructure represents a very large portion of the Bakken's gas value chain. Midstream infrastructure developers should benefit from large-scale opportunities for capital deployment, high capacity utilizations for new projects, long-term contract support, and favorable pricing for their services.
Alliance and Northern Border interstate gas pipelines are also very favorably positioned as recipients of essentially captive Bakken's residue gas volumes.
Oneok partners provides significant leverage to the Bakken's gas and NGL opportunities and should be very favorably positioned to ride the Bakken's growth trajectory for the next decade.
Veresen offers exposure to stable fundamentals and growth in Alliance Pipeline volumes as well as Aux Sable fractionation volumes and margins.
From the market access perspective, Bakken gas and NGLs do not seem to have any significant structural problems in the near future. However, it may take another two years before the majority of the infrastructure building blocks fall in their places.
Capacity will likely remain very tight in every infrastructure category, except rail, for several more years. "Supply push" will continue to skew value allocation in favor of midstream developers.
In the longer term, as production volumes continue to ramp up, residue gas volumes may create potential takeaway issue.
Implications for Bakken-focused E&P Operator stocks
The natural gas and NGLs infrastructure build-out discussed above should provide a meaningful bottomline contribution for Bakken operators in 2014-2015. The impact on Bakken-focused stocks should be universal. Companies with midstream assets should benefit most.
My medium- and small-capitalization Bakken-focused stock universe includes:
Continental Resources (NYSE:CLR)
EOG Resources
Kodiak Oil & Gas (NYSE:KOG)
Newfield Exploration (NYSE:NFX)
WPX Energy (NYSE:WPX)
Oasis Petroleum (NYSE:OAS)
QEP Resources (NYSE:QEP)
Whiting Petroleum
Enerplus (NYSE:ERF)
SM Energy (NYSE:SM)
Northern Oil & Gas (NYSEMKT:NOG)
Triangle Petroleum (NYSEMKT:TPLM)
My large-capitalization Bakken-focused stock universe includes:
Disclaimer: This article is not an investment recommendation. Any analysis presented in this article is illustrative in nature, is based on an incomplete set of information and has limitations to its accuracy, and is not meant to be relied upon for investment decisions. Please consult a qualified investment advisor. The information upon which this material is based was obtained from sources believed to be reliable, but has not been independently verified. Therefore, the author cannot guarantee its accuracy. Any opinions or estimates constitute the author's best judgment as of the date of publication, and are subject to change without notice.
Disclosure: I have no positions in any stocks mentioned, and no plans to initiate any positions within the next 72 hours. I wrote this article myself, and it expresses my own opinions. I am not receiving compensation for it (other than from Seeking Alpha). I have no business relationship with any company whose stock is mentioned in this article.