Introduction
The Seattle technology giant Microsoft (NASDAQ:MSFT) has sharply underperformed other software technology peers like Apple (NASDAQ:AAPL) and Google (NASDAQ:GOOG) both in stock price performance as well as innovation. Microsoft has slept through the shift of the consumer technology market from PCs/laptops to mobile devices such as smartphones and tablets. It might seem strange to say that Windows is under siege when it continues to have a monopoly like position in PC and laptop operating systems. However, if you look from the overall computing devices operating system perspective, Windows has lost market share massively to Google and Apple. MSFT continues to lose market share as PC shipments are declining and smartphone/tablet shipments are growing at a rapid clip.
Microsoft's earlier move into the smartphone market (Kin) was half-hearted and failed to no one's surprise. Microsoft has been ramping up its mobile efforts in recent days through the introduction of the Surface tablets and Windows 8 operating system for smartphones/tablets. I have been positive about Microsoft's stock given its cheap valuation, huge cash flows, strong enterprise technology business, Nokia (NYSE:NOK) partnership and Xbox 720 introduction. However, the Windows 8 operating system does not seem to be getting enough traction in MSFT's traditionally strong PC industry. Its Surface tablets based on the new Windows operating system have also not really set the market on fire. Microsoft is already making course corrections to increase Windows adoption and I remain optimistic about MSFT's prospects.
Windows under Siege
Windows 8, which is the newest version of Microsoft's ubiquitous operating system has been completely redesigned in order to make it more mobile and touch friendly. Windows 8 involves a longer learning curve than the previous iterations of the Windows operating system. The reason is that MSFT wanted Windows 8 to be more touch friendly. This has hurt the adoption of Windows 8 amongst its traditional user base, but it was a necessary step for MSFT to compete with new products in the O/S space. Some of the other issues being faced by Windows are listed below:
1. Fast Declining Sales of PCs and laptops - Windows 8 relies primarily on the sales of PCs and laptops for generating revenues, since Windows 8 has a minuscule market share of the overall smartphone market. PC sales declined by more than 3% in 2012 and are declining at a steeper-than-expected pace. IDC has revised down its PC shipment numbers for Q113 as sales weakened in China. PC vendors have already introduced touchscreen laptops as well as PC/ tablet hybrids to offset the declining sales. Others like Asustek are selling a product, which will not only serve both as a laptop and a tablet, but will also offer both Windows 8 and Android on the same device.
2. Tablets set to overtake PC sales by 2017 - Tablets are growing at high double-digit rates even as PC sales are declining. Tablets will see shipments of ~190 million units in 2013, compared with ~340 million PC sales. By 2017, tablets are set to overtake sales of PCs. This is a major problem for Windows 8 since it faces much greater competition in tablets compared with PCs. Most PCs are sold with the Windows 8 operating system pre-installed, while more than 90% of the tablets shipped currently support the Android or iOS operating systems. While IDC predicts that MSFT will capture ~10% of the tablet operating system market by 2017, it will not be enough to compensate for MSFT's market share loss in the overall computing market.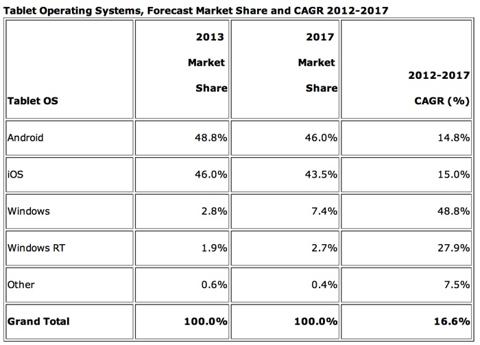 Source : IDC
3. PC vendors are now shipping laptops/ PCs without any operating system - One of the biggest problems that MSFT faces in the consumer laptop/ PC market is that companies like Lenovo, Acer, HP, Dell and others are shipping a number of models without an operating system installed. These laptops are 10-15% cheaper than laptops installed with the Windows operating system. This is concerning as emerging markets like India, and China, have a thriving software piracy industry. Also standalone Windows licenses can be used for future laptop/ PC purchases while pre-installed Windows cannot be transferred to other devices owned by the user.
4. Android is Free - To remain the No.1 operating system for computing devices, MSFT must expand its market share in the mobile and tablet devices rapidly. However Google's Android operating system currently enjoys a dominant ~70% market share in the smartphone O/S market and will reach almost ~50% in the tablet market this year. Also the biggest USP of Android is that it is free. Windows 8 will have to bring a much better value proposition to dislodge Android. While MSFT has the obvious advantage of integration with popular MSFT apps like Office and Outlook, the company will have to bring more to the table in order to defeat the entrenched Android.
What is Microsoft doing to make Windows more relevant
While Microsoft has been touting the success of Windows 8 operating system, the actual situation is quite different. Windows 8 is not getting enough traction after its promotional upgrade pricing expired. The corporate IT departments are not jumping into Windows 8 platform, while PC vendors are not too enthused about the response till now.
Stock Performance and Valuation
Microsoft has underperformed most of its big technology peers over the past five-10 years, as it has failed to bring out new products. The company has concentrated on its core strengths in the enterprise and consumer technology markets. Like most Wintel players, MSFT stock has been stuck in a range due to a PC shipment decline. In the last three months, MSFT has been stuck in a range of $26-28 even as the broader Nasdaq index has gone up by ~7%, while Dow Jones has gone up by ~10%.
One of the main reasons I like MSFT is because the stock is cheap on both absolute and relative terms. MSFT stock is the cheapest amongst the large-cap technology stocks, with a forward P/E of just 8.9x. The stock gives a nice dividend yield of more than 3% and the P/S ratio is also reasonable at just 3.3.
Summary
Nobody expects Microsoft to become an Apple or Google overnight and the stock price reflects that. MSFT's stock price has been languishing at almost the same level in the last few months even as the broader markets have climbed up by high single digits. Despite getting hit due to slower PC sales, MSFT earns billions of dollars in cash flow every year from a number of technology segments. While the company has stumbled with the introduction of Surface tablets (2.5 million shipments till date), major PC vendors are starting to come out with Windows 8 tablets (Acer, HP etc.). I think MSFT will be able to show better results over time as the promise of a unified MSFT ecosystem is an enticing one for enterprises. There is a lot of stickiness for popular MSFT products like Outlook and Office. MSFT has already won a huge order from the U.S. Department of Defense. While Windows 8 is not performing as well as the company expected I think it is too early to rule out MSFT in the mobile devices market. I would continue to recommend a buy for MSFT stock, given its attractive dividend yield and cheap valuation.
Disclosure: I have no positions in any stocks mentioned, and no plans to initiate any positions within the next 72 hours. I wrote this article myself, and it expresses my own opinions. I am not receiving compensation for it (other than from Seeking Alpha). I have no business relationship with any company whose stock is mentioned in this article.