With a growing number of ETFs that provide exposure to essentially the same market segments, it becomes increasingly difficult to choose from all available options. To make a decision, investors typically compare the composition of ETFs as well as their fees, size, bid/ask spread, etc. However, it is no less important to check which alternative fits your portfolio best.
To start with, let's assume an investor holds a simple portfolio of the three largest ETFs: 50% in US stocks (NYSEARCA:SPY), 25% in emerging markets stocks (NYSEARCA:VWO) and 25% in gold (NYSEARCA:GLD). A quick portfolio risk analysis on a freely available investor tool InvestSpy reveals that over the last two years such a portfolio had an annualized volatility of 16% (slightly lower than the overall S&P 500 volatility of 18%, thanks to the diversification effect) and a beta of 0.83. Risk contributions don't seem to be balanced but I have addressed this topic in a separate article here.

Now let's say our investor wants to add fixed income exposure to the portfolio and decides to invest in emerging markets sovereign bonds as yields in developed markets remain at all time lows. There are plenty of alternatives to choose from, with the most popular ETFs in this space being Market Vectors Emerging Markets Local Currency Bond ETF (NYSEARCA:EMLC), WisdomTree Emerging Markets Local Debt Fund (NYSEARCA:ELD), iShares Emerging Markets Bond Fund (NYSEARCA:EMB) and PowerShares Emerging Markets Sovereign Debt Fund (NYSE:PCY). There's a nice overview of each of them in this article on Seeking Alpha, however all four choices appear to be fairly similar. So how does one determine which ETF suits the given portfolio best?
Firstly, let's analyze the correlations of each ETF with SPY. As the hypothetical portfolio has a beta of 0.83, it tends to move largely in the same direction as the broad market. Therefore, securities that have lower correlations with SPY are preferred as they would provide a more substantial diversification benefit.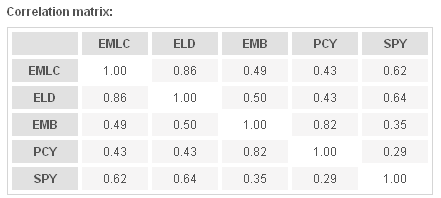 As can be seen from the last column of the table above, these four emerging markets bond ETFs demonstrated different level of co-movement with SPY over the course of the last couple of years. EMLC and ELD, the two local currency bond ETFs, had correlation coefficients above 0.6, whereas EMB and PCY, which invest in USD denominated securities, were significantly less correlated with the broad US stock market. I haven't done in-depth research where the difference comes from but I believe it can be to a large extent attributed to the risk-on / risk-off regime in currency markets. Emerging markets currencies tend to appreciate against the dollar when stocks go up and vice-versa, which makes local currency bond ETFs more correlated to US equities than the USD denominated ones.
Secondly, let's incorporate each of the ETFs into our hypothetical portfolio one by one and observe what impact on overall risk characteristics they would have. For simplicity purposes, I have allocated 20% to the new position and shrunk the original holdings in equal proportions. Below are risk metrics for the four portfolios with:
20% in EMLC

20% in ELD

20% in EMB

20% in PCY

The statistics above demonstrate that EMLC and ELD have higher volatility, higher beta and contribute to the overall portfolio risk more than EMB or PCY. Therefore, from a portfolio risk perspective, the choice should be made between EMB and PCY, with the latter possessing a slight edge.
The two-step analysis described in this article provides a simple framework for assessing how seemingly similar investments can have a different impact on the portfolio risk. Even though this type of analysis relies on historical relationships between securities that may not hold in the future, it's always useful to check what has worked in the past and what has not.
Disclosure: I am long EMB, EMLC. I wrote this article myself, and it expresses my own opinions. I am not receiving compensation for it. I have no business relationship with any company whose stock is mentioned in this article.