I recently saw a headline regarding the Deepwater Horizon Disaster and the lingering consequences of it. I remember this spill quite well, and as I have a long history working in the oil and gas industry, I tend to follow some oil and gas stocks and invest in a few of them. We should never forget that the main tragedy in this was the 11 lives that were lost, and unfortunately, most headlines tended to focus on the oil spill part of the tragedy instead. However as an investor, disasters can often present investment opportunities.
The 4 stocks that took a hit from the disaster were Halliburton (NYSE:HAL), Transocean (NYSE:RIG), Cameron International (NYSE:CAM), and British Petroleum (NYSE:BP). BP was the oil company involved, and was the operator of the well that was drilled. Transocean was the drilling contractor, and it was their drilling rig that was drilling the well. Cameron built the BOP (blow out preventer), and Halliburton had the cementing operations.
In a nutshell, the disaster was a follows. The well had been completed and casing had been run and cemented. This should have left the well safe and secure with the well lined with steel casing cemented in place to block any gas coming to the surface until which time this well would later be produced. This didn't happen. Gas came to the surface and several safety procedures were not followed, and fail-safe mechanisms didn't work. There was a catastrophic fire and explosion on April 20th 2010, resulting in the loss of 11 lives and one of the worst oil spills in history.
It's been almost 3 years now. Do any investment opportunities remain based on this tragedy?
Here is a simple table comparing prices of the 4 stocks. The dates mentioned are the day of the disaster, one month later, another month later, the day the well was capped, the day the well was officially sealed (adjusted for the next market day), and the closing prices on March 19th, 2013.
| | | | | | | |
| --- | --- | --- | --- | --- | --- | --- |
| | 4-20-10 | 5-20-10 | 6-20-10 | 7-15-10 | 9-19-10 | 3-19-13 |
| BP | 60.48 | 44.58 | 30.33 | 39.92 | 38.62 | 41.00 |
| HAL | 33.31 | 26.22 | 27.05 | 28.10 | 31.80 | 39.62 |
| CAM | 44.83 | 34.53 | 37.23 | 35.13 | 40.45 | 63.50 |
| RIG | 92.03 | 58.01 | 53.91 | 54.70 | 60.22 | 52.22 |
Halliburton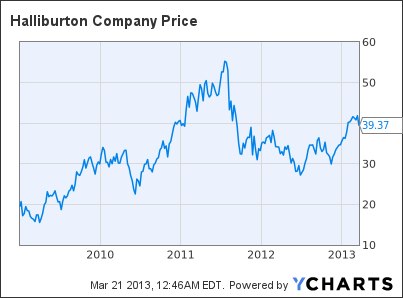 At the time of the disaster, I was actually working for Halliburton. Having a general knowledge of the oilfield would be enough to suspect that any drop in Halliburton based on this would be short term. One of the possible reasons for the disaster would be a bad cement job. Perhaps the formula wasn't right or it wasn't mixed properly. That could lead to an ineffective barrier to stop gas from coming out of the formation. However that cement is now beneath the ocean, and it will never be recovered. Based on that, after the disaster I picked up extra shares in Halliburton. As an employee at the time, I bought shares on a regular basis anyway through their stock purchase plan.
At the time, I thought Halliburton was a very good buy, but I no longer see a disaster discount in Halliburton. Halliburton has shown weakness at times since then, but I would attribute this to prolonged weakness in the North American natural gas price. This affects their pressure pumping service for fracing wells. I remember at the start of 2012, many analysts were picking Halliburton as one of their top picks. That never really played out, so well for them. It started the year at $34.15 and ended it at $34.69. At times I really like Halliburton but I don't like it at the price is it now. I don't know exactly what the share price will do, but over the past several years, I've sold Halliburton at prices ranging from $35-$50. I've never really considered this a long-term stock to own. It pays a paltry dividend of around 1.2%, and if you get the timing wrong, you could be stuck with it. I would be interested again if it were to be below $35. And if it were to slowly make its way down to $35, I'm sure I would change my mind and hope it would drop to $33. I'm not in Halliburton right now.
Cameron International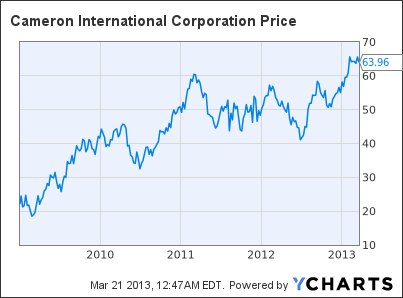 Cameron shouldn't have fallen at all because of the disaster. Yes they supplied the BOPs, but it wasn't their responsibility to maintain them. This would have been a very safe bet, but I chose to play Halliburton at the time because I was more familiar with it. That's a great looking chart, but the discount is no longer there. It may be a good company, but at a current P/E of 21.18, I don't see it as being undervalued.
Transocean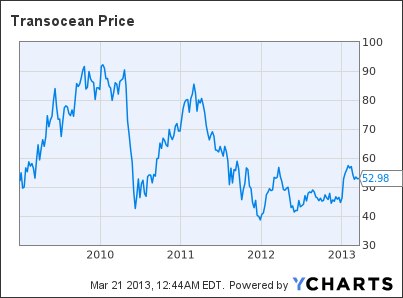 Transocean was perhaps the second most culpable. Yes, it was BP that was in charge, but Transocean personnel had the power to override BP if it was over a safety matter. They were also responsible for the maintenance of the BOPs that failed. Transocean shares haven't recovered, but I would attribute this to other factors - such as the fact that they aren't really making money right now and have negative earnings. Its dividend has also been suspended due to poor results. It has largely settled legal disputes, so I don't see this as really contributing to the lackluster performance lately.
British Petroleum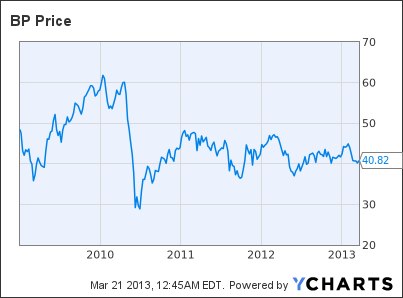 Finally we are left with BP. From the beginning, I think most people realized that as the company in charge of the entire operation, it would be the most responsible. BP has made steps to mitigate the consequences of the disaster. It has set aside money to pay for claims and sold some assets. However, there is still an ongoing trial over the violations of the Clean Water Act. The uncertainty this brings is negatively affecting the share price. I believe once the legal issues are behind, the share price will continue to improve. The market tends to overreact to uncertainly and negative news. The good news is that BP pays a dividend again after missing 3 dividend payments after the disaster. It now stands at a decent 5.3%. I see BP as a dividend stock with upside potential.
Disclosure: I am long BP. I wrote this article myself, and it expresses my own opinions. I am not receiving compensation for it (other than from Seeking Alpha). I have no business relationship with any company whose stock is mentioned in this article.