Exchange traded funds that track the S&P 500 theoretically seem like they would perform similarly, but small differences in framework have a large impact. Vanguard, State Street and BlackRock's iShares all have an ETF trading that tracks the same index, but with different results, however slight.
"The S&P 500 is a popular proxy for the U.S. market and as an indicator of the economic health of the nation. Despite the fact that it lacks exposure to small-cap stocks, it has had more than a 99% correlation with the broad U.S. market and a 90% correlation to developed international stocks," Michael Rawson wrote for Morningstar.
The largest S&P 500 fund is the first ETF that ever traded, the SPDR S&P 500 (NYSEARCA:SPY). SPY is different from the other two major S&P 500 ETFs in that it is set up as a unit investment trust which must replicate its index and has limits such as prohibiting lending out underlying shares to other firms, reports J.J. Zhang for MarketWatch. SPY has about $131 billion in assets under management and is the most expensive at 0.09%. The fund has the highest trading volume, at 50 to 100 times that of Vanguard S&P 500 ETF (NYSEARCA:VOO) or the iShares S&P 500 Index (NYSEARCA:IVV).
IVV is the second largest S&P 500 ETF trading. It has $40 billion in assets and costs 0.07%. This ETF uses strategies such as derivatives and portfolio lending which allows it to make a small, additional profit. This helps the fund keep pace with the benchmark. The risk is in the portfolio lending, if securities are not returned by the borrowing firm. This ETF is not subject to any constraints on reinvesting dividends, reports Michael Rawson for Morningstar. IVV can stray from the benchmark easier than SPY.
VOO has the same freedom as IVV, with stock lending and reinvesting, and cash is invested daily into Vanguard money market funds, reports Zhang. VOO is the cheapest S&P 500 ETF at 0.05%.VOO has a full replication strategy and holds every stock in the S&P 500 index.
VOO has held the best performance out of the three ETFs, but the ETF has only been trading since 2010. The expense ratio of 0.05% has helped overall return. IVV and SPY did perform in line with their respective expense ratios, but some of this can be attributed to the structural make-up of the funds. Zhang concludes that over 10 years, IVV returned 0.05% higher returns than SPY, with 97.2% for IVV, and a 96.7% gain for SPY.
The expense ratio has enough influence on long-term performance to make a difference. Overall, if an ETF has similar portfolio construction, the expense ratio can be a deciding factor.
Vanguard S&P 500 ETF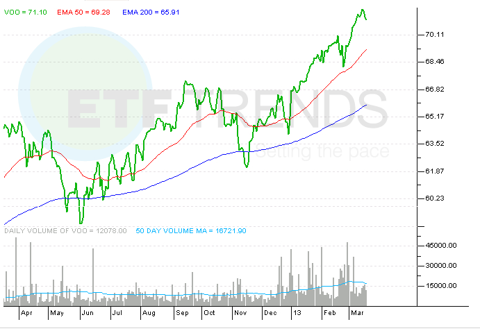 Tisha Guerrero contributed to this article.
Full disclosure: Tom Lydon's clients own SPY.
Disclosure: I am long SPY. I wrote this article myself, and it expresses my own opinions. I am not receiving compensation for it. I have no business relationship with any company whose stock is mentioned in this article.