By David Urani
Existing home sales for February came in at a 4.98 million annual rate, which was slightly above the 4.94 million in January, and just below the 5.01 million consensus. Sales were down modestly in the Northeast and Midwest, and up modestly in the South and West.
It wasn't much of a change, nor was the Street really expecting one, but it does represent a new multi-year high. Sales did briefly go higher in 2009 during the government's homebuyer tax credit program, but excluding that sales are at the highest "natural" level since July 2007.
But for me, inventory has been just as big of a factor to the rebounding housing market as sales. Inventory has been on a precipitous slide for the past couple of years, and in fact January's result was the lowest level to date, representing a scant 4.3 month supply. For February, inventory apparently jumped up by 9.6% and this may be the main reason homebuilding stocks generally traded lower Thursday.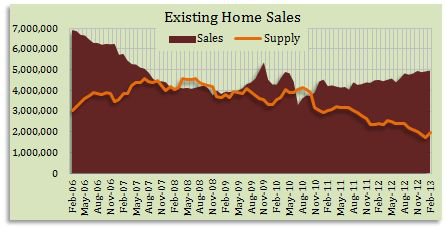 That being said, at the current level of 1.94 million homes (or 4.7 months), supply remains very low by historical standards. One month also does not make a trend, although if accurate this is a notable turnaround. Nevertheless, I wouldn't start being too worried until months' supply starts going above 6. Analysis over the past several years suggest that a 7-month supply acted as a rough inflection point for prices falling (supply went above 7 months in 2007 as prices started falling during housing bust) and prices going back up (supply fell back below 7 months in late 2011 as prices turned the corner. Note: this also happened briefly during the 2009/2010 tax credits).