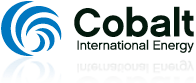 Cobalt International Energy (NYSE:CIE) is a development stage independent oil exploration company founded in 2005. The company's objective is to create shareholder value by exploring for oil in the largest hydrocarbon rich plays in the deep offshore waters of the U.S. Gulf of Mexico and West Africa, with an emphasis on sub-salt and pre-salt exploration, development, and production.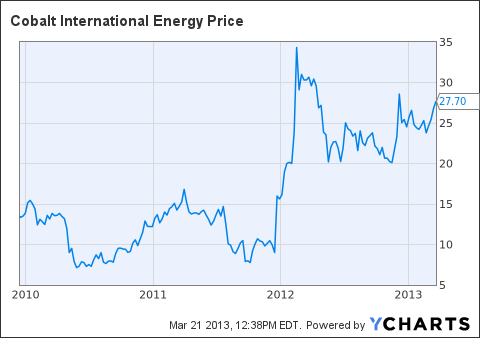 CIE = $27.70
P/E ((ttm)) = N/A
EPS ((ttm)) = -$0.70
Div (Yield) = N/A (N/A)
Shares Outstanding = 406,583,154
Market Cap = $11.26 Billion
(Data courtesy of Yahoo.finance)
In its Q4 2012 earnings release, CIE announced a net loss of $67 million, or $0.16 per basic and diluted share, compared to a net loss of $51 million, or $0.13 per basic and diluted share, for the fourth quarter of 2011. Cobalt reported a net loss of $283 million, or $0.70 per basic and diluted share, for the year ended December 31, 2012, compared to a net loss of $134 million, or $0.35 per basic and diluted share, for the same period in 2011.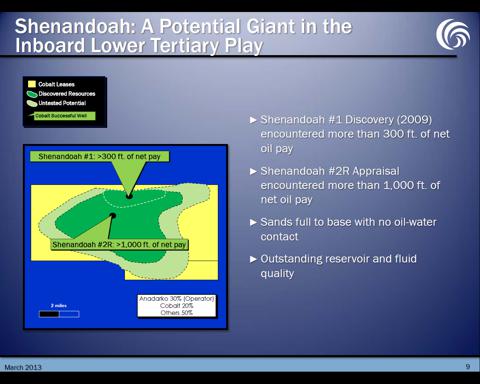 Shenandoah Discovery in Deepwater Gulf Of Mexico
CIE first came to my attention because it holds a 20% stake in the recently announced Shenandoah-2 well which I reported on here. The stock closed up +2.08 (8.07%) on the news and as a result several people asked me if I thought the company was a good investment.
Cobalt's partners on Shenandoah includes Anadarko Petroleum Corporation (NYSE:APC), which holds a 30% working interest and is the operator. ConocoPhillips (NYSE:COP) holds a 30% working interest while Marathon Oil Company (NYSE:MRO) and Venari Offshore LLC each hold a 10% interest.
Official recoverable reserve estimates for the Shenandoah reservoir system have not been released, but there is already speculation the reservoir could be as big as 900 million barrels.
In the company's press release, Cobalt's Chairman and CEO Joseph Bryant said:
The exceptional results of both the Shenandoah #2R appraisal well and the North Platte #1 exploratory well further substantiate our regional model of the prolific potential of the Inboard Lower Tertiary Trend. We believe that our material working interests in these two significant Inboard Lower Tertiary fields will be the source of tremendous value for our shareholders. Our deep portfolio of prospects on trend with these two fields bodes well for our future growth in the Gulf of Mexico. These recent results and our bright future are a testament to our commitment to the people and technology required to succeed in the deepwater Gulf of Mexico subsalt trends.
North Platte
CIE is the operator of the North Platte #1 well - 42 miles northwest of the Shenandoah-2 well. The company has confirmed the exploratory well encountered over 550 net feet of oil pay in multiple high quality Inboard Lower Tertiary reservoirs. North Platte is located in approximately 4,400 feet of water and was drilled to a total depth of approximately 34,500 feet. Cobalt has begun the acquisition of a new state-of-the-art 3D seismic survey over the greater North Platte field and the majority of its prospects in the immediate area. Evaluation of this data will be ongoing throughout 2013. Appraisal plans for North Platte will be determined later in the year.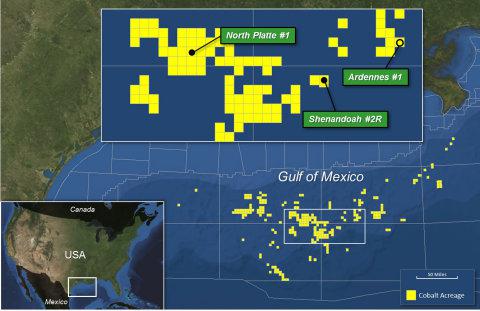 Ardennes
Cobalt is currently drilling its Ardennes #1 exploratory well in Green Canyon 896. Ardennes is targeting both Miocene and Inboard Lower Tertiary reservoirs. Results are expected sometime mid-year 2013. DeGolyer and MacNaughton estimates Ardennes to have potential resources greater than 500 million barrels gross oil equivalent. Partners in Ardennes include ConocoPhillips with a 30% working interest and TOTAL (NYSE:TOT) which has a 28% stake.
Gulf Of Mexico Assets
Cobalt's leasehold position in the U.S. Gulf of Mexico is comprised of interests in 230 deepwater blocks covering approximately 1.3 million gross acres (0.6 million net acres) with 47 identified prospects in three trends, being the Tahiti Basin Miocene, the Adjacent Miocene, and the inboard Lower Tertiary trends, which Cobalt believes all offer world-class exploration potential.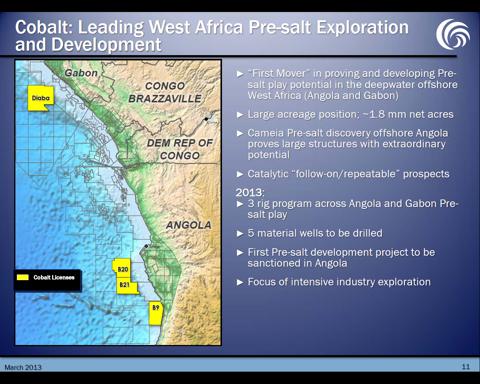 Offshore Africa
The company's says analysis of both the Brazil and West African continents strongly suggests that features similar to the super-giant Brazilian discoveries also exist in West Africa. As a result, Cobalt owns leasehold blocks in offshore Gabon and Angola.
CIE owns a 21.25% interest in the Diaba license. This license covers an area of 3,500 square miles, and is operated by Total. Marathon also has a 21.25% interest in Diaba.
In pre-salt Angola, Cobalt has acquired a 40% interest in blocks 9 and 21 and has been conditionally awarded a 40% interest in Block 20. Cobalt is designated as operator on all three blocks. The combined blocks cover an area of approximately 5,600 square miles. Cobalt's position in offshore Angola establishes Cobalt as a major player in the basin and complements the company's Gabon acreage.
Cameia - A Large Discovery in the Angola Pre-Salt
CIE announced a significant discovery in offshore Angola in February of 2012. This likely caused the pop in the stock in early 2012 (see chart above). This was the Cameia Pre-salt oil discovery in Block 21 offshore Angola. The results confirmed the presence of a 1,180 foot (360 meter) gross continuous oil column with over a 75% net to gross pay estimate. The test well flowed at an un-stimulated sustained rate of 5,010 barrels per day of 44-degree API gravity oil and 14.3 million cubic feet per day of associated gas (approximately 7,400 BOEPD) with limited drawdown. The flow rate, which was restricted by surface equipment, facility and safety precautions, confirmed the presence of a very thick, continuous, high quality reservoir saturated with light oil.
Next, the Cameia #2 well was drilled approximately 3.5 kilometers south from the Cameia #1 pre-salt discovery well to the target total depth of 5,475 meters in basement. Logging results have (1) confirmed the presence of a large hydrocarbon accumulation in what is a high quality reservoir, and (2) confirmed lowest known oil to be at least 135 meters deeper than that which was observed in Cameia #1.
Recent Secondary Offering
On Jan. 16, 2013, Cobalt announced a secondary public offering of 40,000,000 shares of common stock, all of which were sold by existing shareholders. Cobalt did not receive any funds from the offering. On Jan 18th, CIE announced the closing of this public offering, all of which were sold by funds affiliated with First Reserve Corporation, Goldman, Sachs & Co., Riverstone Holdings LLC and The Carlyle Group, and KERN Partners Ltd. and certain limited partners in such funds affiliated with KERN Partners Ltd. (collectively, the "selling stockholders"). The selling stockholders sold a total of 40,000,000 shares of Cobalt's common stock. The underwriters also may purchase up to an additional 6,000,000 shares of common stock from certain of the selling stockholders should the underwriters exercise their over-allotment option. Cobalt will not receive any of the proceeds from the sale of the shares of common stock. Morgan Stanley & Co. LLC and Citigroup acted as the underwriters of the offering.
Howard Weil Energy Conference Presentation
Cobalt recently gave a presentation at the Howard Weil Energy Conference and you can view the slides here. 2013 will be a very important year for CIE as the following slide shows: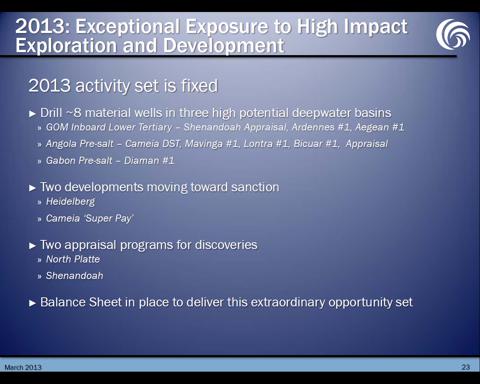 Risks
There are obvious risks associated with deepwater drilling. These include worker safety, environmental safety, drilling costs, and of course the price of oil itself. There are also political risks in the international arena as this press release highlights. In addition, CIE will need access to capital in order to exploit its recent discoveries.
Summary
The title of this article asked whether or not CIE was a "speculative" buy, and I believe the answer is "Yes". Of course speculative buys are just that - speculation. However, CIE has assembled a very impressive asset base. Its drilling results have been excellent. With partners such as ConocoPhillips, Anadarko Petroleum, Total, and Marathon Oil, Cobalt is working with a "who's who" list of highly respected stable of large deepwater exploration and production companies. However, actual production, revenue, and earnings are likely years away. Until then, expect more quarterly losses and possible shareholder dilution. Despite mounting losses, the risk of the company going under are extremely small considering recent discoveries and acreage holdings. At worst, the company may have to reduce its working interest in some wells as a means of raising cash to finance exploitation. At best, the company will obtain financing at attractive rates, bring its discoveries into production, and become a very successful mid-size E&P company. In the process, it may just find itself taken over by a very successful large oil company that has significant production in proximity to CIE's acreage. With a current market cap of $11.26 billion, current discoveries seem to be reasonably priced in. However, there are 8 wells being drilled in the GOM, Angola, and Gabon - each of which have a high potential for success. More discoveries on the same level as Shenandoah and Cemeia could propel the stock higher. I rate the company a "speculative buy".
Disclosure: I am long COP. I wrote this article myself, and it expresses my own opinions. I am not receiving compensation for it (other than from Seeking Alpha). I have no business relationship with any company whose stock is mentioned in this article.
Additional disclosure: I am an engineer, not a CFA. Please do your own research and contact your investment adviser. I am not responsible for investment decisions you make. Thanks for reading and good luck!