Lindsay Corporation (NYSE:LNN) is primarily engaged in the development and sale of irrigation systems that are used to irrigate farmland. In this article I make a bullish case for Lindsay shares. I first establish a bullish case for agricultural commodities with an emphasis on grains. I then discuss why investing in irrigation, particularly the more technologically advanced forms of irrigation (center pivot and lateral move), is an excellent way for investors to profit from the bull market in agricultural commodities. Finally I discuss how Lindsay is uniquely positioned to offer investors the best leverage to the bull market in irrigation systems.
1: The Bullish Case for Agricultural Commodities (Particularly Grains)
While grain prices have been in a bull market for several years, current grain prices, as illustrated by the corn, soybean, and wheat charts provided below, are not much higher than they were during the last commodity bull market in the 1970s.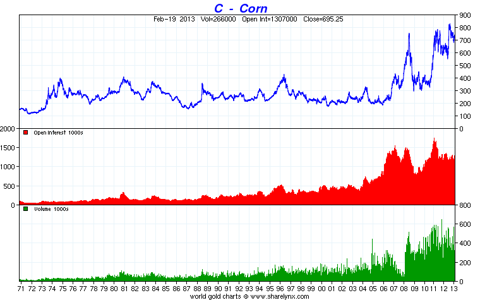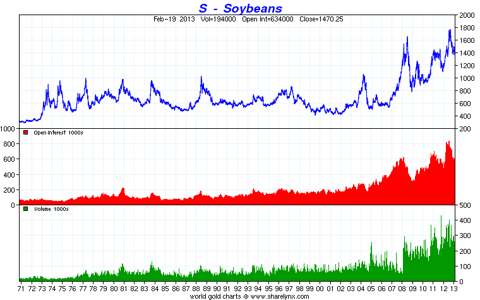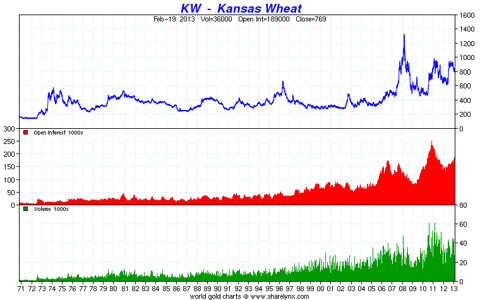 If these prices are compared with the CPI there prices have been flat, or only slightly higher in real terms:
*I do not believe that the CPI fully reflects the rate of inflation. I discuss the reasons for this in my instablog Money, Inflation, and the CPI. If the inflation rate is closer to the 6%-8% that I suggest in this article then grain prices are actually way down from their peak in the 1970s.
Given that grain prices haven't really risen, and may have in fact declined in real terms, the following data points that I give, which demonstrate that the supply-demand fundamentals for grains are extremely favorable, suggest that grain prices should rise significantly over the long term.
A: The Global Population is Rising
The following is a chart of the global population starting in 1950 with projections going out to 2050: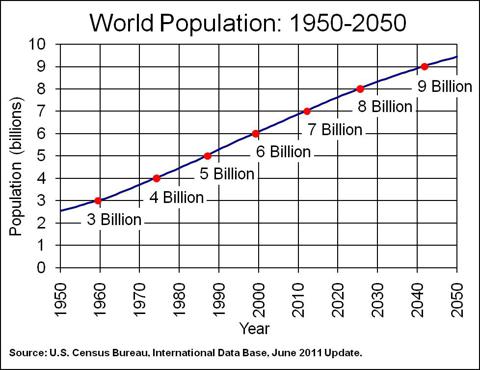 Currently the global population is around 7 billion people. Just 40 years ago the population was merely half of this. By 2050 the global population is projected to be over 9 billion people, or around 30% higher than it is now. As the global population increases the amount of food needed to feed the world increases. Grains, being the world's primary source of food both directly and indirectly (through meat consumption), will consequently see a surge in demand.
B: Global Meat Consumption is Rising
The following chart illustrates the rise in global meat consumption per capita:
Livestock generally eat grains, and according to an Illinois Times article, Time to Stop Eating Meat, it takes 4.8 pounds of grain to produce 1 pound of beef. The rising global population and the fact that each individual that makes up this population is eating more meat together imply that global grain consumption is rising faster than the global population.
C: Grain Inventories are Shrinking
The following chart illustrates the decline in global grain inventories as measured by the stock-to-use ratio: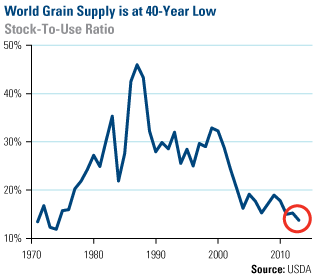 The stock-to-use ratio measures the following: (beginning supply+ annual production-total use)/total use. The implication of this decline is that global grain inventories relative to the amount of grain consumed globally is declining. Consequently there is a reduction in supply, which favors higher grain prices.
D: The Amount of Arable Land per Capita is Shrinking
The following chart illustrates how the amount of arable land per capita is shrinking: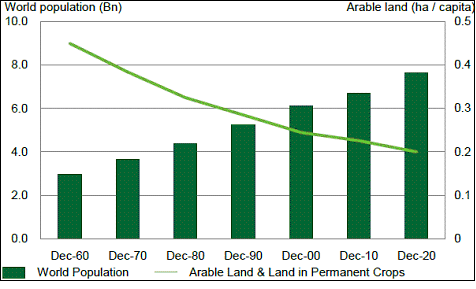 As the global population increases and demands more food, it requires more land to grow it. The above chart suggests that the land simply isn't there. Consequently the amount of food cannot possibly grow fast enough to feed the world's growing population and its growing appetite for grain-intensive meat, and grain prices will have to rise in order to eliminate this supply-demand imbalance.
2: Why Irrigation?
There are many options for investors who are bullish on agricultural commodities: seeds and pesticides (Monsanto (NYSE:MON), Syngenta (NYSE:SYT)), fertilizer (Potash (POT), Mosaic (NYSE:MOS), CF Industries (NYSE:CF), Agrium (AGU)), grain processing (Archer Daniels Midland (NYSE:ADM), Bunge (NYSE:BG)); furthermore investors can simply buy agricultural commodity ETFs (DBA, RJA, JJG, JJA…etc.).
While there is no definitive argument to suggest that irrigation systems technology and manufacturing make for the best way to invest in the bull market in agricultural commodities, one very strong argument is that only a small portion of global farmland is actually irrigated. According to Lindsay's January, 2013 investor presentation, the countries with the most land devoted to agricultural production have the following percentages of their land currently irrigated:
The United States: 14%
India: 34%
China: 39%
Russian Federation: 4%
Mexico: 16%
Indonesia: nearly 0%
Turkey: nearly 0%
Irrigation may not seem necessary given the simple fact that it rains, and rain provides natural irrigation to farmland. What irrigation mechanisms can provide that rain cannot is consistent irrigation. Farmers in Russia in 2011, and in the Midwestern United States in 2012 learned this the hard way given the droughts they experienced that ruined a considerable portion of their crops and caused wheat and corn shortages and price spikes. Given that there is rising global demand for food while inventories of the most essential agricultural commodities are dwindling, a drought that is severe enough at the right place and at the right time can lead to a food shortage which would be disastrous. The consistency that farmers can achieve by installing irrigation mechanisms can prevent such a disaster, and consequently the necessity of irrigation mechanisms to the modern farmer is at the level of seeds, fertilizer, and pesticides. Given that such a small amount of the world's farmland is currently irrigated, and given the newfound necessity of irrigation, it is safe to say that Lindsay Corporation and other irrigation technology companies have a lot of room to grow.
2A: Center Pivot/Lateral Move Irrigation vs. Gravity Flow Irrigation
Lindsay produces what are called center pivot and lateral move irrigation systems. Currently the most common form of irrigation system is a gravity flow irrigation system. The latter is an irrigation system that utilizes gravity in order to spread water across land through trenches in order to irrigate it.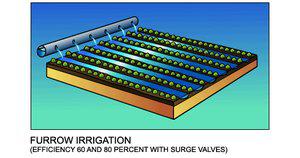 This system is primitive and inefficient because it sends water to the lowest points on a field regardless of where water is needed. Center pivot and lateral move irrigation systems use a motor to basically move a sprinkler around a farm in order to disperse water.

(Center Pivot Irrigation)

(Lateral Move Irrigation)
Farmers utilizing Lindsay's Greenfield irrigation system can control the location of water dispersal and the amount using a central control mechanism. This saves water because only areas of a farm where water is needed are irrigated. Farmers, especially those in the United States, have begun to realize the advantages of center pivot and lateral move irrigation over gravity flow irrigation, as evidenced in Lindsay's January 2013 presentation, in which they claim that from 1998 to 2008 center pivot and lateral move irrigation usage has increased from 35% to 46% of all U.S. irrigation systems, while gravity flow systems use has declined from 50% to 39%. While it is clear that many farmers have switched to center pivot and lateral move irrigation systems, there is still a lot more room for Lindsay and its competitors to grow.
3: Why Lindsay Corporation?
There are two major players in the center pivot and lateral move irrigation industry: Lindsay Corporation and Valmont Industries (NYSE:VMI). For investors looking to maximize their exposure to irrigation Valmont is a poor choice because it receive less than one fourth of its sales from irrigation systems. Lindsay, on the other hand, gets about 86% of its sales from irrigation. Lindsay shares appear to be expensive, as they trade at 21.4X 2012 earnings with a price to book ratio of 3.62 and a 0.5% dividend yield. However, since the bull market in agricultural commodities became obvious around 2006 Lindsay has increased its profits at over 24% per year, which means its PEG ratio is under 1. If we assume what was established in sections 1 and 2 of this article then Lindsay can likely continue to grow at this rate or even accelerate its profit growth, and therefore the company is very inexpensive. If we assign a very modest 1.25 PEG ratio to Lindsay shares as "fair value" and assume that profits can continue to grow at the same rate, then the shares should trade at 30 times next years earnings of $5.32 (24% higher than Lindsay's 2012 earnings of $4.29), or just under $160. Given that the shares trade at just $92, they potentially appreciate 74% and remain inexpensive.
Conclusion
Here is a summary of why I am bullish on Lindsay Corporation:
1: Agricultural commodities are in a bull market. The demand for food is rising globally while supplies are shrinking. Furthermore there is a limited amount of land globally allocated towards farming.
2: While there are many ways to invest in agriculture, irrigation is unique in that the market is far from saturated. Most of the world's farmland is not irrigated, yet irrigation is necessary in order to ensure consistent crop yields. Furthermore, while the best method of irrigating farmland is through center pivot and lateral move irrigation systems, less than half of irrigation systems are of this variety.
3: Lindsay Corporation is the only major player in the center pivot and lateral move irrigation space that will receive a majority of its sales from this sector, and so it is the only company whose shares will directly benefit from an increased global usage of these irrigation systems.
4: Lindsay Corporation's shares are inexpensive. Based upon their projected growth rate they should trade at least at $160 per share, and probably higher. Currently Lindsay shares trade at just $92.
I would not purchase the company now as its shares are near multi-year highs and consequently they are due for a pullback. However I believe that they should be purchased on a 5%-10% correction.
Disclosure: I am long CF. I wrote this article myself, and it expresses my own opinions. I am not receiving compensation for it (other than from Seeking Alpha). I have no business relationship with any company whose stock is mentioned in this article.
Additional disclosure: I may initiate a long position in LNN over the next 72 hours.