There are many dividend growth companies which are excellent businesses, but it doesn't mean we should buy these companies at any price. In addition, there are multiple factors which come into play in choosing which to buy.
Here are the factors:
Solid Company (strong brand helps, preferably with growing earnings)
Valuation - buy an excellent business at proper valuations. What is proper valuation? I'll explain later.
Time Horizon - the longer, the better
Dividends - contribute to a successful investment
Monitor
Solid Company
Pick a company that is strong fundamentally. It should have growing earnings and a manageable debt level. More power to us as shareholders if the company pays a dividend, especially a growing one. In fact, I would favor a company that pays a dividend over one which does not. With ample free cash flow and a reasonable payout ratio, an investor can determine whether the dividend and its growth is safe or not.
Here is a general guideline for picking a solid company:
Company has a strong brand (you could tell immediately which company it is from seeing its logo, or even its brand color)
Stable earnings growth in the past 10 years
Debt-to-equity ratio <= 1
Current Ratio >= 1.5
Quick Ratio >= 1.5
However, this guideline is not one-size-fits-all.
There are sector discrepancies. For example, it's common for cyclical companies to have roller coaster like earnings.
In the low interest rate environment, some companies have been taking on more debt than they need to because borrowing the money to invest returns more than not. For instance, at the end of last year, Intel (NASDAQ:INTC) raised $6 billion in bond sales to buy back its shares. In doing so, Intel saves money by paying less dividends as the share count is reduced. In addition, it is a good time for it to perform its buyback because the stock is cheap right now.
Buy at Proper Valuation to Limit the Downside and Maximize the Upside
Picking a solid company isn't enough. We have to make sure we pick up the company at a proper price (i.e. valuation).
Here's a simple guide in checking if a company is at proper valuations. The company should have:
P/E <= 15
P/B < 1.5
Forward P/E < 20
Please note that some companies tend to trade at a premium historically. More on this with Coca-Cola's (NYSE:KO) as an example below.
I know investors (me included) who have bought shares in a company without checking its valuation first. You could have ended up buying when it was selling at an unjustified premium, even if the business is not broken. For example, scanning the 18 year graph of Wal-Mart (NYSE:WMT) below, we can see that it has been an excellent company, as its earnings grow consistently in a linear fashion. However, Wal-Mart traded sideways for about 11 years before it moved up, and it was due to overvaluation. If an investor did not check valuations before buying shares in Wal-Mart, and got in on January 2000 (near the high point in the overvaluation period of the graph), he or she would have waited around 7 years for earnings to catch up! Notice that even when Wal-Mart reached fair valuation, it still took another 5 years before investors realized the opportunity with the strong upward price action to the earnings line.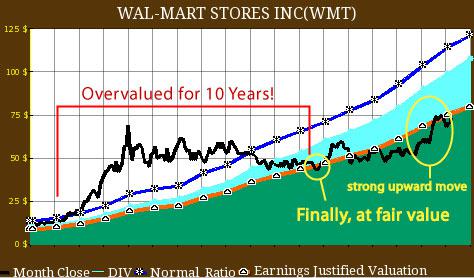 Wal-Mart 18-Year F.A.S.T. Graphs
Other than limiting the downside, picking a company at a proper valuation also maximizes the upside. Thus, we want to buy companies at undervalued, fairly valued, or slightly overvalued valuations. You might say, "Hey, that's almost all the cases!" Please let me clarify what I mean.
For the future, there can only be estimations, but what happened in the past are facts. If history gives a hint about the future, looking at how the price of a company is correlated with its earnings line and normal P/E line is very telling.
a) Undervalued Cyclical Company
In the graph below, we have Caterpillar (NYSE:CAT), the heavy-equipment manufacturer which has been paying an increasing dividend for 19 years. As a cyclical company, Caterpillar is generally more volatile, and so is its earnings. Therefore, it is essential to buy cyclical companies only when the black price line is submerged in the green area, under the orange earnings line.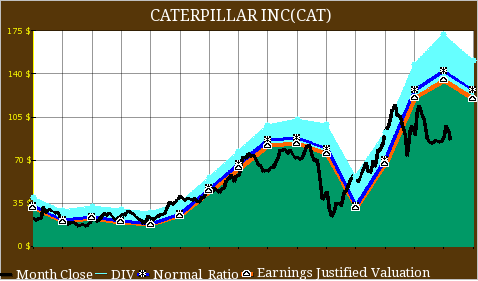 Caterpillar 15-Year F.A.S.T. Graphs
Notice that for the recent financial crisis, the price declined ahead of the earnings decline. Although Caterpillar is currently undervalued, its earnings is also falling. Since we don't know how long (or how low) the earnings is going to decline for, I would suggest investors who like Caterpillar to ease into their position.
b) Undervalued Company Sensitive to Adverse Economic Conditions
Mining companies' earnings are based on the commodity prices of the basic materials. In turn, that price depends on the demand of those materials. In unclear economic times, the demand decreases, and so does the company's earnings. The demand isn't going to increase overnight. The economy isn't going to recover in a day. But one sure thing is that the recovery will be a steady process. In this recovery process, the diversified natural resources company of BHP Billiton plc (NYSE:BBL) will slowly, but surely increase its earnings. In fact, the graph shows it's already happening.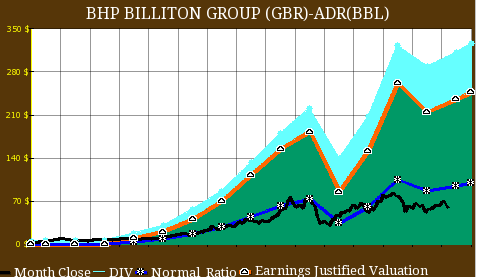 BHP Billiton 15-Year F.A.S.T. Graphs
From the graph, we see that BHP Billiton's price closely follows its normal P/E (blue) line instead of the earnings line. Anytime its price is under its normal P/E, the company is undervalued. Considering that BHP Billiton has a 10-year record of dividend growth, and it's currently undervalued, I would suggest for value dividend growth investors to take a closer look.
Undervalued cyclical companies and undervalued companies which are sensitive to economic conditions require the economy to recover and the demand to increase (i.e. commodity prices to increase) for the companies' earnings to increase / recover.
c) Fairly Valued Company Whose Price Highly Correlates to its Earnings
Ross Stores (NASDAQ:ROST) is an apparel retail store. It thrived in the financial crisis, so there's reason to believe it will continue to do well in the recovering economy. In addition, its price closely correlates to its normal P/E, which closely follows its earnings. Anytime the company's price touches or (even better) is under the blue normal P/E line, it is a possible good entry point. For further research, you can read my recent analysis on Ross Stores.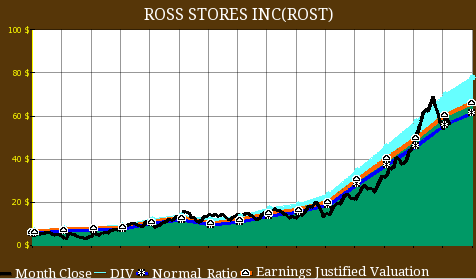 Ross Stores 15-Year F.A.S.T. Graphs
d) Company which Historically Commands a Higher Valuation
A strong brand with consistent returns, Coca-Cola historically commands a higher P/E ratio. Its 5-yr normalized P/E is a little over 18. To top it off, Coca-Cola is a dividend growth champion, having raised its dividend payment for over half a century! If it touches the earnings line possibly from a broad market pull back, I'll add to my position.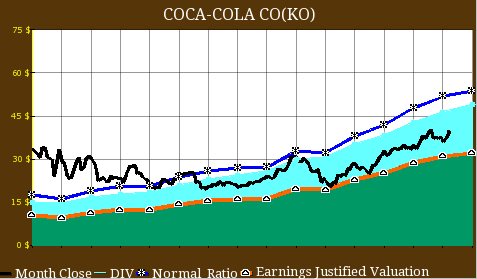 Coca-Cola 15-Year F.A.S.T. Graphs
In the short term, the market is in control of the price of a company. (Note that "short-term" was years in the Wal-Mart example.) However, ultimately, the price (black line) eventually follows the earnings (orange line). We don't know how long that would take when we buy an undervalued company. I like to think of my investment money as "gone" money. Once it is in an investment account, it doesn't come out.
Time Horizon
Let's say you bought Wal-Mart when it finally reached fair valuation in the end of 2007. From that point, it still took another 4 years for it to stop trading in a sideways channel. That said, as a dividend growth investor, the unrealized capital gain isn't as important as the dividend and its growth.
As investors, we should really be looking in the long term; that is, in the range of 5, 10, 15, 20... years. So, if you don't need the income to pay the bills right now, it's even better to stick with a great business for the long term, and reinvest the dividends, so that you'll have an even bigger nest egg to draw income from at retirement. As a value dividend growth investor, I'm training myself to be patient to enter a company at an undervalued price, and to hold on to the shares to allow its dividend to grow as its earnings steadily grows. By choosing an excellent business at a proper valuation, you limit the number of buys and sells you make, thereby also saving on transaction costs.
The longer time horizon you have, the more your growing dividends can compound. The growing dividends should help form a base for the price of your undervalued pick, and eventually the price of the security shall increase. The evidence for that is that we don't see ridiculous yields of something like 20% for a company.
Earnings Growth
What the dividend growth depends on is the earnings growth and the company's dividend policy. If the company is a dividend champion, having raised dividends for 25 years or more in a row, then it is more likely that it will continue to do so. As long as earnings continue to grow, there will be room for dividend growth. With dividend growth, price of the security shall also steadily rise.
Dividends contribute to Success
As illustrated above with the Wal-Mart example, a company's stock price can stay stagnant for an extended period of time even though the business is fundamentally strong. So, we cannot rely on the stock price for gains. With the sideways stock price, growing earnings, and with the tendency of paying increasing dividends annually, it is best to let double compounding do its magic. The first layer of compounding happens when the dividend is raised every year. The second layer happens when you decide to reinvest the dividends (whether via a dividend reinvestment program that occurs automatically, or manually reinvesting accumulated dividends yourself.) With the fact that the price eventually follows earnings, we can rest more easily even when we're in the red because we're still collecting the ever increasing paycheck.
For my dividend growth stock picks, other than the fact that they must be a solid company at proper valuations, and preferably have growing earnings, I like to have the following criteria for its dividend:
dividend yield of 3% or higher for starters
raised dividends for a minimum of 5 years,
have a minimum dividend growth rate in the past 5 years' increases
As an example for the last point, both Microsoft (NASDAQ:MSFT) and Raytheon (NYSE:RTN) are excellent companies which share their wealth with their shareholders. They both raised their dividends at least 10% for the past 5 years.
Past 5 Annual Dividend Growth Rates
| | | |
| --- | --- | --- |
| Year | * MSFT ($28.11 with 3.27%) | * RTN ($56.86 with 3.87%) |
| 1 | 10% | 10.71% |
| 2 | 18.18% | 22.58% |
| 3 | 23.08% | 13.16% |
| 4 | 25% | 16.28% |
| 5 | 15% | 10% |
* Prices and Initial Yield as of March 21, 2013 closing
With the starting yield higher than 3% and receiving growing dividend paychecks every year, I'll be beating inflation with flying colors!
Monitor
You did a great job picking up a company at a proper valuation. This company also increases its earnings and dividends year by year. But this doesn't mean it will continue like that forever. Periodically, maybe every quarter, check to make sure the company is still fundamentally sound.
References
Investment Tool: F.A.S.T. Graphs
David Fish maintains a list of Dividend Champions, Contenders, and Challengers. These companies have raised dividends for 25+, 10+, or 5+ years respectively.
Disclosure: I am long INTC, KO, MSFT, ROST, RTN. I wrote this article myself, and it expresses my own opinions. I am not receiving compensation for it (other than from Seeking Alpha). I have no business relationship with any company whose stock is mentioned in this article.