Thursday was apparently a good day for bulk shipping companies. Even as the stock market indexes dropped precariously, shipping companies posted rather significant single-digit to double-digit gains. Despite a limited amount of indicators in the industry, the pop was embraced across the sector in a meaningful fashion as noted in the chart below.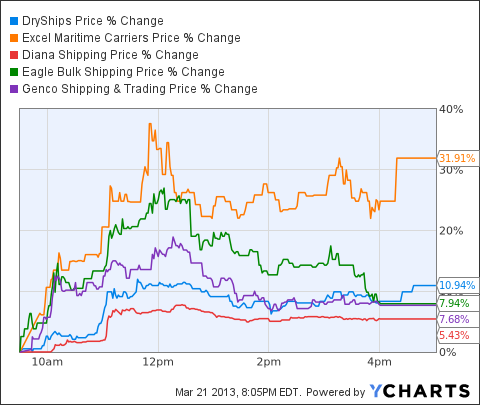 DRYS data by YCharts
Yet amidst the broad rally, there was little (if any) news that appeared to justify the rather sharp climbs these companies faced. As shown below, the Baltic Dry Index barely budged as one might have expected in light of such momentum. The index accounts for the price of moving raw materials by sea and is largely considered the greatest measure of the industry. Nevertheless, clearly the BDI had been gaining ground in recent weeks and the general trend may have helped lift the sentiment felt across the sector.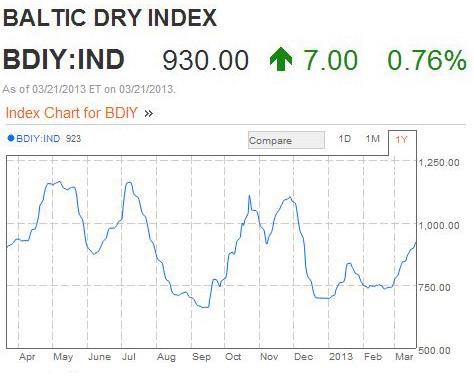 Undoubtedly, sentiment has largely been weak for many years since the sector crashed following the Great Recession. As industrial production dropped precipitously having followed a large boom in shipping demand, the perfect storm was conjured for the bulk shippers. Falling demand met a growing supply as the inevitable lag in construction time carried a glut of new ships into the worst of times for demand. Even as other industries have since experienced modest recoveries, bulk shipping has yet to recover as companies carrying burdensome debt loads became questionable at best. Fears of overvaluation permeated when the true value of the ships on the books became subject to speculation.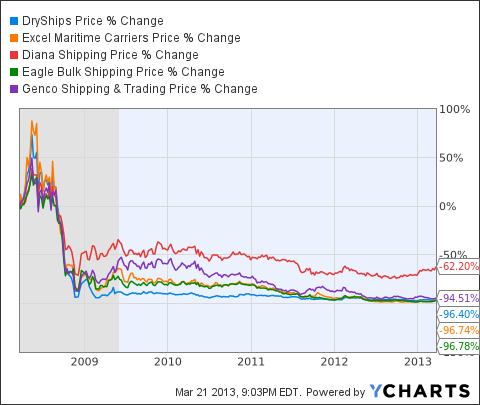 DRYS data by YCharts
Despite these ongoing woes, the recent signs of a nearing bottom are beginning to strike a hopeful chord. As noted in these two articles found here and here, there is progress in the newbuilding market as both demand and prices continue to hold their ground and progress higher. Apparently, even inflationary pressure appears to be artificially supporting the devastated asset values that have long been suspect.
Likewise, the news on the demand side of raw materials continues to sound modestly progressive looking forward. Just yesterday, a report out of China indicated that manufacturing is expanding at a faster rate than what was previously forecast. The rise in industrial production typically dictates an eventual rise in demand for raw materials and no country is more crucial to shipping demand than China. The South American grain trade also may have played a role in lifting investor sentiment as it helped to mildly lift shipping rates.
All said, however, the present rally in bulk shipping may have partly been due to the gradually increasing interest in the sector. As one of the most overlooked industries that missed out on the economic recovery, opportunity continues to beckon those looking for discounted valuations. As seen in the tables below, the sector as a whole continues to trade well below book value. All values were taken from Yahoo! Finance on March 21, 2013.
| Company Name | Market Cap. | Price/Sales Ratio | Price/Book Ratio | Current Ratio |
| --- | --- | --- | --- | --- |
| DryShips, Inc. (NASDAQ:DRYS) | $794.57 Million | 0.60 | 0.19 | n/a |
| Excel Maritime Carriers (NYSE:EXM) | $83.76 Million | 0.23 | 0.04 | 0.45 |
| Diana Shipping Inc.(NYSE:DSX) | $775.56 Million | 3.30 | 0.58 | 7.78 |
| Eagle Bulk Shipping, Inc.(NASDAQ:EGLE) | $53.78 Million | 0.23 | 0.08 | 1.34 |
| Genco Shipping & Trading Ltd. (NYSE:GNK) | $129.91 Million | 0.53 | 0.11 | 3.99 |
As bulk shipping companies continue to play the waiting game for the industry to recover, the clear winners in the space remain those with access to capital and the strongest balance sheet. Diana Shipping comes in the strongest with a healthy current ratio of 7.78 and enough liquidity to endure the sluggish market. With every listed company trading below book value, it's clear that a heavy discount from investors continues to press hard against those companies trading within the industry. Apart from Diana Shipping, nearly every other company remains practically priced for bankruptcy.
Even with little news providing justification for the large pop on Thursday, the event shapes an intriguing mood going forward. It has long been assumed that shipping stocks have been priced on the market near their bottom lows for some time. As a result, the growing interest across the board gives rise to the possibility of an attractive entry point. It's clear that the industry isn't out of the dark just yet as shipping rates remain far too low for enduring profitability. But the light appears to be right around the corner, and for some that are more speculative that might be reason enough to begin acquiring now.
Disclosure: I am long DRYS. I wrote this article myself, and it expresses my own opinions. I am not receiving compensation for it (other than from Seeking Alpha). I have no business relationship with any company whose stock is mentioned in this article.