A few days ago Samsung (OTC:SSNLF) launched its new S4 smartphone device to a generally receptive audience. Most liked the new features attached to the phone, but some thought these new features had no real value and some were gimmicky. They were not impressed. Regardless, the true measure of whether this device is a success will be determined by the sales numbers released a few months down the road.
Competition in this space is fierce to say the least, with many players, differentiated market segments, and shorter and shorter product life cycles. Any company that doesn't keep up with the others with its own series of product introductions can fall behind and very quickly. Look what happened to BlackBerry (BBRY) and Nokia (NYSE:NOK). These two companies were leading edge and darlings of the industry just a few years ago. Now both are struggling to stay relevant and losing large market share to the new leaders. Both are now at the virtual bottom looking up.
This article will look at the state of the market, the level of competition amongst the major players, the relative competitive advantages each may possess, strategic alliances formed, and seek to determine which is in the best position presently to dominate the smartphone market moving forward. The article will also try to determine whether there are any critical factors that may be seized upon to improve upon a company's position in this space.
Unimportance of Apps
The belief that the number of Apps that smartphone has will fundamentally determine its success in the market is a false one. This is one argument that is trotted out when one discusses BlackBerry and its new devices. The argument is that there is no way that it can succeed since it doesn't have enough apps to compete effectively with the other major players. This assumes that apps are the only important thing to consider when buying a device, but it fails to take into account other factors that may be more important in determining market acceptance of the device, such as battery life, functionality and ease of use, user privacy issues and data security.
Surveys have been taken with US consumers where they are asked what the major reasons were when one purchased a smartphone, and it was found that only certain basic features were valued and everything else was deemed unnecessary or gimmicky. The main reason one buys a phone is to communicate, either orally, through text messaging or by email. In fact the top three things US consumers do with their smartphones were text messaging/SMS (86%), email (75%), and social networking (63%). With respect to consumers in general (US and non US) it was found that a wide choice of applications was not a top selection criteria for buying a mobile device. It was important for only 2% of US consumers and it went as high as 21% for people from China. On average a wide choice of apps was important for 15% of those people asked. I think we can conclude that the lack of apps on the one hand or a proliferation of apps on the other is not a critical factor in determining success in the marketplace.
Phone Features are a Marketing Gimmick
The iteration of a new phone comes with new features attached, some quite interesting and wanted and some not so. Last week's launch of Samsung`s S4 device had features that some liked and some did not. Some liked the larger screen, some didn't. Others will wonder what they will do with a device that speaks back to them in eight languages. How much value does this particular feature present and to how many people? Let's be clear that a feature that improves the function of the phone (faster microprocessor, clearer picture, etc.) and makes it easier to use is a valued feature that will surely be reflected in the price of the device. There are however a proliferation of features that don't provide any value and these are marketing gimmicks.
New smartphone features are part of the game. Companies need to come out with something new, otherwise there is the fear that the new device will flop. In other words you need to give the consumer reasons to upgrade or buy. Also, this is another way that companies compete with each other, trying to outdo each other on each successive launch. You can be sure that when Apple (NASDAQ:AAPL) launches its new version iPhone it will have its own set of new features, some the same and probably some with new twists of their own. The gist of the argument is that new features whether desired or not will be included in the device as a way of marketing to the public. How does the saying go: "Just throw everything against the wall, and hope something sticks." The hope is that one or more undetermined feature will catch fire with the public and sales will take off.
BlackBerry is a Niche Player
Stories of this company's demise are premature, and based on positive comments on its new QNX operating system and the preliminary sales results of the Z10 in various parts of the globe shows that it is making a comeback. How far it will comeback is the question, but it's definitely not going away just yet. The recent announcement that a corporate client committed to the purchase of 1 million devices only adds to the positive news.
The new QNX operating system has received rave reviews, resuscitated the company, and provided the company the opportunity to differentiate itself in a meaningful way from the other players in this crowded space. The software has in fact allowed the company to refocus on its core competency, that is system security, through its microkernel based operating system, and allowed the company to alter its device from a pure communication device to a smartphone mobile computing hybrid device. As a result it looks like it is in a good position to reestablish its prominent position in the corporate marketplace where system and data security is a top level priority. The following excerpt gives a good idea as to where the company sees this part of the market is heading:
As smartphones pack stronger processors and become more powerful, the main use of mobile devices will no longer be to make phone calls. BlackBerry is envisioning a future of mobile computing, where distinguishing between computers and smartphones becomes increasingly difficult. From anywhere around the world, in the portability of your pocket, a full-blown computer will be at your access. For this to become a reality, security becomes an issue of vital importance.
The short-term future of the company seems assured. An upgrade of the stock was just issued by Morgan Stanley, and it is expected that the company will have a successful launch of its Z10 device this coming Friday.
The only thing working against the company presently is its relative size versus its competitors and the lack of a strategic partner. It is a fraction of the size of Apple and though it is in a fairly solvent position it doesn't have the financial wherewithal to compete with the big boys for a protracted period of time. The other players in the market, along with Samsung, are hitching a ride with Google (NASDAQ:GOOG) and preserving their resources by adopting and utilizing the Android OS. In order to protect and bolster its financial position Nokia has entered into a strategic alliance with Microsoft (NASDAQ:MSFT), where it has dropped its own Symbian OS and adopted Microsoft's new Windows 8 OS in all of its devices moving forward. In exchange for this it is receiving royalty payments from Microsoft for this privilege.
BlackBerry without a strategic partner and operating in its own little ecosystem is in a potentially vulnerable position, and may, as a result, be a perfect takeover candidate.
Apple Staying Put at High End?
The bloom is off the rose for Apple. The precipitous fall from its High of $705 to $452 today is nothing short of incredible. At this price and a P/E of just over 10 makes it a tempting buy, doesn't it? However, the lesson learned here is that if you miss Wall Street estimates by just a little, you will be punished, and punished severely. Samsung is now the market leader in unit sales and has widened its margin with Apple.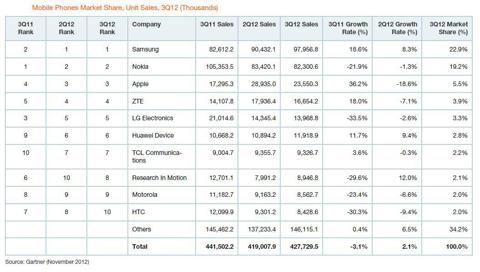 It is unclear how Apple will respond to Samsung's leadership. The general perception is that Apple at present is very reluctant to compete in all segments of the smartphone market, but would prefer to stay at the high end of the market where it has a leadership position and where the margins are much larger. The company is also concerned that competing in the lower segments of the market may injure its image as a premium brand. However, it is generally agreed that the rate of growth is expected to be higher in the lower segments. The high end of the market is considered more saturated and the rate of growth is expected to fall and plateau.
So Apple has a decision to make, and at present there is nothing definitive coming from the company as to how it will proceed. Its position in the high end of the market seems secure and there seems to be a high degree of brand loyalty in its customer base. Regardless of what the company will do next, there is not that much concern that its position in the high end of the market is threatened in any way.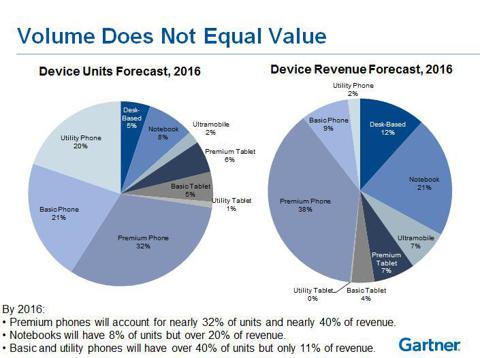 Microsoft/Nokia Strategic Alliance
Nokia was the leader in the mobile phone market just a few years ago, but due to its slow response to the changing landscape, it put itself into a difficult position. Added to this Microsoft's desire to have a larger presence in the mobile hardware space, and an opportunity was created. The crisis faced by one firm presented itself as an opportunity for the other, and you have the strategic alliance formed between Nokia and Microsoft as a result.
As a result of plummeting sales Nokia's financial condition was deteriorating severely, and in order to stop the bleeding and improve its cash position, a strategic alliance between itself and Microsoft was formed. The company decided to scrap its Symbian OS in favor of Microsoft's new Windows 8 OS. In exchange for this OS switch a royalty is to be paid from Microsoft to Nokia for the privilege.
On the face of it, this alliance looks well positioned to challenge Samsung for market share. Until recently Nokia has had a long history of success and has an extensive manufacturing and distribution network worldwide. Combine this with Microsoft's support on the software side and financial backing and you have a formidable foe.
This relationship was recently formed and the results up to this point are modest, but hopeful. Preliminary estimates indicate that the Windows 8 OS is present in 80% of Nokia devices recently sold. Recent results also indicate a positive reception of the market for Nokia's line of more affordable smartphones (the ASHA series and Lumia series on the lower end. Lumia series on the higher end are expensive.) Fiscal 2012 results from Gartner indicate that Nokia has fallen to second place in terms of unit sales, capturing 19.1% of the market. As well, Microsoft has made modest gains in terms of operating systems growth, capturing 3% market share of worldwide smartphone sales to end users by operating system in 4Q12.
The market demand for smartphones is expected to be higher in the foreseeable future in the developing markets. However this market is more price sensitive. The use of carrier subsidies, which is commonplace in the developed world but not the developing world, will force consumers to search for devices that are more affordable. This will serve both Nokia and Samsung well since both have a broad product line with devices available at different price points. This will not serve Apple or BlackBerry well since both do not have more affordable devices to sell. It seems that the battle will be on between Nokia, Samsung and the other smaller players competing in this marketplace (eg. ZTE, Huawei, LG, HTC, etc.).
It should be mentioned here that Microsoft is in an enviable position in the smartphone space since the Android OS used by most of the smartphone players, including Samsung, is part of Microsoft's intellectual property portfolio, not Google's. This allows it the right to collect a royalty for every device sold using the Android OS. This amounts to a huge ongoing royalty stream for Microsoft . As an example, with respect to the worldwide smartphone sales by operating system, the Android OS captured 69.7% of the 4Q12 market share. This is huge. The following excerpt involving just Samsung alone, highlights the lucrative nature of the royalty stream:
In September of 2011 Samsung settled with Microsoft and many analysts say Samsung will pay Microsoft hundreds of millions of dollars in Android licensing fees:
REDMOND, Wash - Sept. 28, 2011 - Microsoft announced today that it has signed a definitive agreement with Samsung Electronics Co. Ltd., to cross-license the patent portfolios of both companies, providing broad coverage for each company's products. Under the terms of the agreement, Microsoft will receive royalties for Samsung's mobile phones and tablets running the Android mobile platform. In addition, the companies agreed to cooperate in the development and marketing of Windows Phone.
It is rumored that Samsung will pay Microsoft between $10 and $15 for each smartphone or tablet it sells. In 2012 Samsung was the leader in mobile phone sales, capturing 22% of the market, or 384,632,200 units.
This puts into question the real relationship between itself and Nokia, and it has been suggested that Microsoft may have ulterior motives that may not be in the interest of Nokia moving forward. I think it's just hedging its bets. On the one hand it continues to collect on its royalty stream, and on the other hand, it is promoting its own Windows 8 operating system in Nokia's new devices, thereby creating another income stream for itself.
A reading of Jacob Steinberg's article suggests that Microsoft may not be fully committed to Nokia in this strategic alliance. A reading of the annual report reveals that a lot of leeway is offered to Microsoft and how it wishes to behave in this partnership. Microsoft is not prevented from behaving in such a way where it advances its strategic interest even if it proves detrimental to Nokia and the alliance. I'm not a lawyer, but the first question I would ask is whether this agreement is a standard or boilerplate arrangement where both parties are allowed the freedom to act in its own self interest even if it proves detrimental to the alliance as a whole. I find it difficult that a company would enter an arrangement where everything is heavily weighed against it, and secondly I can't believe that this alliance was entered into without each party being fully committed to it. Why bother otherwise. Whether this is the case remains to be seen and the future will bear this out.
Samsung is in the Catbird's Seat
Samsung sits on top of the mobile phone market capturing 22% market share for 2012. It just recently launched its Galaxy S4 device to pretty good reviews. Sales figures a few months down the road will determine whether the launch was a success or not. Many believe that Apple will be hard pressed to outdo Samsung when it launches its newer version iPhone.
Samsung is in an advantageous position at the present moment and I believe this advantage will carry itself forward into the foreseeable future. The company is well positioned to take advantage of the faster growing emerging markets since it has available a line of devices at every price point (19 different mobile phones and 28 different smartphones). This cannot be said for either Apple or BlackBerry who don't have more affordable devices to sell into this space. This is more critical in the developing market where carrier subsidies are generally not available and price becomes an issue. At the moment it seems that BlackBerry is in a better position to survive if it stays in the market niche where it has a competitive advantage. Apple on the other hand, though is in great financial shape, has not made a decision one way or another whether it will enter into the lower end of the market. Lower margins and concern with its brand image has given it pause. But this doesn't mean that domination in the more highly saturated high end market is not a viable strategy moving forward.
The only competitor with any scale to compete effectively with Samsung is Nokia. Its new line of more affordable phones (ASHA series and the lower end of the Lumia series) and its alliance with Microsoft suggests that Samsung will have a viable competitor on its hands.
Another possible issue for Samsung is its dominance with the Android OS and its relationship with Google. Samsung's market share in Android based smartphones has reached 46% and keeps increasing. This reliance on an OS that it doesn't own may mean putting itself in a more vulnerable position with Google, particularly if Google decides to be a competitor and strongly promote its own line of Motorola phones.
In order to address this growing vulnerability Samsung has decided to transform its open source LiMo project into a full smartphone OS called Tizen. It also announced that it will introduce the Tizen OS into its devices in due course. The aim here is to create a more self contained ecosystem for its mobile OS. Samsung seems to be following the lead of both Apple and BlackBerry. Reducing its dependence on the Android OS would in turn reduce possible threats from Google and reduce royalty payments to Microsoft. This would mean more market fragmentation but also reduce the influence of two major players in this space. This is considered a strategic move, and if this transformation succeeds then the dethronement of the Android OS would be the probable outcome. This would give Samsung more freedom of movement.
The bottom line is that Samsung is on a roll and has all the momentum. Its sales growth over the last couple of years is very impressive. It is well positioned in the more rapidly growing developing markets and has a product line that addresses all price points. It has performed well along the dimensions of cost and selection, two very basic metrics. Outside of Nokia, no other major player is willing or capable of competing in this market. The question is out as to whether Nokia can present a credible challenge to Samsung moving forward. Only time will tell.
As a final note the research community is very positive on the company. Of the 51 analysts following the stock, 50 have issued a buy or outperform recommendation on the stock. Only one had an underperform rating. (Reuters)
Disclosure: I have no positions in any stocks mentioned, and no plans to initiate any positions within the next 72 hours. I wrote this article myself, and it expresses my own opinions. I am not receiving compensation for it (other than from Seeking Alpha). I have no business relationship with any company whose stock is mentioned in this article.