The railroad industry has been in a secular bull market for more than a decade, having meaningfully outperformed the U.S. economy. While the U.S. stock market has essentially traded in a range over the past 15 years, the shares of railroad companies have performed incredibly well, having provided investors with gains of several hundred percent. Railroad companies have been able to meaningfully and consistently grow their sales and earnings, while maintaining their relatively high margins.
The outperformance of railroad companies relative to the U.S. economy is illustrated by the following three charts. The first is of railway traffic since the beginning of the 21st century. The second is rail cargo volume since 2006. The third is the U.S. GDP.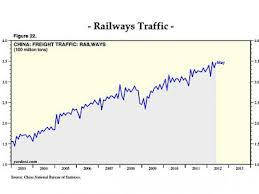 Click to enlarge images.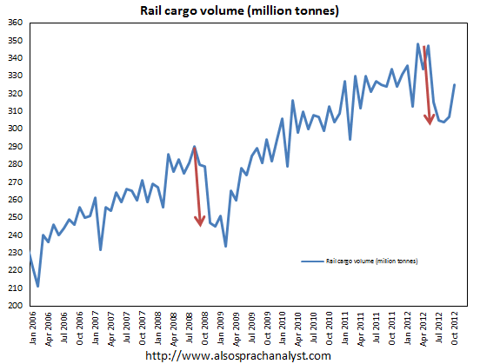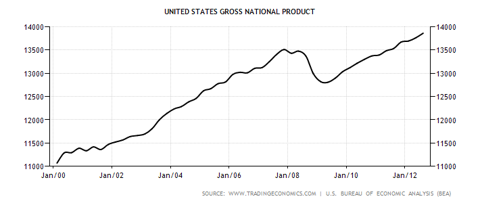 While rail traffic has more than doubled since the beginning of the 21st century and rail cargo volume is up over 50% since just 2006, the U.S. GDP is up just over 25%. The causes of a weak U.S. economy are relatively well known among investors. Briefly, they include: 1) over-indebtedness, 2) increased overseas competition due to globalization, 3) rising consumer and producer prices, and 4) consistently high unemployment. How can it be that the railroad industry has been able to overcome these economic headwinds?
There are two primary reasons that explain the secular bull market in the railroad industry. First, the railroad companies operate as an oligopoly that has a high barrier to entry. Second, railroad companies are more efficient than their trucking counterparts when it comes to labor and energy costs, both of which have been rising.
1. The Railroad Industry Is an Oligopoly
By claiming that the railroad industry is an oligopoly I mean that there are only a few railroad companies, and that there are high barriers to entry in the railroad industry. It would take billions of dollars and several years -- if not more than a decade -- of construction in order for somebody to create an entirely new railroad network that could compete with the existing companies. As a result, if a company wishes to ship something from one point to another in North America it usually only has one or two rail companies to choose from.
There are basically six major railroad companies that operate in North America that are publicly traded: Union Pacific (NYSE:UNP), CSX (NYSE:CSX), Norfolk Southern (NYSE:NSC), Kansas City Southern (NYSE:KSU), Canadian National (NYSE:CNI), and Canadian Pacific (NYSE:CP). In addition there are two other companies: Burlington Northern Santa Fe, which is owned by Berkshire Hathaway (BRK.A, BRK.B), and Ferrocarril Mexicano that is privately owned. The following map illustrates how these companies' rail networks are laid out throughout North America: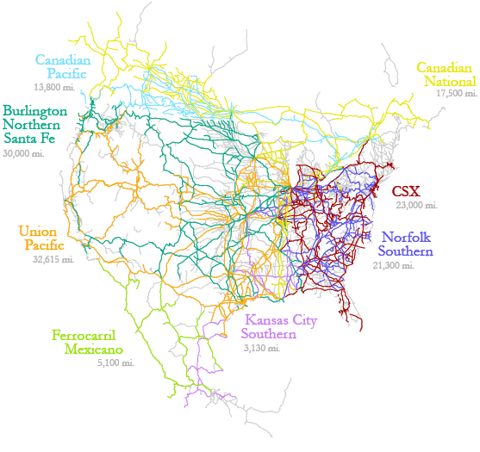 As this map illustrates, the eight railroad companies each have their own regions that are limited to two or three companies. Chicago and the immediate surrounding area is a central point for pretty much all of these companies, but other than that there are the following basic divisions:
The West (west of Chicago) is controlled by Union Pacific and Burlington Northern.
The East (east of Chicago) is controlled by CSX and Norfolk Southern.
The North (Canada) is controlled by Canadian National and Canadian Pacific, although Burlington Northern and CSX have some Canadian exposure in the northwest and northeast, respectively.
The South (Mexico) is controlled by Kansas City Southern and Ferrocarril Mexicano.
Basically there is a series of duopolies, although Union Pacific and Canadian National have exclusive coverage of several regions. Given that the railroad companies have an oligopoly they do not face the burdens that come with fierce competition, which include price wars, the perpetual need to outperform one's competitors technologies, and high marketing costs. Consequently railroad companies have been able to continually raise their prices to keep up with inflation while keeping their overhead costs low.
2. Railroads Are Efficient
Railroad companies move thousands of tons of goods with just one freight train that requires very little labor or fuel. As labor and fuel costs have risen, the advantages that railroad companies enjoy over trucking companies have become more pronounced. Let us look at labor and fuel separately.
The following chart illustrates the rising cost of employing somebody in the United States (orange line) coupled with this trend's impact on the size of the labor force (blue line):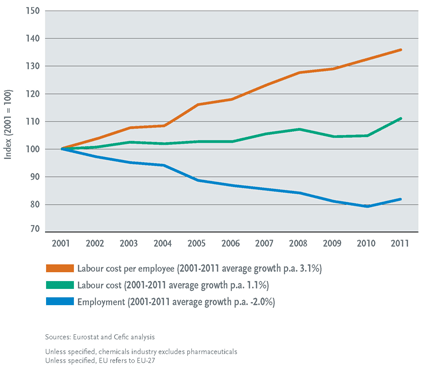 With this trend in mind, consider the difference in the labor intensiveness between the trucking industry and the rail industry. One truck requires one driver, while one freight train only requires one engineer to carry at least 100 times as many goods. This is an enormous advantage even if railroad companies choose to employ extra engineers as backups on a single freight train. This advantage has improved over the past several years as the costs of employing people have increased as a result of a rising minimum wage, lower interest rates leading to higher pension costs, and increased regulatory compliance costs. Additionally, Obamacare has recently become law and this will increase the healthcare liabilities of large companies, ultimately exacerbating the aforementioned trend.
This efficiency in labor intensiveness is compounded by the railroad industry's fuel efficiency. One estimate is that a railroad can move a ton of goods 500 miles on just one gallon of diesel fuel. Railroad companies have always had this advantage over their competitors in the trucking industry. However, this advantage is far more significant given the rise in fuel prices over the last several years.
Since the bull market in oil began in 2001 wholesale fuel prices have more than tripled. This price change is an enormous burden for trucking companies that have far smaller margins than rail companies. Furthermore, trucking companies have to worry about a potential spike in fuel prices due to a black swan event such as a major storm or unrest in the Middle East, while railroad companies can absorb such a price spike.
According to an article on the trucking industry (author not mentioned), trucking companies charge their customers a surcharge for fuel costs. If there is a spike in fuel prices then this hits trucking companies' customers directly and they may have to slow their business, which in turn slows the businesses of the trucking companies. Those trucking companies that choose to hedge their fuel costs in the futures or options market have the added expense of purchasing hedges, and they could lose money if these hedges go against them. So not only is the railroad industry more fuel efficient than the trucking industry, but its major players do not have to make business decisions based upon their predictions of the short term direction of fuel prices.
Conclusion
Given that the railroad industry operates as an oligopoly, and given that railroad companies are benefiting at the expense of the headwinds of higher labor and fuel costs that plague the trucking industry, it should come as little surprise that the railroad industry has performed so well. It is likely to continue performing well. Consequently investors should consider purchasing shares in one or more of the six major publicly traded railroad companies.
In choosing those railroad companies to invest in investors must consider their valuations, as some of them are rather inexpensive, while others are seemingly overpriced. The following table displays the six major publicly traded railroad companies along with their trailing P/E ratios and their price to book ratios.
| | | |
| --- | --- | --- |
| | Trailing P/E | Price to Book Ratio |
| CNI | 16.6 | 3.83 |
| CNP | 32.1 | 4.4 |
| NSC | 14.2 | 2.45 |
| KSU | 31.8 | 3.87 |
| UNP | 16.8 | 3.3 |
| CSX | 13.6 | 2.76 |
Clearly, NSC and CSX have the best values currently of the group. Yet before investors settle on these companies they should consider the reasons leading to their relative undervaluation. Both companies have significant exposure to coal shipments, which have languished as of late because of stricter environmental regulations in the United States. Investors who believe that this is only temporary should view the relative undervaluation of CSX and NSC as buying opportunities.
Investors who worry that coal shipments will continue to be weak should consider paying a premium for UNP or CNI (in fact, CNI, being a Canadian company, actually saw a meaningful increase in coal shipments in 2012 from 2011). While the best performing rail stocks as of late have been KSU and CP, their valuations are clearly stretched, and despite the fact that investors are optimistic about KSU's high growth potential and the success of CP's turnaround strategy, I would avoid these companies for now.
Ultimately, I believe that investors will get a better opportunity to purchase shares in most, if not all, of these stocks given that stocks are currently near record high prices and generally overbought. However, the railroad stocks should be at the top of any investor's long-term buy list, and any meaningful weakness should be taken advantage of.
Disclosure: I have no positions in any stocks mentioned, and no plans to initiate any positions within the next 72 hours. I wrote this article myself, and it expresses my own opinions. I am not receiving compensation for it (other than from Seeking Alpha). I have no business relationship with any company whose stock is mentioned in this article.