Eli Lilly (NYSE:LLY) has been one of the outperformers of the S&P 500, rallying 13.16%, 4% more than the SPY. Even though there are several pharmaceutical companies offering dividends of 3%, LLY seems to have the greatest potential for capital appreciation in the long run for the following reasons:
What does Eli Lilly really do?
This company has great presence in diabetes-control drug manufacturing. Recent studies have suggested that the peak to develop diabetes has increased to 60 years old. Taking into account that the US is at the top of the list in obesity (one of the main causes for diabetes) and the expectancy of life has increased due to technology and medical advances, it provides an increasing demand for this company's drugs.
R&D
New drugs are in phase III (Empagliflozin, Dulaglutide, et. al - please note, Empagliflozin is actually a member of the SGLT2 inhibitor class of drugs being investigated for the reduction of blood glucose levels in adults with type 2 diabetes) to improve control over the disease. As it was mentioned before, the potential market is ever increasing for these drugs since life expectancy is increasing and obesity indexes have not diminished significantly.
Baricitinib Ra is an exciting molecule currently in phase III that achieved Milestone. Its purpose is to target rheumatoid arthritis which is an auto-immune disease that impacts mainly middle age people. This disease requires a lifelong treatment and may lead to joint surgery. Several studies propose that the presence of this disease is in about 1% of the Latino population. If LLY can come up with a solution for this, it will be a profitable business.
Overall, there are several drugs in Phase III to tackle diabetes, lupus, depression, Alzheimer's and tumors. The potential for marketing of these drugs will generate revenue as people are living longer.
Fundamental Analysis
| | | | | |
| --- | --- | --- | --- | --- |
| Underlying | P/E | Performance YTD | ROA | Dividend |
| SPY | 14 | 9.81% | - | 2.04% |
| LLY | 15.11 | 13.16% | 12.01% | 3.54% |
| PFE | 22.45 | 13.80% | 5.09% | 3.39% |
| BMY | 34.67 | 23.67% | 7.26% | 3.51% |
| MRK | 22.06 | 20.68% | 5.96% | 3.90% |
| GSK | 16.75 | 7.19% | 11.49% | 6.01% |
| AZN | 9.27 | 1.76% | 11.90% | 8.23% |
Only three companies are trading at a low P/E (LLY, GSK, AZN). However, LLY is outperforming the other two this year. One may argue that GSK might be a better choice than LLY because of the higher dividend and similar P/E and ROA. However, GSK has enormous amounts of debt that LLY does not have. When compared to AZN, LLY has outperformed it by almost 12% in capital appreciation which is more than the dividend AZN currently offers.
The first four companies (LLY, PFE, BMY, MRK) have similar debt and dividends. However, LLY leads the rest in ROA by almost double and its current P/E is half of them.
The rest of the fundamentals in LLY seem stable. The dividends have been growing for the past 10 years. In addition, the company has more than $5 billion in cash with a b/s of 12.91. It is also a low volatility stock with a beta of 0.70. It is currently on a profit margin of 18.09% and gross margin of 78.78%. Stocks with low beta are considered defensive and they are suited for long term investors plus a hefty dividend is ideal in tax-sheltered accounts.
In conclusion from fundamental analysis, LLY is still trading at a reasonable P/E. It still has room for capital appreciation, and the dividend it offers is comparable to other major pharmaceuticals. However, the debt it has is well below other companies.
Technical Analysis
From the technical point of view, LLY is currently trading just above the 20 DMA, and a long position may be considered.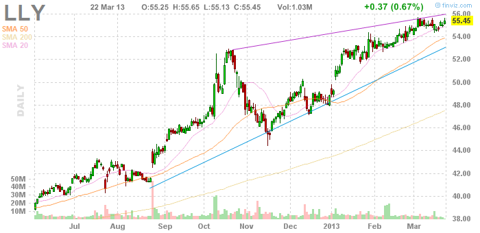 Overall conclusion
In conclusion, the future of LLY seems sharp since it is developing new drugs to have a greater presence in drug-manufacturing. The diabetes R&D is currently at phase III, and since people are living longer and obesity indexes are increasing the potential for profit is stable at least. It is currently trading at a reasonable P/E, and offers a good dividend suitable for intermediate and long-term investors.
Disclosure: I am long LLY. I wrote this article myself, and it expresses my own opinions. I am not receiving compensation for it (other than from Seeking Alpha). I have no business relationship with any company whose stock is mentioned in this article.