The National Weather Service is warning residents in the Fargo area to "Get Ready for a Big One", according to a recent Associated Press article. The reason?
"Chances of a top-five flood increased with near-record cold temperatures that have delayed the snowmelt, which isn't expected to begin until the first week of April, NWS officials said. The chances of major rainfall totals also increase around that time.
"That's a volatile mix," said Greg Gust, NWS meteorologist. He added, "The bottom line is that we have a way above normal snowpack sitting out there right now.""
Bakken drilling activity is along the Missouri River, not the Red River, but the delayed snowmelt and probable major rainfall will affect the Missouri too. This is certainly worth keeping in mind when considering investments in Bakken producers, as inclement weather and flooding has had a negative impact on production growth in the past.
The companies on which it could have the greatest impact are likely the ones that are projecting the highest production growth in 2013 and that have properties that are situated along the river. The two that seem most likely to be affected are Kodiak (NYSE:KOG), which is expected to double production this year, and Triangle (NYSEMKT:TPLM), which is expected to potentially triple production this year.
You can see Kodiak's acreage position below, which is primarily situated along the river, particularly its core Dunn, Koala and Polar fields.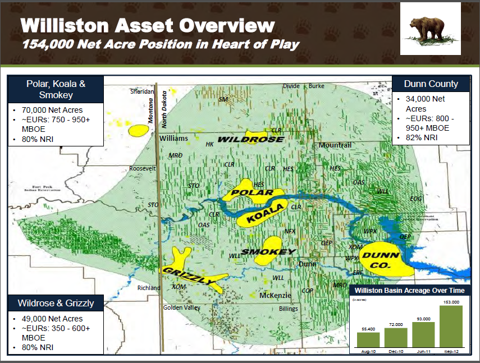 And below you can see Triangle's core acreage position, which is also surrounding the river.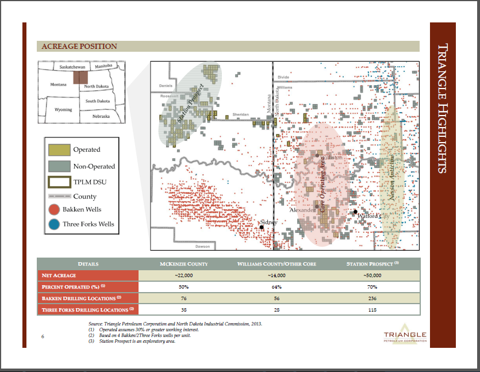 The investment implications are that, if there is flooding, which seems more likely given the reports from the National Weather Service, growth may be more difficult to achieve for these Bakken operators, and that their high projected growth rates mean that their stocks might be disproportionately affected compared to larger, less rapidly growing Bakken-focused companies like Continental (NYSE:CLR) or Whiting (NYSE:WLL). Also, larger companies like EOG (NYSE:EOG) with a more diverse asset base may be able to sustain growth even if there is severe flooding by focusing capital elsewhere, such as the Eagle Ford.
An alternative to holding Bakken growth stocks like KOG and TPLM could be investing in other, rapidly growing oil and gas companies focused on other basins, where rates of return are at least as high as the Bakken and where similarly high production growth rates may be achievable. One such company that I've written about recently is Austex Oil (OTCQX:ATXDY), which recently doubled its proved reserve value and trades for approximately 1/3 the value of its proved reserves. And the IRR that it is achieving from drilling is top decile, higher than average Bakken drilling IRRs. Austex is smaller than the other companies mentioned, which incurs certain investment risks, albeit no North Dakota flooding risk.
In summary, the National Weather Service is describing conditions that could lead to flooding across North Dakota. Such flooding could negatively impact Bakken production, and would be most likely to negatively impact high-growth Bakken companies situated in the vicinity of the Missouri River / Lake Sakakawea. Before flood risk gets priced into these stocks, it may be worth seeking alternatives, both among other Bakken companies and similar companies in other resource plays, particularly in companies trading at a discount to their proved reserve value like Austex.
Disclosure: I am long OTCQX:ATXDY. I wrote this article myself, and it expresses my own opinions. I am not receiving compensation for it (other than from Seeking Alpha). I have no business relationship with any company whose stock is mentioned in this article.
Additional disclosure: I am also short a small number of KOG shares