Back on February 27, 2013, I wrote an article titled "Green Mountain Coffee (NASDAQ:GMCR), SodaStream (NASDAQ:SODA) Enjoy Their P/E." The article outlined several key stochastic measures, which prove how the two companies' price to earnings multiples always seem to gravitate back together, with a 20 P/E being the ideal earnings multiple for the two stocks as outlined by the companies' respective plethora of analysts. Also within the article, I describe and named some 47 different institutions and hedge funds that own both stocks and at various times throughout the year. The key takeaway from the article was recognizing that, indeed, the two stocks do trade together and, indeed, with this knowledge an investor could benefit greatly.
What usually happens with shares of GMCR and SODA is that one stock's multiple tends to extend past the other stock's multiple, thus increasing the share price ahead of the other stock. Keep in mind that over the last 12 months if not more, the multiples and stock prices seem to always come back together. So why are we discussing this again? Well, because most recently shares of GMCR and its respective multiple have surpassed that of SODA's, indicating that a trading opportunity may take place.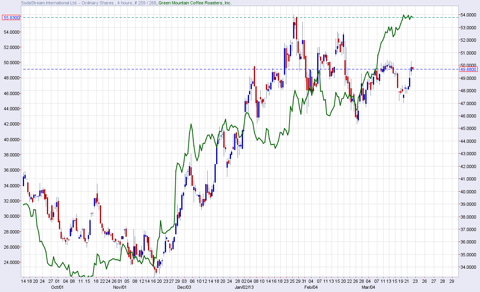 Personally, I love trading these two stocks with this knowledge. It makes for what may otherwise be seen as low risk/high reward trading because the anomaly of the trading patterns between these two stocks is so highly correlated and precise. Many times the two stocks will move in tandem, especially after GMCR reports earnings. A miss and both stocks fall, a beat and both stocks rise sharply as they did when GMCR reported its Q4 2012 results back on November 28, 2012. Other times, one stock will outpace the other and that is usually where the best trading opportunity will be found. With GMCR now sporting a healthy P/E of roughly 20 times FY13 earnings and SODA sporting a P/E of roughly 17 times FY13 earnings it could very well be trading time. Since breaching $50 a share back in February, I sold out of my holdings in GMCR, which were purchased during the post-earnings pullback at roughly $43 a share. Since then I have moved to short-term trading of GMCR shares because fair value was approaching rapidly by my estimates, which assign a fair value on shares of GMCR around $55 or roughly 20 times FY13 earnings.
Shares of GMCR have recently soared from headline catalysts such as the recent raised share price target at Lazard, which moved from $58 to $67 a share. Additionally, GMCR recently announced a partnership deal with Unilever North America. Green Mountain Coffee Roasters, Inc. announced the companies have reached an agreement to offer Lipton hot and iced teas in K-Cup and Vue packs for Keurig single-cup brewing systems. The new Lipton K-Cup and Vue packs will be filled with Lipton teas to create hot and iced tea with the Keurig brewer. Lastly, shares of GMCR have benefited from continued product launches. Most recently, the company announced the launch of the new Vue V500 brewing system. The company noted in its press release concerning this new brewer, that by offering a smaller footprint and even lower price point in the series (SRP of $169.99), the new Vue V500 combines Keurig single serve simplicity with the customizable features of the Vue series to reach an even broader range of consumers. Capital Ladder Advisory Group has tracked initial orders for the new V500 and Snapple Iced Tea K-cups to their launches in Bed Bath and Beyond (NASDAQ:BBBY) stores and at bedbathandbeyond.com.
Now, while shares of GMCR recently caught up to and surpassed the share price of SODA, I have been awaiting the next big trading opportunity. I have recently found comfort in shorting shares of GMCR intraday based on the aforementioned reliability of the trend in place over the last year.
Based on earlier trades in 2013, I have built a solid core position in shares of SODA, but continue to trade around this core position, effectively lowering my cost basis. Shares of SODA have languished between $45.90 and $50.20 since releasing Q4 2012 results on February 20, 2013. Having recently released news of a manufacturing partnership with Cott Corporation (NYSE:COT), near-term catalysts are few and far between for shares of SODA as investors await its Q1 quarterly earnings release. One near- to mid-term catalyst could be an announcement of expansion efforts with regards to India or Mexico, but the company may hold back on such information for the Q1 2013 earnings Conference Call with analysts. This is anybody's guess really, however something did light a spark under shares of SODA on March 21, around 12:45 pm est. The spark in SODA had a predictable adverse affect on shares of GMCR at nearly the exact same time as shares of GMCR began to tumble in the shadow of SODA soaring nearly 3% on no news headlines intraday. Volume in both stocks also dramatically increased. Up until 12:45 p.m., SODA had only traded 99,000 shares roughly, within an hour, that volume more than doubled; GMCR volume grew by nearly 60% within an hour as well. Clearly, whoever was buying SODA was selling shares of GMCR and we verified this at Capital Ladder Advisory Group. You simply don't get this type of direct correlation by happenstance and as frequently as it occurs between these two stocks. Again, the trend of the two stocks trading together around the consideration of their respective multiples remains intact.
In a more recent article written by Bill Maurer, my fellow Seeking Alpha contributor poses the question of whether or not GMCR has further upside. While the analysis and profound information within the article offer investors key points of consideration regarding GMCR, it falls short of offering relative insights into the correlation between GMCR and SODA outside of fair valuation. The article does however point out key risks such as the company's modest Q2 2013 guidance for revenues, which we can offer as prudent by management as it understands that Q2 is usually a tough part of the year for the company.
Moreover, and as Capital Ladder Advisory Group has pointed out in previous research notes to clients, orders for Keurig products by key retail distribution partners are coming in somewhat light of our modeled expectations for the quarter. The average retail investor can perform their very own regional channel checks and find in certain regions that several retailers are light on Keurig products, but most importantly, they can't determine what is being brought in at the main distribution centers by major retailers.
At this time I will address some of our concerns with the ordering cycle. JC Penny (NYSE:JCP) is undergoing a rapid and all-encompassing remodel of its home good's departments, which began in February and will likely last until late spring. The big reveal this spring will be anchored by Martha Stewart and new merchandise from Bodum, Jonathan Adler, Michael Graves, Sir Terence Conran and Royal Velvet. During the remodel process, much of this department space, which would otherwise be shoppable for consumers, will be warded off and unshoppable due to the remodel process. With this in mind, JC Penny initiated a steady declination in orders for its home goods products. In speaking with Keurig regional sales account executives at the IHH Show in Chicago earlier this month, company executives verified this key point of consideration, which the company sees as a moderate headwind near term.
Unfortunately, this is not the only retailer falling short on the ordering cycle for Keurig-related products as Target (NYSE:TGT), Best Buy (NYSE:BBY) and Kohl's (NYSE:KSS) have also issued modest YOY orders for Keurig products. Our hope is that orders for new coffee and tea-flavored K-cups and new brewer orders will serve to offset some of these softer-than-expected orders. Look for new product placement inside Best Buy stores for Keurig and SodaStream products in the near term as well. Incidentally, orders for Keurig related products at both Bed Bath and Beyond and Wal-Mart are up YOY in the mid-teens range.
Our key concern for GMCR presently is the lack of ability to greatly advance its distribution channels as North America edges closer to market saturation. In other words, modest orders from retail distribution partners are hard for the company to offset. To be fare, SodaStream will witness the same light orders from JC Penny during Q1. Fortunately for SODA, the company more than offset this weakened ordering cycle from JC Penny with advanced distribution deals.
Getting back to GMCR, with the company looking to expand internationally going forward, we view such efforts as costly and potentially harmful to net profits in the future. Ideally, the company needs a manufacturing partner outside the U.S., which can mitigate the cost of production that otherwise would impair the company's ability to export goods from North America profitably. Either way, the efforts and capital expense associated with this desired expansion could create a drag on earnings in the interim.
With regards to SODA, our concerns for the company presently surround manufacturing capacity and meeting the demands of its current retail distribution partners and newly contracted retail distribution partners. Additionally, we understand the company's desire to continue to invest back into the core business. With this in mind, any excess revenue could provide the company with the capital it needs to fund such investments in the business. While we understand fully that investing capital back into the business will serve to benefit the company down the road, near to mid-term it could serve to mitigate share price performance.
At present, Capital Ladder Advisory Group feels that shares of SODA offer a greater value to investors than shares of GMCR, although we consider both to be accretive long-term investments.
Disclosure: I am long SODA. I wrote this article myself, and it expresses my own opinions. I am not receiving compensation for it (other than from Seeking Alpha). I have no business relationship with any company whose stock is mentioned in this article.