The Conference Board Leading Economic Index (LEI) for February was released this morning. The index increased 0.5 percent to 94.8 (2004 = 100), following 0.5 in January, and a 0.4 in December. The Briefing.com consensus had forecast a 0.5 increase. Today's press release highlights the sound, if sluggish, growth in the economy.
Here is the overview of today's release from the LEI technical notes:
The Conference Board LEI for the U.S. increased in February for the third consecutive month. Large positive contributions from all the financial components, building permits and average workweek in manufacturing offset the negative contributions from manufacturers' new orders for nondefense capital goods and consumer expectations for business conditions. In the six-month period ending February 2013, the leading economic index increased 2.3 percent (about a 4.6 percent annual rate), an improvement from the contraction of 0.2 percent (about a -0.4 percent annual rate) during the previous six months. In addition, the strengths among the leading indicators have become more widespread in recent months.

[Full notes in PDF format]
Here is a chart of the LEI series with documented recessions as identified by the NBER.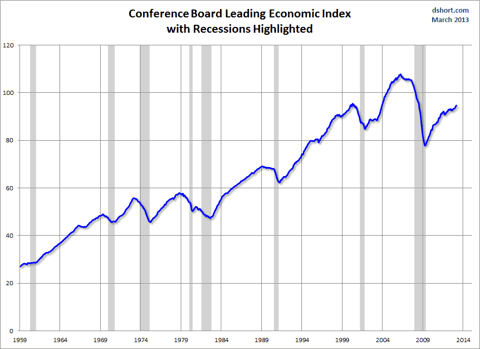 And here is a closer look at this indicator since 2000. We can more readily see that the recovery from the 2000 trough has been quite weak in 2012.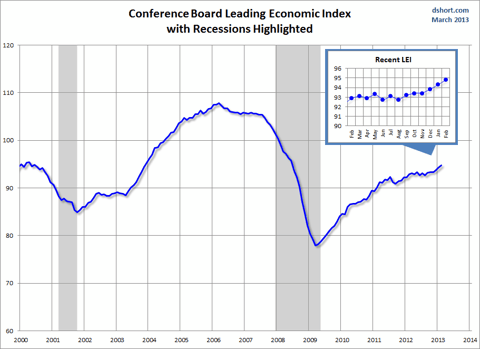 For a more details on the latest data, here is an excerpt from the press release:
Says Ataman Ozyildirim, economist at The Conference Board: "This month's increase in the U.S. LEI – the third consecutive – was widespread and driven by a majority of its components. Even though consumer expectations and manufacturing new orders remain weak, the economy continues to expand slowly, and may be developing some resilience against headwinds from, for example, federal spending cuts due to improving residential construction and labor market conditions. Meanwhile, the U.S. CEI posted a small gain following January's sharp drop due to a decline in personal income."

Says Ken Goldstein, economist at The Conference Board: The U.S. economy is growing slowly now, and with this reading increases hope that it may pick up some momentum in the second half of the year. However, this latest report does not yet capture the recent effects of sequestration, which could dampen the pickup in GDP"
For a better understanding of the relationship between the LEI and recessions, the next chart shows the percentage off the previous peak for the index and the number of months between the previous peak and official recessions.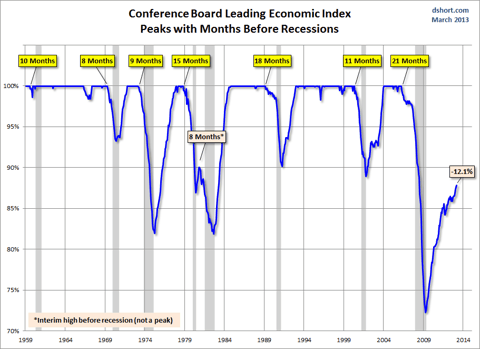 Here is a look at the rate of change, which gives a closer look at behavior of the index in relation to recessions.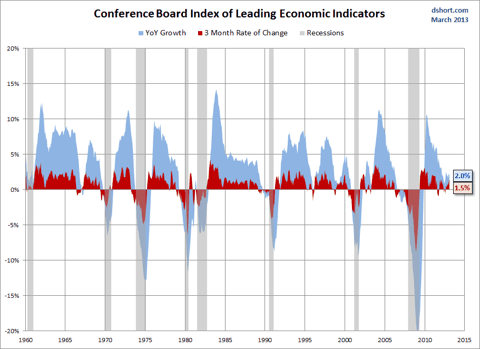 And finally, here is the same snapshot, zoomed in to the data since 2000.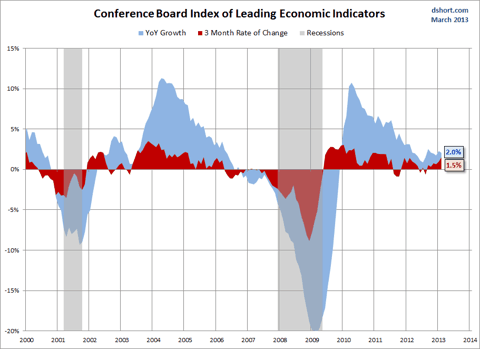 Check back next month for an updated analysis.