ETF Spotlight on the WisdomTree Emerging Markets SmallCap Dividend Fund (NYSEARCA:DGS), part of an ongoing series.
Assets: $1.44 billion.
Objective: The WisdomTree Emerging Markets SmallCap Dividend Fund tries to reflect the performance of the WisdomTree Emerging Markets SmallCap Dividend Index, which is a fundamentally weighted index that weights components by annual cash dividends paid and holds small-cap stocks from the bottom 10% of total market-cap of the WisdomTree Emerging Markets Dividend Index.
Holdings: Top holdings include Adminstradora de Fondos de Pe 1.2%, Tofas Turk Otomobil Fabrikasi 1.1%, Ulker Biskuvi Sanayi wAS 1.1%, Tauron Polska Energia SA 1.1% and Turk Traktor ve Ziraat Makinel 1.1%.
What You Should Know:
WisdomTree sponsors the fund.
DGS has a 0.64% expense ratio.
The ETF has 548 holdings and the top ten make up 10.1% of the overall portfolio.
Sector allocations include financials 22.3%, industrials 19.5%, consumer discretionary 15.0%, materials 12.4%, information technology 11.4%, consumer staples 7.6%, utilities 4.8%, energy 2.4%, health care 2.2% and telecom services 1.6%.
Country allocations include Taiwan 22.2%, Thailand 12.4%, South Korea 9.9%, Malaysia 8.2%, Brazil 7.7%, Turkey 7.0%, South Africa 6.8%, China 4.9%, Indonesia 4.9%, Chile 4.6%, Poland 3.1%, Philippines 2.3%, Mexico 2.2%, Argentina 1.1%, Hungary 1.0%, Russia 0.8% and India 0.8%.
DGS has a 3.83% 30-day SEC yield.
The ETF is up 1.1% over the last month, up 5.9% over the last three months and up 9.5% over the past year.
"Although this is a small-cap fund, since its inception in October 2007, its volatility has been slightly lower than that of the broad market, capitalization-weighted MSCI Emerging Markets Index," according to Morningstar analyst Patricia Oey. "Over the same time period, it has also earned higher absolute and risk-adjusted returns than the MSCI Emerging Markets Small Cap Index."
The Latest News:
Emerging markets are currently lagging behind most other equities markets.
Barclays has lowered its 2013 global GDP outlook from 3.3% to 3.1%, with a reduction for emerging markets from 5.5% to 5.3%, reports Stefan Wagstyl for Financial Times.
"Just as easy money continues to support developed market equities, emerging market equities may suffer already this year from policy changes in the other direction," Michael Hood, institutional strategist at JPMorgan Asset Management, said in the article.
"While EM equities can still rise more strongly than the S&P 500 . . . EM's outperformance this year may fall short of what the business cycle swing would typically generate," Hood added.
WisdomTree Emerging Markets SmallCap Dividend Fund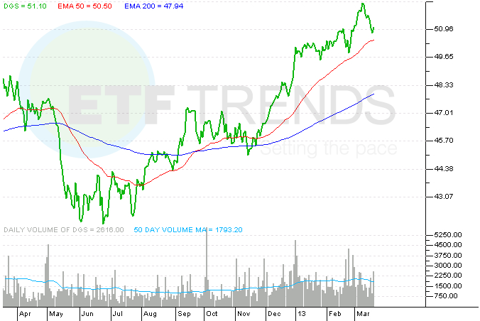 Max Chen contributed to this article.
Disclosure: I have no positions in any stocks mentioned, and no plans to initiate any positions within the next 72 hours. I wrote this article myself, and it expresses my own opinions. I am not receiving compensation for it. I have no business relationship with any company whose stock is mentioned in this article.