Here's an interesting fact about Warren Buffett's relationship with Procter & Gamble (NYSE:PG) that I am sure most Berkshire Hathaway (NYSE:BRK.B), (NYSE:BRK.A) shareholders already know: Buffett has never initiated a large position in Procter & Gamble stock outright. Rather, Buffett bought shares of Gillette in 1989 that got converted into Procter & Gamble when the Cincinnati-based consumer goods company gobbled up the razor maker (and made minor purchases of Procter & Gamble stock directly after the merger). Buffett has steadily reduced Berkshire's exposure to Procter & Gamble since becoming an owner of the stock in 2006. Take a look at the spreadsheet I compiled that outlines Buffett's steady divestment of Procter & Gamble in the years following the Gillette merger through today: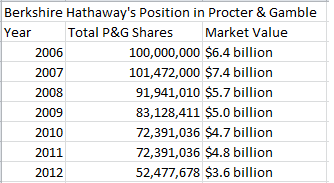 It is hard to read the tea leaves and try to figure out why Buffett has cut Berkshire's Procter & Gamble stake in half. But we can make some educated guesses. First off, it is not as if he needed to sell Procter & Gamble the past couple years to free up extra cash to make acquisitions. Berkshire has over a billion dollars per month in profits arriving at headquarters, and going into 2013, Buffett had $43 billion in the company's coffers. Even after the recent acquisition announcement of Heinz (HNZ) with 3G Capital, Buffett has still claimed in CNBC interviews that he has his "elephant gun" ready and loaded for the next big acquisition. Given the regular torrents of cash coming into headquarters, and given the large cash load (even after the Heinz deal), it seems likely that Buffett sold Procter & Gamble because of something he did not like about the company as opposed to needing it to raise funds for investments (note: this is a conclusion that I reached based on the facts above, not something that Buffett has stated).
From there, we should keep this in mind: we should never buy or sell a security simply because someone else is. And that even includes Warren Buffett. From 1997 to 1998, Warren Buffett sold shares of McDonald's (NYSE:MCD). At the time, Berkshire owned 4.3% of the fast food giant. A year later, Buffett had this to say: "Here, I need to make a confession (ugh): The portfolio actions I took in 1998 actually decreased our gain for the year. In particular, my decision to sell McDonald's was a very big mistake. Overall, you would have been better off last year if I had regularly snuck off to the movies during market hours." In 1997, McDonald's was paying out $0.16 per share in dividends while earning $1.15 per share. Fast forward to 2013, and McDonald's is set to earn $5.80 per share while paying out $3.08 in dividends.
Clearly, investors would have been fine had they chosen to stick with McDonald's after Buffett sold out. A similar story plays out with Walt Disney (NYSE:DIS). After turning a $200 million investment in the "House of Mouse" into over $1.5 billion by the end of the 1990s, Buffett decided to cash out, most likely because the company was trading at over 30x earnings. Since then, Disney has more than quadrupled its earnings and tripled its annual dividend. Price-wise, the stock has more than doubled since Buffett sold out. Declining to follow Buffett on sell decisions of blue-chip companies is not something that necessarily dooms you as an investor.
And plus, it should be worth keeping this in mind: although Buffett has sold half of Berkshire's stake, he still owns over 50,000,000 shares of the company. If he needed to get rid of it, he could have by now. But instead, he still has over $3 billion invested in it. Unless we see share count reductions of 10,000,000+ of Procter & Gamble in the Berkshire portfolio over the coming years, it is likely that Buffett is only giving this position a haircut.
Look, I'm a Procter & Gamble shareholder. And no, it does not make me happy to be the part-owner of a company that Buffett desires to own less of. But nevertheless, this is still a company that is poised to grow dividends and earnings by at least 7% over the next five years (that is the low end of Wall Street estimates). The company has over two dozen $1 billion brands. The company has steadily accumulated the kind of stable businesses under its umbrella that make it easy to see why the firm has not missed a dividend payment in over a century. The good news about Warren Buffett's stock portfolio is that it is loaded with some of the bluest of the blue chips. Because of this, just because Warren Buffett is selling the stock does not mean that you should follow his lead. The McDonald's and Disney shareholders did quite all right after Buffett sold out. That is not an indictment of Buffett's selling decisions, but a tribute to the types of companies that he buys in the first place.
Disclosure: I am long MCD, PG. I wrote this article myself, and it expresses my own opinions. I am not receiving compensation for it (other than from Seeking Alpha). I have no business relationship with any company whose stock is mentioned in this article.