By John Spence and Tom Lydon
One of the most profitable activities in ETFs that past year has been buying funds that bet against market volatility as the VIX drops to the lowest levels since the financial crisis.
For example, VelocityShares Daily Inverse VIX Short-Term ETN (NASDAQ:XIV) rallied 155% in 2012, and is up an additional 21% year to date, according to Morningstar. ProShares Short VIX Short-Term Futures ETF (NYSEARCA:SVXY) has delivered similar eye-popping returns.
For comparison, SPDR S&P 500 ETF (NYSEARCA:SPY) posted a total return of 16% last year, and is up nearly 7% thus far in 2013.
XIV and SVXY are designed to move in the opposite direction of futures contracts based on the CBOE Volatility Index, or VIX, which is known as Wall Street's fear index. It should be noted that inverse and leveraged products are designed as trading vehicles rather than buy-and-hold investments, so take their long-term performance with a grain of salt.
Technical analyst Chris Kimble at Kimble Charting Solutions notes that since June of last year, XIV has gained 120 percentage points more than the S&P 500 fund.
But how much longer can the good times last for these anti-VIX products?
Kimble has identified a so-called head-and-shoulders topping pattern in XIV, the inverse volatility product. If the bearish pattern is triggered, XIV could fall a large percentage and VIX could see a strong rally, he says.
One last word on inverse VIX products: They have benefited from a declining VIX and also "contango" in futures markets when longer-dated contracts are more expensive than the front-month contract. However, if this condition reverses and the futures market moves to "backwardation," then inverse VIX products will take a hit.
"When this trade turns around, it happens quickly," writes Brendan Conway at Barron's. "The change in the volatility environment and the reversal of the 'contango' benefit would constitute something of a one-two punch" for inverse VIX products, he added.
VelocityShares Daily Inverse VIX Short Term ETN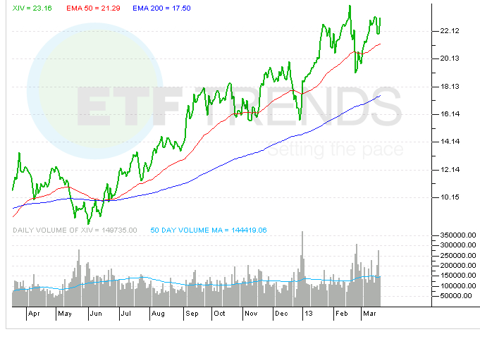 Full disclosure: Tom Lydon's clients own SPY.
Disclosure: I am long SPY. I wrote this article myself, and it expresses my own opinions. I am not receiving compensation for it. I have no business relationship with any company whose stock is mentioned in this article.