Being a successful investor in the long run is not just about what to buy and when to buy it, it's also about what not to buy. At the end of the day, not losing money is even more important than making it.
Beyond doubt, the revolution going on in 3D printing is a game changer. Even though the technology is still in the early stages, it is already impacting the way we are doing things. Nike (NYSE:NKE) for example used this technology to print its latest football cleat, the Vapor Laser Talon. Nokia (NYSE:NOK) on the other hand has released 3D-printing specs for anyone wanting to make custom Lumia 820 back covers.
While this technology is impressive and the possibilities are endless, it nevertheless has many restrictions and I don't expect us to say "beam me up Scotty" soon.
As in the case of Netscape many years ago, being the first does not always assure that you will make money in the long term. This industry is changing fast and there will be many companies that will develop 3D products and services in the future. So it remains to be seen who will survive or not.
But the most important question is, which stock will be the one that will make you money in the long term. Again, please note I am talking about a buy and hold strategy and not day trading.
First of all let's look at some numbers:
| | | | | | |
| --- | --- | --- | --- | --- | --- |
| | P/E | Forward P/E | Price/Sales | Price/Book | EPS |
| Stratasys (NASDAQ:SSYS) | 209 | 30 | 13 | 1.77 | 0.36 |
| ExOne (NASDAQ:XONE) | - | 218 | 21 | - | -1.49 |
| 3D Systems (NYSE:DDD) | 66 | 8 | 8 | 5.6 | 0.47 |
I want to focus on the price/sales numbers. I have talked many times about the price/sales trap. Investors should avoid companies with a very high price/sales ratio. All these stocks have an extremely high price/sales ratio and frankly, in my book, long-term investors will not make money. Stocks with a high price/sales ratio go up and down and many times go very high in the short term, but in most cases these stocks either end up correcting by a lot, or simply go nowhere for many years. In this article, Beware Of The Price/Sales Trap, I give many examples of stocks in this category.
Now let's look at some charts to see how the Street is playing these stocks.
In the case of 3D Systems, the number of shares sold short as of February 28, 2013, is 52% of the float and rising.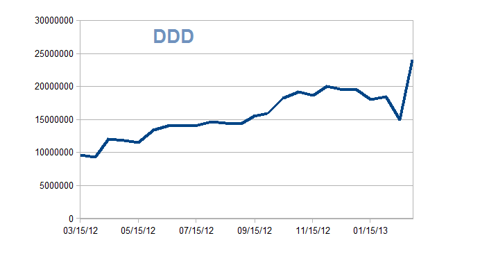 The number of shares sold short in Stratasys is steady at 9% of the float.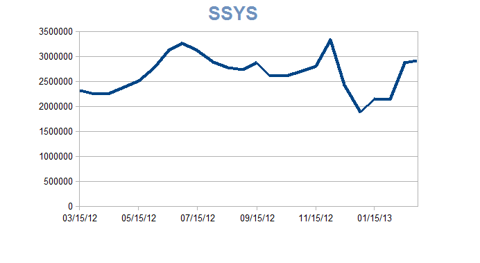 And ExOne that is a relatively newcomer - 20% of the float has been shorted up to now and the stock is barely trading for several months.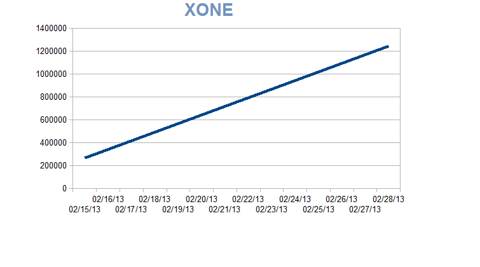 Remember what I have said about short sellers. There are very few exceptions where they have been wrong. Most strategic short sellers don't care where the price is, but how expensive a stock is. Sooner or later the stock will either correct or simply go nowhere for a very long time, as it will wait for the fundamentals to catch up to the valuation of a stock.
Now let's look at the chart of 3D Systems to try to put the pieces together.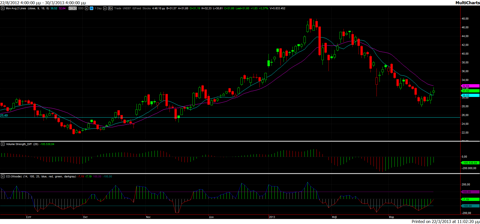 If you want my take on what has been going on, the market is shorting this stock at every corner waiting for a big correction that will send this stock a whole lot further south than most people can imagine.
In fact, the market was probably shorting the kitchen sink above the $40 range. I do not doubt that some of those short positions have closed, but what I am almost sure of is that if this stock starts to go up again (as it seems it might), then the market will once again short every stock it can find, and wait for a bigger correction next time around, hoping to do the whole thing all over again.
As a result, my feeling is that no matter how well this company does in the future, it will go nowhere for a very long time, disappointing investors like Microsoft has done over the past decade.
Now let me do a comparison to a stock that I have written about a lot over the past several months, that has been up about 100% since I recommend it.
Do you know what the difference between the above stocks and Blackberry (BBRY) is? The biggest difference is in the price/sales ratio.
See a stock can have a very high P/E because it might have had a couple of bad quarters. A stock can also have a very high Price/Book ratio, because it might have taken a hit on a big writedown.
However, when a stock has all the above and a very high price/sales ratio at the same time, it basically spells loses for investors, no matter how revolutionary the company might be.
And for those interested, Blackberry today, even after a 100% run up, still has a price/sales ratio of about 0.66. This means if the market were to price Blackberry at a price/sales ratio of 1.5, the stock can see a 200% run up even from today's levels.
Bottom line
The 3D space while revolutionary is not a space where investors can buy at today's prices and expect to be rewarded in the long term. The main reason for this is extreme valuations.
Also please note, as in the case of Apple (NASDAQ:AAPL) I talked about, when a stock has had a very big run up, sometimes people sell to cash in no matter how cheap it might be. 3D systems have had a very big run up from the $5 level of several years ago. I would be very cautious buying it, because contrary to Apple, it's not cheap.
My recommendation is simply stay away from these stocks if you intend to buy for the long run, or short them on technical weakness if you have a knack and experience in shorting stocks.
Disclosure: I have no positions in any stocks mentioned, and no plans to initiate any positions within the next 72 hours. I wrote this article myself, and it expresses my own opinions. I am not receiving compensation for it (other than from Seeking Alpha). I have no business relationship with any company whose stock is mentioned in this article.